The walk in cooler you choose has to be reliable to protect your valuable investment in food. And that is exactly what you get with Norlake: American made reliability. Norlake walk in coolers and freezers offer loads of features and an excellent price. They feature an innovative self contained and top mounted capsule pack cooling system that's easy to install. Because they are fully on the outside of the unit, you lose no storage space in the walkin! The panels on these Kold Locker coolers are made from 26 gauge corrosion-resistant embossed galvanized steel with an aluminum coating. 4" thick polyurethane foam insulation provides plenty of insulation for the most demanding environments and the aluminum floor provides a durable surface for storage. An electric vaporizer unit evaporates condensed water inside the walk-in, eliminating the need for a drain line. The sturdy, self-closing door utilized durable cam lift hinges and a deadbolt locking handle. An externally mounted digital thermometer makes it easy to check temperature and a vapor proof light inside to give you visibility. Norlake Kold lockers are incredibly easy to install. Check out our other video, showing a Kold Locker being built in just 15 minutes! The gaskets on the panels mean that you don't need to deal with silicone sealant mess like you would with other walkins. Norlake Kold Locker panels are NSF and UL listed. The door and cooling unit are UL and CSA listed. These walkins come with a 15YEAR manufacturer's warranty on the panels, an 18 month labor and 1 year parts warranty for the unit. Thank you for watching, and if you have any questions, please use our Live Chat Button!
To learn about all the great features of NorLake walk-in coolers, check out this video! Incredibly easy and quick to install and great for the most demanding environments, NorLake's walk-ins are the perfect fit for your venue!
Related Videos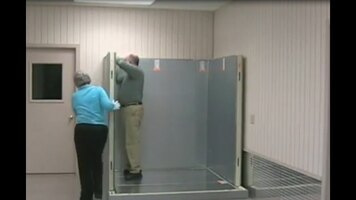 Nor-Lake Kold Locker 15 Minute Set-Up Demonstration
Putting together your Nor-Lake Kold Locker can be done in about 15 and a half minutes. You will see how easy it is to install yourselves in this step-by-step demonstration video.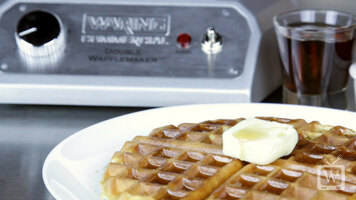 Waring Double Waffle Maker
The Waring WWD200 waffle maker has 1300 watts of power and triple coated nonstick plates, making it an efficient and easy-to-clean choice for your business. Check out this video to see the other great features this waffle maker has to offer!
Foxs U-Bet Brooklyn Egg Cream Drink
Try making a delicious Brooklyn Egg Cream using Fox's U-Bet Syrups!