Gold Medal Products has been manufacturing quality snack equipment since 1931, such as popcorn machines, cotton candy machines, sno-kone machines, hot dog machines, and all the supplies. Our 425,000 square foot building in Cincinnati, Ohio has the largest inventory in world of these items. Our network of dealers worldwide, are here to help you make the most profit you can make with any and all of Gold Medal's products. This video will show you just how easy it is to cotton candy in your Gold Medal Cotton Candy Machine. Before we get started, let's go through some basic safety precautions. Do not touch the spinning floss head. This machine is not to be used by minors. Do not pour water into the head of the cotton candy machine. Do not lift the cotton candy machine by the head, please use the handles. When you're transporting the cotton candy machine, make sure the shipping brackets located next to the handles are locked in place. Do not try and clean the band on the cotton candy machine by scrapping off the sugar. Just turn the machine on high and let it burn itself out. It should take about 2 minutes. Important. Be sure to read and understand the operating manual for this piece of equipment. If you need an operating manual or have questions, please call us at 1-800-543-0862. The supplies you'll be using will include Gold Medal floss sugar, floss cones, floss bags, and/or candy fluff containers. Now, let's get started. First, unscrew the lock down screws or disengage the quick lock handle depending on your machine. Make sure you place the sugar seal on the machine to keep sugar from getting down to the motor. Then install the whirl grip floss stabilizer on the floss pan making sure you have adequate spacing between each clip. Six to eight inches is usually sufficient. Before starting, always make sure that the leather floaters are turned down in the direction the motor rotates. Next, put the double bubble on and pour sugar into the spinner head. When ready to start, turn motor switch on, and then the heat switch. The heat control can be adjusted once the machine is running. There are operating tips located on the front of the machine also for your convenience. Remember to always use protective eyewear when operating a cotton candy machine. Once the machine is running, you'll want to let a nice amount of floss accumulate in the pan. When you are ready to start removing the floss, take your floss cone and insert it into the web of floss. Pull the cone and the floss straight out of the machine and twirl the cone to get the floss into a nice full cone of cotton candy. To remove the floss from the cone, simply slide it off the cone and into a container of your choice. Make sure you fill the container completely with as much floss as you possibly can. The most common ways of packaging cotton candy are with either candy fluff tubs or cotton candy bags. Bags are just as easy to use as the tubs and remember to really stuff the bags. When you are done making cotton candy, turn the heat switch off. Then, after 45 seconds, turn the motor switch off. Clean up is really easy. Simply remove the double bubble and pan. Take them to a sink or hose and rinse them out. Cotton candy is only sugar so it dissolves easily in water. When everything is clean, put it back on the machine so that you are ready for the next time. If you are transporting the machine, please make sure to tighten down the lock down screws. If you have any questions or concerns regarding your machine, we can be reached by phone, fax, or email. Thank you and enjoy your cotton candy machine.
This video will show you step-by-step instructions on how to assemble, operate, and clean your Gold Medal cotton candy machine! It also lists some valuable safety tips so you and your employees can stay safe when cleaning and operating this machine.
Related Videos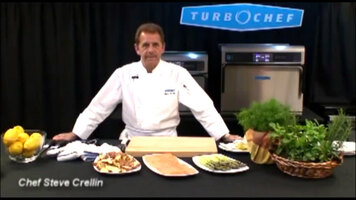 Turbochef iSeries
The iSeries oven is the quickest, most versatile oven offered from Turbochef. Here, Chef Steve Crellin will cook salmon (which would normally take 15 to 20 minutes) in 3 minutes! In fact, you can watch him cook a whole dinner in under 5 minutes.
Taylor Digital Scales
Thanks to its large platform and rechargeable battery, the Taylor digital portion control scale is versatile and portable. Learn about initial set up as well as special features such as a tare button, hold button, customizable display, and more!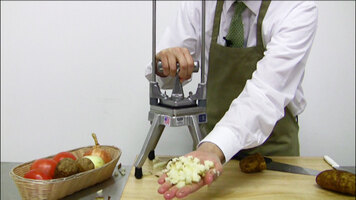 Vegetable Dicers
Dicing vegetables for soups, salads, and your signature dishes has never been easier! Use the Nemco N555000-1 Easy Chopper to save time and labor as you quickly slice and dice onions, tomatoes, potatoes, celery, and more.