To start a flavored latte, pump 1.5 oz. of syrup into a cup - that's 6 pumps. Grind espresso beans and dose into your porter filter. Pull 2 shots of espresso and steamed milk - do this at the same time, if possible. Pour espresso into the cup of syrup, then add the steamed milk. Garnish with whipped cream, cinnamon, or whatever you'd like, and serve.
Watch this video and learn how to start making profitable flavored lattes for your business! Prepared using DaVinci Gourmet flavoring syrup, this video will take you through each step of the latte-making process.
Related Videos Avantco CU55 Coffee Urn
Always have hot and fresh coffee on hand for your customers with the Avantco CU55 coffee urn! Watch this video to learn more about this durable coffee urn and its easy to operate features. Demonstration on MIWE Air Control
With Temperature, Moisture, and Circulated Air Control being the three elements that define the ideal cooking environment, you will find that the MIWE ovens will cook all your food to perfection.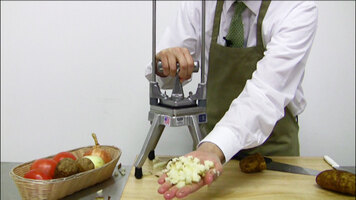 Vegetable Dicers
Dicing vegetables for soups, salads, and your signature dishes has never been easier! Use the Nemco N555000-1 Easy Chopper to save time and labor as you quickly slice and dice onions, tomatoes, potatoes, celery, and more.