Prevent cross contamination and keep your kitchen organized with color coded cutting boards! By using a specific color for each task, you can keep meat, fish, poultry, dairy and vegetable handling separate to ensure that food particles don't mix. You can even use these cutting boards for food allergy management to prevent cross contact of food allergens! These plastic cutting boards are made of non-porous, high-density polyethylene that will not stain or absorb juice, bacteria or odor and are won't dull your knives blade. Choose from a wide selection of colors and sizes. Adapting a color code system for your restaurant will allow you to insure safe food handling. Use this color chart as a guideline for what color cutting boards to use with vegetables and fruits, raw poultry & chicken, raw meats, raw fish & seafood, cooked meats, and bakery. Brown, cooked meat. White, deli and bakery. Blue, raw fish & seafood. Green, fruits & vegetables. Yellow, raw poultry & chicken. Red, raw meats. Be sure to check out our wide selection of cutting board racks to properly store your cutting boards and cutting board mats to keep your boards from sliding while cutting. Thanks for watching and if you have any questions, please click on our live chat button.
Learn how to keep your food safe and prevent cross-contamination by following these simple rules of color-coded cutting boards!
Related Videos Hamilton Beach Prime Pour: How it Works
Curious about how Hamilton Beach's Prime Pour cocktails on tap system works? This video will give you a quick overview of just how easy it is to set up this unit!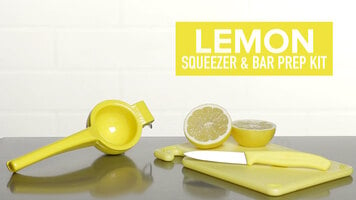 Lemon Squeezer and Bar Prep Set
Squeeze fresh lemon juice for your signature cocktails with the lemon squeezer and bar prep kit! Equipped with a squeezer, cutting board, and paring knife, this kit is just what you need to create delicious drinks!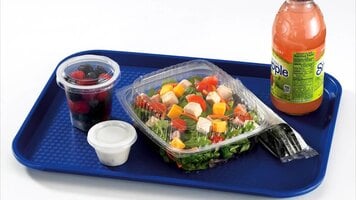 Cambro Fast Food Tray
Check out this video to see the many uses of the versatile Cambro fast food tray, available in a variety of sizes, colors, and even with an option for customization!