Most Americans may not realize it, but they may have a fake twenty dollar bill in their wallet. In fact, from October 2007 through August 2008, the secret service helped remove more than $103,000,000 in U.S. counterfeit money from circulation, arresting nearly 2500 individuals worldwide.
For retailers, catching the funny money at the point of sale is critical. Larry Goddard, former Secret Service agent, the agency that's responsible for fighting counterfeiting: "If counterfeit currency is not detected at the register, then it's normally detected at the bank and the retailer loses."
And that's where Dri Mark comes in - it's new counterfeit pen and UV detector system exposes fake notes at the point of sale. Cathy Williams-Owen from Dri Mark explains how it works: "You take the pen, simply make a mark on the bill, and you as the retailer have made sure that you are not putting counterfeit currency into your cash drawer."
And for $5 bills through $100 dollar bills printed after 1996, activate the UV light in the pen cap and shine it through the back of the bill to reveal the security thread.
Prevention and detection is everyone's responsibility. The US Treasury regularly issues new notes, like a brand new $100 bill, with more sophisticated security features built in to fight increasingly sophisticated counterfeiters.
"The Treasury Department has an ongoing need to increase the technology of genuine notes because of the problem with increased technology by counterfeiters."
The vulnerability lies in the hidden security features. Since currency paper stock is not available to the general public, Dri Mark's special ink authenticates the paper's stock. The UV cap light reveals the security trip, a dual test to let cashiers know the bill is real.
"Our pen has been the industry standard. It's the only proven loss prevention tool that can stop counterfeiters dead in their tracks."
The Dri Mark counterfeit detector pen can be purchased at major office supply retailers everywhere.
Learn how the Dri Mark UV light counterfeit detector pen can help save your business from fake US currency.
Related Products
Related Videos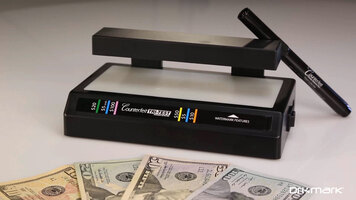 Dri Mark Tri Test Counterfeit Bill Detector
Learn why the Dri Mark Tri Test Detector is the ideal solution for detecting counterfeit bills, in this quick video! We'll show you how easy it is to use the unit, as well as all of the features and benefits it possesses.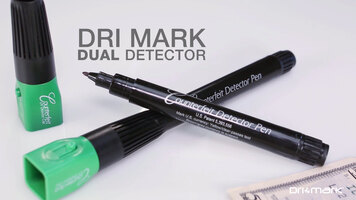 Dri Mark Dual Detector Pen
Ensure efficiency in detecting counterfeit bills with the Dri Mark Dual Detector. Learn how this handy tool can save your business from lost revenue, in this quick video.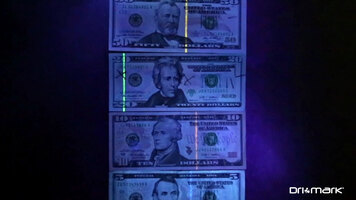 Dri Mark Counterfeit Money Detectors
Counterfeit bills are a big deal to today's foodservice operators. Learn how you can prevent these bills from ever entering your registers, in this informative video from Dri Mark.