Cook food rapidly without compromising quality with the Turbo Chef Encore commercial rapid cook convection oven! Boasting an integral catalytic converter system, this compact design model allows for on-demand cooking without the space, energy and food-holding requirements of a larger oven. No hood is required, giving you more flexibility on where you can place your oven like snack counters, kiosks, sub shops, and grab n go areas. The encore oven uses radiant heat, high speed air impingement, and side launched microwaves to cook foods 8-10 times faster than conventional cooking methods. The Encore oven also toasts, crisps, and browns, unlike microwave ovens, which just heats items.This oven is great for pizzas, baked goods, fried foods, and much, much more! It cooks pizza in 3min and 15 seconds, french fries in 2min and 15 seconds, and toasts a sub or Panini in under 30 seconds. It features an easy-to-use smart menu system that allows you to store up to 256 of your favorite recipes. Just load the food, shut the door, and press the menu button. Its large .78 cubic foot cooking chamber allows you to cook larger foods like a 12" pizza or two 12" subs. Plus, it's safe to use metal pans in your Turbo Chef. This makes it great for cookies, muffins, and other baked goods. Built-in self-diagnostics help monitor the oven's components and performance, while its USB and smart card capability make storing, transferring, and loading recipes a breeze! This unit's exterior is constructed of powder coated, corrosion-resistant steel outer wrap, with a powder coated, corrosion-resistant aluminum door and front panels. Its cool-to-the-touch exterior also makes this oven safe for your employees during your busiest times. The oven's interior construction is 201stainless steel. It boasts a fully welded and insulated cook chamber and has a removable rack and jet plate for easy cleaning. This unit comes with everything you need to produce fast, consistent results. It comes standard with; 1 aluminum paddle, 1 bottle oven cleaner, 1 bottle oven guard, 2 trigger sprayers, 2 Teflon baskets, 4 adjustable legs, and a 6 ft cord and plug. The Turbo Chef Encore has a 208/240 voltage with smart sensor technology, allowing it to automatically detect and adjust to proper voltage. It is UL and CE listed and requires a 208/240 electrical connection for operation. The TurboChef Encore Rapid cook oven is great for snack bars, concession stands, or high volume restaurants that need quality, consistency, and superfast results! Count on this oven to give you the consistent results that you need to keep customers coming back for more. If you have any questions, please click on our live chat button.
Watch this video to learn all different types of food this TurboChef Encore High Speed Oven can cook! Pizzas and fries are done within minutes, and it's great for baked goods, too. Check this out to see if this oven is right for your venue!
Related Videos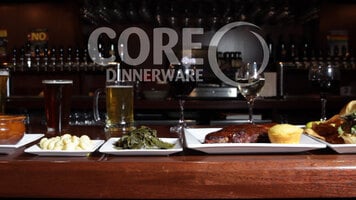 Core Dinnerware
Boasting a great value and unbeatable price, Core dinnerware is the ideal choice for busy bars, restaurants, or catered events. Available in a variety of sizes and shapes to accommodate virtually any table setting, you'll have no trouble finding the perfect set for your establishment.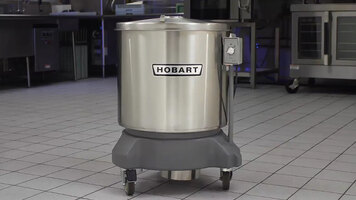 Hobart Salad Dryer
The Hobart salad dryer is essential to any lettuce crisping process, and can even reduce your salad dressing cost by as much as 15%! Watch this short video to learn how.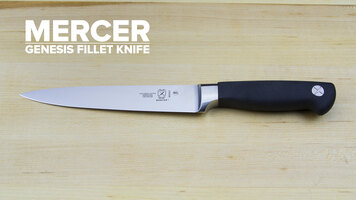 Mercer Genesis 7" Fillet Knife
The Mercer Genesis 7" fillet knife is perfect for all your fish filleting needs. Get a Mercer Genesis for a perfect fillet, every time. Watch our informational video to learn more about this knife!