Draw customers into your restaurant, diner, or other business with this attractive 21" x 13" oval LED open sign! This sign features the word "Open" in bright, red letters. A stylish blue border accents the text to further catch your customers' attention. LED signs have many advantages over neon signs. Not only do they use half the electricity of a neon sign, but they're also lighter and safer. LED units also don't have high-voltage transformers built into them. And best of all, you can see LED signs up to 500 feet away even in daylight and when placed behind glass. They operate silently, so customers won't hear the buzzing noise that is emitted from standard neon signs. This sign features several display modes and is recommended for indoor use only! Static: All elements of the sign are stationary. Flashing Open: The whole word "open" flashes. The border is static. Flashing: The word "open" lights up one letter at a time. Tracer: The word "open" lights up one letter at a time and then the whole word flashes. The border lights crawl. The modes are controlled by a red button on the bottom, and since it uses LED lighting this sign also saves your business money on energy costs when compared to traditional high-voltage, breakable neon lights. A power adapter and hanging hardware kit with 2 silver chains are included. Please see the user's guide for information on installation, operation and cleaning. If you have any questions, please click on our live chat button!
This 21" x 13" Choice oval LED open sign is sure to draw customers into your business thanks to its attractive design. Compared to traditional neon signs, this display is lighter, safer, and uses 50% less electricity!
Plus, this open sign boasts four different eye-catching display modes for versatility and added interest!
Products In This Video

Choice LED Open Sign
Related Videos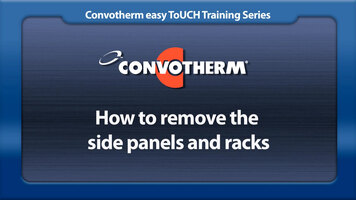 Cleveland Convotherm: Removing the Side Panels and Racks
Easily remove the side panels and racks from your Cleveland Convotherm oven by watching this helpful tutorial.
Alluserv Induction Plate Warmer
This induction plate warmer from Alluserv heats the middle of your plates to 210-220 degrees in just 18 seconds! Plus, the rims of your plates remain cool to the touch, maximizing employee and customer safety. Bron Coucke Deco Spoon
Use the Bron Coucke Deco Spoon and fascinate your guests with decorative swirling lines and eye-catching designs surrounding their entrees and desserts! Watch this video to see the product in action and discover exciting plate decorating ideas.