Draw customers into your restaurant, diner, or other business with this attractive 21" x 13" oval LED open sign! This sign features the word "Open" in bright, red letters. A stylish blue border accents the text to further catch your customers' attention. LED signs have many advantages over neon signs. Not only do they use half the electricity of a neon sign, but they're also lighter and safer. LED units also don't have high-voltage transformers built into them. And best of all, you can see LED signs up to 500 feet away even in daylight and when placed behind glass. They operate silently, so customers won't hear the buzzing noise that is emitted from standard neon signs. This sign features several display modes and is recommended for indoor use only! Static: All elements of the sign are stationary. Flashing Open: The whole word "open" flashes. The border is static. Flashing: The word "open" lights up one letter at a time. Tracer: The word "open" lights up one letter at a time and then the whole word flashes. The border lights crawl. The modes are controlled by a red button on the bottom, and since it uses LED lighting this sign also saves your business money on energy costs when compared to traditional high-voltage, breakable neon lights. A power adapter and hanging hardware kit with 2 silver chains are included. Please see the user's guide for information on installation, operation and cleaning. If you have any questions, please click on our live chat button!
This 21" x 13" Choice oval LED open sign will draw customers into your business with its four eye-catching display modes and attractive design. Compared to traditional neon signs, this display is lighter, safer, and uses 50% less electricity!
Related Videos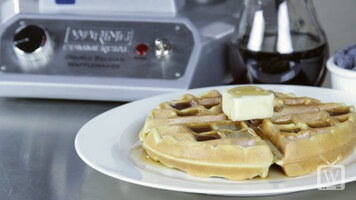 Waring Double Belgian Waffle Maker
The Waring WW200 Belgian waffle maker has 1400 watts of power and triple coated nonstick plates, making it an efficient and easy-to-clean choice for your business. Check out this video to see the other great features this waffle maker has to offer!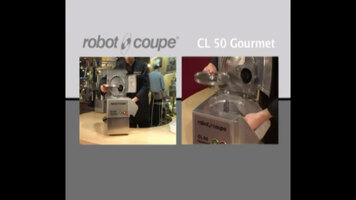 Robot Coupe CL50 Gourmet Continuous Feed Food Processor
Watch how you can easily use your Robot Coupe CL50 Gourmet food processor for a variety of tasks and cuts!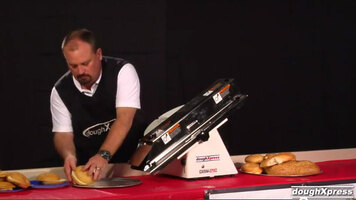 DoughXpress: DXSM-270C French Bread/Bun and Bagel Slicer - Compact Footprint
The DXSM-270C bun and bagel slicer will slice french bread, bagels, hamburger buns, hoagies, biscuits, bread sticks, and so much more! This version also offers the added bonus of being more compact for use in areas where you have limited space.