The VacMaster VP 210 is our least expensive, most popular chamber vacuum sealer. In fact, this is our most popular vacuum sealer period. Even more popular than the less expensive external seal units. And the reason it is, is because chamber vacuum sealers have a lot of great advantages. First, they make a better seal, they also use less expensive bags, and you can even seal things with a high liquid content. You can even seal things like a soup. You can't do that with an external vacuum sealer. Today I'm going to show you a few things and show you the use and function of this VacMaster VP 210. One of the great uses for a vacuum sealer is marinating meats. Marinating goes much faster when you can pull that liquid into the meat with a vacuum. Here you can see the easy to use controls, and this unit comes with an easy to understand manual. This is also the perfect machine for sealing meets that are going to be prepared sous-vide. For some of the same reasons this unit is good for marinating meats, the VacMaster is great for making quick pickles. And as I promised, here I'm sealing soup. What is great about this is if you use our cooking bags, you can portion out products beforehand and then put them into boiling water to reheat. And again, this machine is a great tool for sous-vide cooking. Here you can see the perfect seal on that soup. This unit comes with a lock down lever to keep the lid down when not in use. So there you have it! Whether you're in a restaurant kitchen or you're using it at home, the VP 210 is a very versatile machine.
An ARY VacMaster VP 210 chamber vacuum sealer is great for marinating, pickling, preserving, seasoning, or any of your other sealing needs! It's easy to use and affordable. Plus, with this model, you can even vacuum seal soup!
Related Videos Amana RMS10D Commercial Microwave
For the best in durability and power, consider the Amana RMS10D. Perfect for lighter applications, this microwave is simple to operate and easy to clean.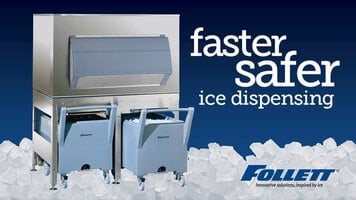 Follett Ice Storage and Transport Systems
Learn how to increase ice safety and sales with the Follett ice storage and transport system!
Features of Crown Verity Portable Sink Carts
The wide variety of features and options of the Crown Verity Portable Sink Carts make these sinks perfect for all kinds of indoor and outdoor food preparation. This video will show you each of these features and how they will benefit your business!