If you're looking for a durable end load or side load bun pan rack at an outstanding price, our Regency rack is the perfect solution for you. Because this model ships knocked down, you'll save money on shipping charges compared to a pre-assembled model. But don't worry, this end load pan rack is easy to assemble, and it takes less than 15 minutes to put together! If you are assembling a side load pan rack, you can follow the same directions too! When assembled, this Regency pan rack has the durability and strength of a welded unit and can hold up to 20 full size pans or 40 half size pans with 3" of spacing between the slides. Thanks to its heavy duty 5" polyurethane swivel casters, moving the rack around your kitchen or business is easy, even over rough surfaces. Since two of the casters have brakes, you'll be able to keep the rack right where you want it, and keep it steady during loading and unloading. Polyurethane casters like these also roll quietly, and won't leave marks on your floors. When assembling this sheet pan rack, it is important to make sure you are working on a flat, level surface. This rack comes with 4 cross braces which are held securely in place with U brackets and bolts. The 2 larger side braces for the bottom of the rack are held in simply with the larger and heavier-duty bolts. To start, insert a support post into the top hole of one of the sides. Next, take a U bracket and attach it to the outside of the rack's frame. Carefully hand-tighten the bolt, and then repeat the process for the other side. Be sure to not over-tighten or you could damage the frame and cross braces. After attaching the top two supports, you can attach the two middle supports. Just a reminder, you have to attach the U brackets to the outside of the rack. After installing the fourth support bar, it's time to do the second side. Now these support bars will all fit into the slots the same way as the first side. Make sure to only hand tighten the brackets. Now that all four support braces have been hand tightened, the next step is installing the casters. Insert each caster into the frame at the bottom making sure the holes are correctly aligned with the holes in the frame. The locking casters should be installed on the same end of the rack, so they can be set easily. Once the casters are properly aligned, the large support post can be installed. The large bolts go through the hole, securing the caster and post to the bottom of the rack. Keep in mind, no U bracket is needed for this part. You want to put a bun pan in both the top and bottom slots of the rack. This is to make sure your bun pan is level, so you won't have to worry about your pans sliding out of your rack. The final step is to tighten each bolt with a wrench. After you have tightened all the bolts, your rack is ready to use. Thank you for watching. If you have any questions, be sure to contact our live chat.
Regency bun pan racks are as durable as welded models and, because they ship unassembled, they save you money on shipping! In this video we'll show you how easy it is to assemble one of these racks, which can hold up to 20 full size food pans.
Related Videos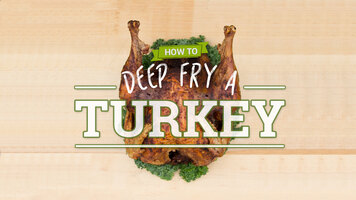 How To Deep Fry A Turkey
Safely deep fry your holiday bird with these easy-to-follow and steps, and be sure to check out our step-by-step directions for more tips on How to Deep Fry a Turkey.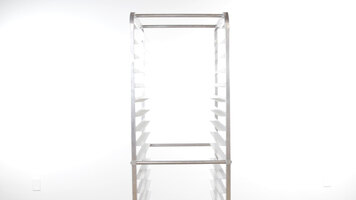 How To Assemble A Regency Bun Pan Rack
Check out this video and watch as Chef Matt takes you step by step to assemble your Regency bun pan rack! It's quick, easy, and saves you a ton on shipping costs! Lincoln Impinger Oven 1300 Series: Every Three Months
Watch this video to learn the proper maintenance instructions that you should perform for every three months of use. This will help keep your oven in a great condition!