Assembling the myCart Series utility cart is fact, efficient, and easier than ever, thanks to this quick instructional video! Start by inserting one caster into each of the four posts. This will make your otherwise stationary cart, mobile. Next, snap one split sleeve onto the bottom of each post, using the posts' height markers to ensure a consistent placement (around groove #3). Atop these, slide on the bottom shelf of the cart. Now it's time to get ready to attach the middle shelf. To do this, follow a similar procedure to the bottom shelf. Attach one split sleeve per post at a consistent level (around groove #13), then slide the middle shelf over the split sleeves for a safe, secure fit. Finally, it is time for the top shelf. Following the same procedure, attach one split sleeve per post, this time at the top of the post (groove #29), then slide on the top shelf. Two included labels make it easy to identify which cart is which in your busy establishment, saving time and eliminating lost carts.
Get the most out of your new purchase by watching this easy-to-follow video that shows you how to assemble your new Metro myCart!
Related Videos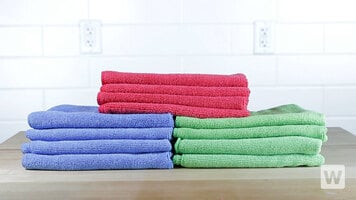 Microfiber Cloths
Discover why microfiber is gaining in popularity, in this quick video! We'll show you the many uses of this modern material, and explain how it's guaranteed to save you time and money in cleaning.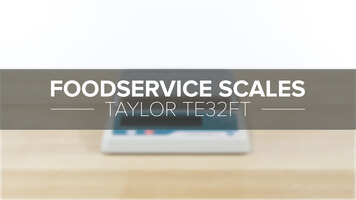 Taylor TE32FT Compact Digital Scale
Accurately measure petite portions with the Taylor TE32FT 2 lb. compact digital scale. Running via an AC adaptor or batteries, this scale provides portability and wire-free power for your farmers market, produce stand, and more.
Cambro Camtherm Pellet Heater
This video shows you exactly how the Cambro Camtherm pellet heater can provide you with an added boost of efficiency in your tray-line service!