A countertop griddle is an indispensable part of many restaurant kitchens. In fact, it's the main piece of cooking equipment in many diners, burger joints, and steak shops! Often called a flattop grill or flattop griddle, countertop griddles come in a variety of sizes, griddle plate thicknesses, and materials. In this video, we'll go over some of the factors involved with choosing the perfect griddle. First, you'll need to choose between a gas or an electric powered griddle. This depends on the utilities that you have available, but if given the choice, you'll want to note that gas models achieve temperature faster and recover faster than electric models. But if electricity is cheaper than gas in your area, electric griddles are a sensible choice. If you need very fast recovery time and the ability to run on electricity, an induction griddle is the best choice, but note that they are more expensive. Griddle size is another important consideration. Factor your menu and production needs when choosing the size of your griddle. How much cooking surface space will you need to make food efficiently during your busiest times? Another crucial factor is the availability of space under the hood. Cooking on griddles will give off grease-laden vapors that must be under a hood. If your griddle is placed at the end of your cook line, you'll want to make sure you have at least 6 inches of hood overhang on the end of the line. Make sure to choose a control type that works for you. There are two types of controls, manual and thermostatic. Manually controlled griddles have no thermostat, so the controls are high, low or something in between. Some experienced griddle cooks like manual controls for items like burgers, cheese steaks, and other meats. Thermostatically controlled griddles allow you to set an exact temperature. This is great for more delicate breakfast foods, and it is also good feature if you have less experienced staff. However, thermostatically controlled griddles do cost more. Plate, or cooking surface, thickness is another factor you'll need to consider. The thicker the plate, the more heat it will hold. In addition, a thicker plate is generally more warp-resistant and will last longer. Standard duty plates, which are a ½" thick, are great for snack counters, breakfast items, or places with limited hours and just a few griddle foods on the menu. Medium duty plates, which are ¾" thick, are the most common and serve as great workhorses in many restaurant environments. Lastly, heavy duty plates, which are 1" thick, are perfect for high volume restaurants and burger shops. If you're a high production environment or cook a large amount of frozen product, a thicker plate is your best bet. The final factor to keep in mind is whether or not you'll want a chrome griddle plate. Most traditional griddle plates are made from durable steel, but a chrome-plated steel griddle plate is easier to clean, is better for releasing delicate items like eggs, and will also release much less heat into your kitchen. However, chrome griddle plates are less durable than steel, so they're not the best choice in kitchens where you'll be chopping food product with the edge of a spatula when making items like steak sandwiches. I hope this video helps you choose the perfect countertop griddle model for your restaurant. Thank you for watching, and if you have any questions, please use our Live Chat Button.
Gas or electric, manual or thermostatic, countertop griddles have many different features. Before purchasing this indispensable piece of cooking equipment, watch this video to learn which countertop griddle is perfect for your food service operation.
Related Videos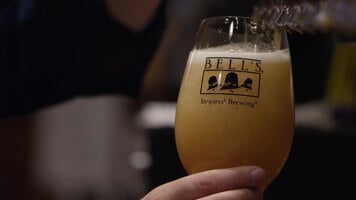 Spiegelau American Wheat Beer Glass
The Spiegelau wheat beer glass features a bowl shape that is used to capture and enhance deep, rich flavors - making it every wheat beer enthusiast's go-to option! Choose this glass for your bar or restaurant today.
Cleveland Convotherm: Removing the Rear Panel
Watch this step-by-step tutorial to learn how to remove the rear panel inside your Cleveland Convotherm's oven capacity for cleaning, maintenance, and more.
National Public Seating Mobile Table with Stools
NPS's mobile cafeteria stool table selection incorporates the industry's highest quality products. With height, size, and shape options, an easy-lift torsion bar system, and anti-bacterial edges, each table is durable and fit for long-lasting use!