Keep your coffee piping hot and ready to serve at your coffee shop, diner, convenience store or restaurant break room with the Avantco W52 2-Burner Decanter Warmer. This warmer features a durable stainless steel body with a Teflon coated aluminum dish. The Avantco W52 is compact and portable. It makes it easy to take with you wherever you need to go. It is the same quality as a Bunn warmer but is considerably less expensive. This Avantco W52 2-Burner Decanter Warmer is ETL and UL sanitation listed. Regular cleaning will help prolong the warmer's life and preserve its appearance. The Teflon coated aluminum dish is easy to clean. Unplug the warmer, allow it to cool and simply wipe with a damp cloth. If you have any questions about the Avantco W52 2-Burner Decanter Warmer or any of our other products, please use our live chat button.
You can always have hot coffee ready for your customers with the Avantco W52 dual coffee decanter warmer! Its compact design and ability to be plugged into a standard wall outlet make it easy to use. It's even ETL and UL sanitation listed.
Related Videos
Lincoln Impinger Oven 1300 Series: Weekly Cleaning
The weekly cleaning procedure for 1300 series Impinger ovens from Lincoln is reviewed. Follow these guidelines to keep the exterior and interior clean.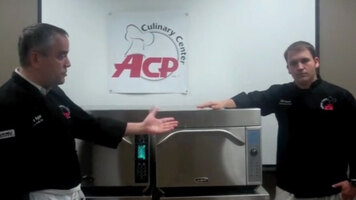 AXP-MXP22 New Features
If you thought the AXP20 was a great oven, check out the new and improved AXP22! It has convenient features such as a crisp fluorescent display and a USB port so you can download information from your computer and upload it straight to your oven.
Edlund KSS-5050 Knife Sanitizing System
Learn how the Edlund KSS-5050 knife sanitaizing system will increase sanitation in your kitchen by allowing you to sanitize your knives in as little as 60 seconds! This sanitizing system is easy to clean as well.