The Cambro 2x2 compartment tray is ideal for use in cafeteria style feeding. This tray has a textured surface to resist scratching. It has easy-grip handles that are easier for children with small hands to hold. This tray has 6 compartments total--five for food and one for utensils. These trays meet the school meal requirements for portions of fresh fruits, vegetables, proteins, grains, and milk.

This tray is available in 2 sizes, 2 shapes, and 2 different FDA approved materials. The Cambro 2x2 compartment trays are made of virtually unbreakable polycarbonate. The copolymer 2x2 compartment trays are an economical choice. These trays stack 2x2 in a Camrack PR314 which reduces dishwasher cycles.

The Cambro 2x2 compartment trays are available in a variety of colors depending on the material. These trays can be used with Cambro reusable bowls to serve cereal, soup or salad, while reducing trash, food waste and cost. For more information on the Cambro compartment tray and possible bowls to use with the trays, visit www.cambro.com.
Check out this video to learn all about the power of two, with Cambro's 2x2 compartment trays--a particularly excellent choice for school cafeterias!
Related Videos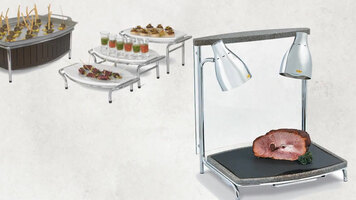 Vollrath Contoured Carving Station
Searching for a beautiful front of the house carving station? Look no further than this Vollrath Contoured carving station with an NSF Listed cutting board and an easy-to-clean design.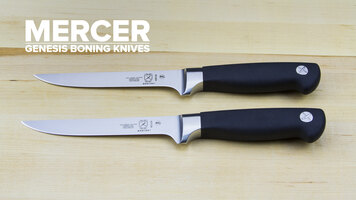 Mercer Genesis Boning Knives
Mercer Genesis boning knives provide a safe, non-slip grip, along with a full tang for outstanding precision and control! Check out our short video to hear about more great features.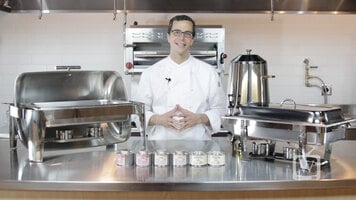 Choice Chafer Fuel
In this video, Corporate Chef Matt Schuler explains the best options to suit your needs when it comes to chafer fuel. From gel fuel or wick fuel, or fuel that burns up to 6 hours, Choice Chafer fuel has just what you need for every occasion!