- Push the white button on bottom of dispenser
- Remove empty soap bag
- Add new soap bag
- Snap bag in
- Close dispenser
- Ready to use
Learn how to quickly and easily refill your Kutol soap dispenser!
Related Videos
Counter Mount Soap Dispenser
No more crawling on the floor or struggling with messy pumps to refill your counter-mounted soap dispenser! With the Kutol EZ foam counter mount soap dispenser, you get a sophisticated look and a rich, foam lather that customers will love.
How to Sanitize Your Spaceman Ice Cream Machine
Check out this short video for the details and procedures of cleaning your Spaceman Ice Cream Machine!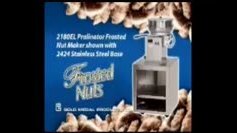 How to Make Frosted Almonds
Here you'll learn how to use your Pralinator from Gold Medal to make frosted almonds.