- Push the white button on bottom of dispenser
- Remove empty soap bag
- Add new soap bag
- Snap bag in
- Close dispenser
- Ready to use
Learn how to quickly and easily refill your Kutol soap dispenser!
Related Videos
Counter Mount Soap Dispenser
No more crawling on the floor or struggling with messy pumps to refill your counter-mounted soap dispenser! With the Kutol EZ foam counter mount soap dispenser, you get a sophisticated look and a rich, foam lather that customers will love.
Why Buy Commercial Microwaves
Commercial microwave ovens are designed to be used 50-200 times per day while residential models are only built to be used 3-5 times per day. This is only one of many reasons you should buy a commercial microwave for your foodservice establishment.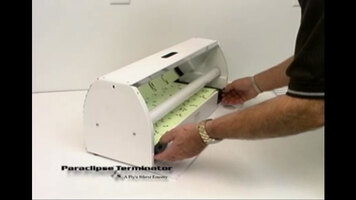 Paraclipse Terminator Fly Catcher Review
Stop gambling with fly control! Learn about the dangers of flies in your restaurant or kitchen as well as how the Paraclipse Terminator fly catcher can easily capture them! The innovative features on this unit will solve your worst fly problem.