Let's start with a little countertop griddle. This is the 120V griddle we've been talking about. Basically the set up on these is pretty straightforward. You want to make sure your grease drawer is empty, set your thermostat. These are thermostatically controlled. And the important thing to remember again about our electric griddles, these are not the solution. These are not the back of the house heating grill we're going after. Here we're looking for operators that we can provide a solution for something that is small, portable, flexible. Again, unique specialty items maybe in the case of this unit for being outdoors at a brunch setting, something else that's a specialty type setting—120V caterers, food brokers—this is something nice for like convenience stores. They make little egg sandwiches. They can cook the eggs on here and then they'll take them and put the sandwiches in their little merchandiser units. This is something not to compete against the big griddles. This is a small griddle: ½" thick griddle plate, 1800W 120V unit. The most wattage you can put on a 120V circuit is 1800W, so we are maxed out on this product. So what I'd like to show you today, I'm just going to cook some bacon try to make a mess on it to show you how to clean it up now. Bacon's a pretty messy product, but we all know how we could cook pancakes on here, eggs, toasted sandwiches, anything you can cook on a normal griddle, you would certainly be able to prepare on these griddles. The question was do we want to season these griddle surfaces first? Just to season all you want to do is get the griddle hot, let the oil work into it, wipe it down, lower temperatures just let that oil kind of absorb into it. All I'm trying to do with this bacon is just show you that 1800W of power is plenty of power for anything you want. The element in this griddle will go back and forth; it's a serpentine. It doesn't just go as a U-shape. It's more uniform throughout. This is our 1800W unit, and I'm only cooking here at 350. It's plenty of power, right? 1800W that's certainly enough for anything you want.
Watch this video for a demonstration on how to use your 1800W, 120V Vollrath countertop griddle! Answer your questions about seasoning the griddle surface, appropriate applications, and more!
Related Videos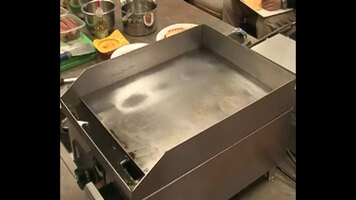 How to Clean a Vollrath Griddle
There are two methods to cleaning the Vollrath griddle--the water method and the griddle stone method. Which one will work the best for you? Watch to find out! Star Max Products
Learn about the improvements made to the Star Max line of griddles, burners and charbroilers!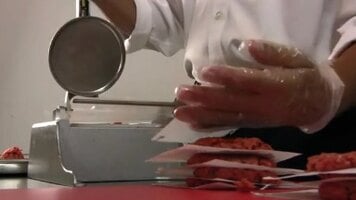 Patty Press
Your customers expect consistency, and our patty press will help you make perfectly sized hamburger patties every time! It also saves you valuable time in the kitchen when you would be rolling patties by hand.