Welcome to Vollrath University. I'm Chef Rich, and today we're here to talk to you about the benefits of using high quality steam table pans. We'll show you the benefits of a high quality pan in terms of efficiency and also in terms of overall presentation in your food service operation. So now let's go into a kitchen, and first we'll show you what a typical pan goes through in a day of operation. As you can see, a pan goes through a lot in a day's time. In fact, a pan can actually spend more time being transported, washed, stored, scraped, than it actually spends holding food. That's why you need a quality steam table pan. So let's head out to Lakeland College, which was one of our test sites in the development of Super Pan V. They've been using that pan for about a year now, so let's just see how it's been holding up for them. So here we are in the kitchen today with Chef Joe Johnson, the executive chef at Lakeland College. We're here today to talk about the pans and some other cookware items. So Joe, you've been using our new pans for nine months—do you like the way the pans look? Oh, absolutely. I like the finish on them. They hold up really well so you're not putting out dented pans, which is nice. The steam just comes out if they're all dented up. When you have them on the shelves do they stack up nice, and is that important? They stack up perfect. In a rush, real easily, it pops right off, you can…no problem. So how important is it that the pan is easy to clean? And talk about the ease of cleaning on the new pans that we have. It's very important with a high volume like that that they get clean the first time, and with these pans you can get into the corners very easily with a spatula. That corner, too, comes right out. And, it's one time through the dishwasher and it's clean. You know, we talked earlier today about the pans and you made a comment to me about the edge and how comfortable a flat edge, or this new pan's edge, was. Can you talk a little bit about what is it that you feel? We have a pan here that you're saying isn't quite so comfortable—that digs into your finger or what did you say to me? Yes, when you're working, and you're grabbing the pans all day? This edge does cut into your fingers where the edge on this pan does not with the rolled edge. Ah, another benefit of a flat edge. It's more comfortable to work with. I noticed your buffet you have set up there looks really nice. Is that important when students come in that that looks nice? Oh, absolutely. We get athletic recruits through and that makes a big impression on them. A lot of the parents comment how good everything looks and how clean it is. I'd like to thank our friends here today at Lakeland College for letting us see their food service operation. This pan, the Super Pan V, is manufactured from bright annealed 22 gauge 300 series stainless steel, which makes it very durable. Then, the patented corner, edges, and rim are all designed with added strength right where it's needed most. I'm Chef Rich, and thank you for joining us at Vollrath University.
Want to learn the benefits of the durable construction and patented corner, edges, and rim of the Vollrath Super Pan V? Explore that and other features as Chef Rich takes you to Lakeland College for a real world evaluation.
Related Videos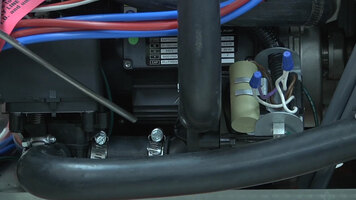 CMA 180UC Undercounter Dishwasher Training Part 2
Continue your education on CMA 180UC undercounter dishwasher maintenance with this short video. If you want to learn how to maintain components of your machine, this is a great way to become familiar with the inner workings of your dishwasher.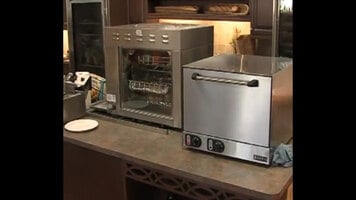 Vollrath Pizza Bake Oven Demonstration
Watch Chef Rich cook a frozen pizza to perfection in just 4 1/2 minutes! Also, check out this video to learn about proper cleaning and preparation of this oven.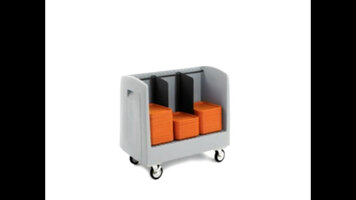 Features Of The Metro Side-Load Dish And Tray Carts
Learn about the wide variety of options and features available with Metro Side-Load Dish and Tray Carts! Metro offers adjustability, variety, and protection in all of its carts to allow you to safely handle all of your trays and dishes.