Welcome to Vollrath University. I'm Chef Rich, and today we're here to talk to you about a new product from Vollrath: the induction soup rethermalizer. This is a new product from Vollrath, and as I said, it's induction. So the way induction works is it creates electromagnetic energy and this energy then vibrates the molecules in the pan to create heat. The unit itself does not create any heat. It vibrates the molecules in the pan. Because of that reason, we do need a special induction ready soup inset. Okay, so this is an induction ready inset. It has markings on the side that state that it's induction ready. A regular inset will not work. Now, one of the major advantages of this unit because it's induction, is that we don't need to use any water. If we don't have water we don't have the cleanup issues of water, we don't have the scaling issues of water, and we don't have someone in the middle of the day forgetting to add water to the unit and therefore creating situations where the product cooks away. The unit is very, very even in heating. So even after 8 hours we've had this product in here, we don't have that brown ring around the top edge because it's heating so evenly even when there's less than a full pot of soup. It's the way that induction works. It's very even we get much, much higher yields. As I said, we don't need to use any water, so on the unit itself, we have it marked in several places, "Do not add water." Now when you're looking on the bottom of this unit, notice in the bottom right on the center, that's a sensor that will tell you if you have an induction ready pot. It tells the unit that the pot is in there, and it will begin to heat. Also on the sides, there are two buttons. These units also sense that a pot is in there, and they're also temperature sensors in three different zones to makes sure that we have even heating. We'll talk about those in a little bit. So let's now talk about the controls of the induction soup rethermalizer. Okay, we'll turn the unit off and back on just to show you what it does. It welcomes you and it immediately reverts now to a preset temperature in the warming mode. We can adjust this temperature up or down depending on the desired temperature that we would like. We can toggle now to the next temperature, which will show the same temperature of that warming in Celsius. Hit the function again. Now we've entered into the preset mode. This unit has four presets so you can quickly preset to different types of food. So we have mac n' cheese, chili, soup (which would be a broth-type soup), or C soup, which means "cream soup," so thicker soups. We have this preset setting for those. Hit the function button one more time. Now we're in the retherm mode. Now what the unit will do here is it will heat to 165 degrees. After the temperature reaches 165, it will revert back to our preset warming temperature. There it is in Celsius, and now we're back to our preset warming temperature. Very intuitive, easy-to-manage controls. Now, from a supervisory point, if we have a control that we want set, we can simply hit the function and down arrow for one moment and now you'll see that the controls are locked. This prevents people from coming up and changing the settings. To unlock, simply press down again and remove the lock. So another really cool feature of this unit is that it has an indicator letting you know when to stir the product. So those two buttons on the inside that we talked about earlier in conjunction with the sensor on the bottom sense temperature, and if there is a difference between the three that is too great, it'll show up on the front panel and say that we need to stir the product, thereby making everything inside the pot a more even temperature. Okay, so there it is: the induction soup warmer. Once again, much more accurate control, temperatures with precise control result in higher yields and less food waste. And then again, the big benefit of no water. If you don't have any water, you don't have the scaling, the cleanup issues, or someone in the middle of the day forgetting to add water to the pot. And again, that instant heating. Immediately when you turn the unit on, it begins to heat so no pre-warming or warm up times are required. So for this product, to see more colors available and more information, please see us online at Vollrath.com.
Watch this video to learn about the innovative features and easy-to-manage controls that make the Vollrath Mirage induction soup rethermalizer a great buy!
Related Videos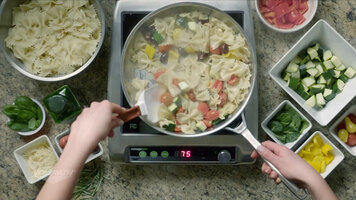 Vollrath Induction Cook Anywhere
Vollrath induction technology allows you to cook wherever you want, whenever you want! Discover the freedom of induction cooking by watching this video.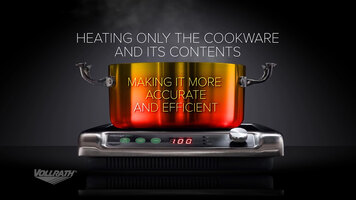 Vollrath Induction Technology
Watch this quick video to learn how Vollrath's induction technology works! An electric current creates magnetic fields that heat up the cookware, making it efficient and precise.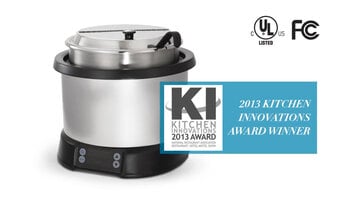 Developing the Vollrath Mirage Induction Rethermalizer
Watch this video to learn about the Vollrath Mirage induction rethermalizer. This product has been reinvented for commercial use, bringing you ultimate durability!