In 1980 Curtis introduced the GEMINI brewing system which forever changed the commercial coffee industry. After 3 decades of evolution…Curtis introduces the G3 GEMINI with IntelliFresh.
Patented gentle heat system
IntelliFresh satellite memory system
Maintains freshness setting when moved to remote serving station
Advanced heat element applies gentle heat
Foamless design for "wash friendly" performance
First of its kind mineral deposit warning system
GEMINI GT G3
Learn about the intuitive system used inside the Curtis G3 Gemini coffee brewer!
Related Videos Omega Masticating Juicer
Check out this video and learn about all the capabilities of the Omega Masticating juicer! From juicing fresh fruits and veggies to extruding soy milk and pasta, the possibilities are endless!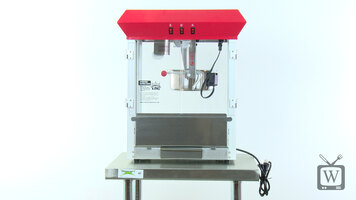 Carnival King Popcorn Poppers
Boost impulse sales with freshly-popped popcorn made from Carnival King countertop popcorn poppers! Watch this video to learn more about operating these durable poppers that are great for high volume crowds.
Avantco Meat Slicer Demonstration
For a high-quality meat slicer at an unbeatable price, pick up an Avantco meat slicer! It can cut thick or thin slices of choice meats at your deli, restaurant, or sandwich shop, and its aluminum construction ensures cleanup is a breeze.