Unassembled high chairs are a great way to save some money. The small box makes it very inexpensive to ship and they come with everything you need for assembly in a few easy steps. Putting these chairs together is pretty easy. I did try to do it on the ground but I did find it's a bit easier to try it from a table. I like to start with the seat right here. Take one of the screws and just hand tighten it to get yourself started. After hand tightening the screws of the seat, the next step is to insert the back piece. It has a little guide peg so it will stay for you so you don't need to hand tighten the screw. But if you want to that can help as well for some added stability. After tightening that screw, it's good to take the side down off here. I like to spin it around so the seat is actually facing toward me. Grab the other side here, insert the guide peg, and hand tighten another screw. Finish hand tightening the seat screws and now it's starting to look like a chair. Next, you're going to be installing the lap bar. Be careful because this is only going to go in one way. Again, hand tightening screws will help the stability. One of the last steps of the process is going to be to install the support bars. I like to start with the smallest one here. Again, you can use the guide pegs to show you where to put it in. And it will only fit in one way. We're almost done, you just got to spin the chair around and install the last support bar. At this point, all you have to do is tighten the rest of the screws with the provided Allen wrench. The most confusing part about the assembly of the chair is this little piece right here, the crotch strap. You want to start off by threading the strap around the middle bar. Pull the plastic piece the whole way down and then wrap the strap around the bar. Next, thread it back thru the middle and back out the front. That way you can easily pull it tight and keep your baby safe. So as you can see these chairs are cheap to ship. They are very simple to assemble and you can slide them right up to your standard restaurant table. As always if you have any questions, we'd love to talk to you so please feel free to log onto our live chat.
Unassembled high chairs are a great way to save money on shipping! This instructional video will teach you how to assemble your chair from the legs to the crotch strap so you can be sure that the children you serve are safe and comfortable.
Related Videos How to Replace Your High Chair Seatbelt
The seatbelt for the high chair is an additional safety feature to ensure a secure seat for your smallest patrons. Replacing your high chair seatbelts often will keep your high chairs safe and sanitary. How to Replace Your High Chair Crotch Strap
The crotch strap to a high chair is a must have for keeping toddlers safe at your restaurant. When these begin to wear out or fray, they become unsafe. Check out this video and see just how easy it is to replace your high chair crotch strap.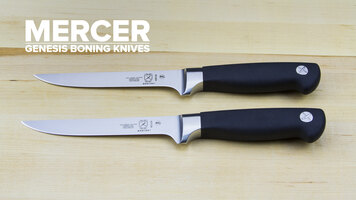 Mercer Genesis Boning Knives
Mercer Genesis boning knives provide a safe, non-slip grip, along with a full tang for outstanding precision and control! Check out our short video to hear about more great features.