Hi I'm Steve with the WEBstaurantstore and these are our deluxe chafing dishes. They are called deluxe because they are a step up from your economy chafing dishes. They have these gold tone handles and legs that make them suitable for any occasion. They also come in three different shapes. We have the round rectangular, and also the oval shapes to add a little bit of interest to your buffet line. Now, don't be fooled by the price. These Choice brand deluxe chafers are complete sets. First, you can take a look at the outside and see how high polished that is. Its 18/8 stainless steel. It's extremely cleanable and it's also very durable. Now, this dome cover comes with a very heavy gold tone handle. You can see inside here you have a 2.5" deep food pan with little ears on the side on this oval one which makes it really easy to pick up. Inside here we have a 4" deep water pan with a high polished outside and we have the heavy gold handles on either side and heavy gold welded frame. And then you can see on the bottom here, we have the two fuel cell holders making it a complete kit. I love the fact that the Choice brand deluxe line of chafers comes in three different shapes. In additional to the oval one that I already showed you, we do have this rectangular one which is a full-sized chafer. It also has the added, extra benefit of a dome cover holder welded right onto the frame. For smaller portions, we also have this round chafer as well. Well, thank you for watching and if you have any questions about our deluxe chafers, please feel free to use our live chat button.
Our stainless steel chafing dishes come in a variety of shapes and sizes at a great price. Perfect for any occasion, these chafing dishes will add pizazz to your presentation while going easy on your wallet.
Related Videos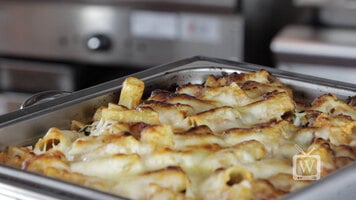 Chafer Fuel Handling Tips
Check out this video to learn some vital tips about handling chafers and chafer fuel!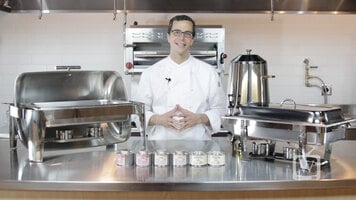 Choice Chafer Fuel
In this video, Corporate Chef Matt Schuler explains the best options to suit your needs when it comes to chafer fuel. From gel fuel or wick fuel, or fuel that burns up to 6 hours, Choice Chafer fuel has just what you need for every occasion!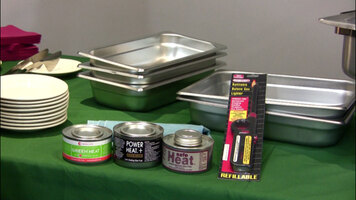 Chafer Accessories Review
Accessorize your Choice chafer with our full, 1/2, and 1/3 size food pans! Also check out our 3 types of chafer fuel, convenient microfiber cleaning cloths, and even our refillable long tip lighters.