Adding casters to your stainless steel worktables adds convenience, mobility, and makes it easier to clean around your workstations. In this video, I'll show you how it's done. The first thing to keep in mind is that casters will add 6" of height to your table. Since tables are made to the optimal working height of about 34", this means you are going to have to cut down the legs to have your table at proper working height. Rather than using a hacksaw or tracking down a pipe cutter tool, you can simply order the table at the perfect working height by using our Cut Down Feature. You can find this Cut Down Feature, which lets you change the height and buy casters for your table, on the product pages for any of our stock Regency tables. To install the casters, first you need to remove the feet from the table leg. That's easily done with a broomstick. Assemble your table, but leave it upside down. Before inserting the caster into the leg, you want to make the fit as tight as possible first. You'll do that by turning the nut on the top of the caster. As you turn the nut, you'll see this rubber piece compress outward, which will make the fit tighter. Once you get the right fit, ideally just barely loose enough to slip into the leg, you then tighten the nut underneath with a wrench or a pliers. And that's it! Your caster is now installed. Thank you for watching, and if you have any questions, please use our Live Chat button.
Installing casters on your stainless steel work table is now easier than ever with this informative how-to video. Watch it now!
Related Videos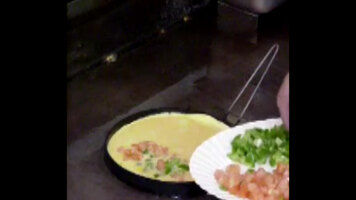 How to Use a Prince Castle Egg Ring
Watch this video to learn how to use the Prince Castle egg ring! Two different size egg rings are shown during this clip. It also offers ideas of what to make in these egg rings.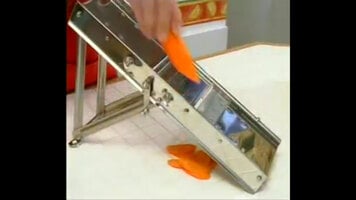 Bron Coucke Mandoline
Learn how to use your Bron Coucke mandoline to obtain perfectly sized vegetable slices for any dish you're making!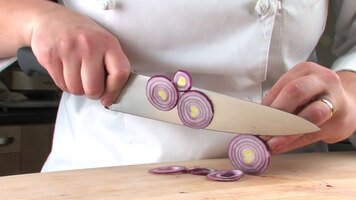 Pickling Mercer-Style
Pickling is an easy, time-tested method for intensifying the sweet and sour ends of the flavor spectrum, and in doing so, escalating overall flavor. In this video, Mercer shows you how to pickle onions and add a fresh touch to your dishes.