If you serve salads, you know the labor involved in cutting and shredding your own lettuce, not to mention all the browning. You could buy your lettuce precut, but that gets expensive and it gets trucked in from all over the place. Hi, I'm Steve Ziegler, product expert at the WEBstaurant Store. We have the answer for you right here, it's called the Nemco Easy Lettuce Cutter. Not only will this save you money on product and labor, but the super sharp blades on this will actually prevent browning. What's more, if you like to use your local produce, or like to make your own custom mixes, the Nemco Easy Lettuce Cutter allows you to do that with a lot less labor. Here's how the Nemco Easy Lettuce Cutter works. First thing I want to show you is this handy feature here, it comes with this pin and you're able to put the pin, just insert it right up there, and this will lock the unit down for safety. This is great for when you need to move the machine around. Right now, I'm just going to take this since I'm going to be using it, I'm just going to tuck it right in the handle there to keep it out of the way. Now, to cut a head of lettuce, first thing I'm going to do is just cut the stem off this head. And this is a rather large head and I'm a little worried that it won't fit on the blade set, so I'm just going to slice it in half. I'm going to put it right up there. I'm going to let the pusher block rest right on the top of the head of lettuce. And I'm going to give it a firm motion and we're going to push this down and we'll see how this works, see if it's really easy. There you go, and you can see perfectly cut lettuce. Now let's finish up this head of lettuce. Ho ahead and put this up here, center it on the blade set, keep your hands out of the way when you're doing this. There you go, we're going to get some of this excess. And you can see all of that beautifully fresh cut lettuce right there. Now you can also do other types of lettuce, here I have some red-leaf lettuce. And I'm going to cut it to size, I think I need to cut it down a little bit more. We want to give this salad a little bit of color. And you can see, now you have perfectly mixed salad. The blades on the Nemco Easy Lettuce Cutter are very long-lasting, but when they do become dull they're very easy to change. Just click on the blade set in the companion items listed on this page to view a video showing just how to change those blades. Well, thank you for watching and if you have any questions, please feel free to use our live chat button!
The Nemco Easy Lettuce Cutter allows you to dice your lettuce quick and easy, reducing any of the long labor and browning you usually get when chopping your salad manually
Products In This Video

Related Videos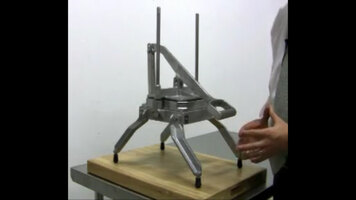 Nemco Easy Lettuce Cutter
If you prefer to shred your own lettuce but hate the hassle, then the Nemco easy lettuce cutter is for you! Learn how you can save money and prevent browning by cutting and shredding lettuce with the Nemco Lettuce Cutter.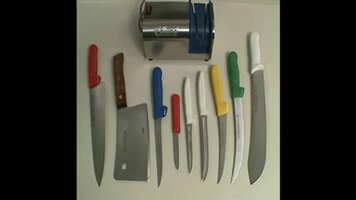 Edlund 401 Electric Knife Sharpener Introduction
Learn the ins and outs of the Edlund 401 electric knife sharpener, the only item of its kind to be NSF Listed!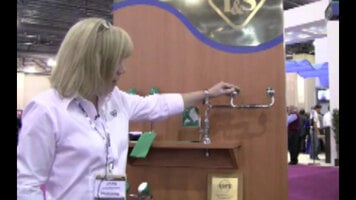 Learn about TS Eye Wash and Face Wash Stations
In this informative video, you'll learn about several different styles of eye wash stations that we carry from T&S Brass. Keep your employees safe by installing the right emergency eye wash station for your business!