Tuffy series shelves are made from high strength, thermoplastic resin. The ribbing on the underside of each shelf adds strength and durability. This allows for a 300 pound weight capacity. All Tuffy series shelves are 24 inches wide by 18 inches deep. It comes in heights of 26", 34" and 42". Available in a variety of shelf and leg colors. Options include: locking steel cabinet, WTD locking steel drawer, WFSC monitor mount, front pullout shelf, side pullout shelf or both. Easily assembles in only 5 steps. Refer to any accessory instructions before beginning assembly.
Check out this video on Luxor H. Wilson's line of Tuffy shelves! Learn more about how these shelves are made, as well as what additional options are available for these products.
Related Videos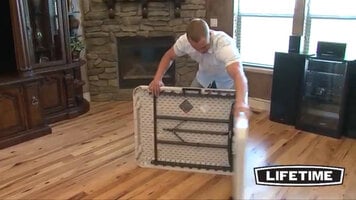 Lifetime Fold-In-Half Table
Lifetime fold-in-half tables are the perfect solution to minimal counter-space at your venue, providing an impromptu work, display, or dining area! Watch this video for a step-by-step guide on how to easily and securely fold and unfold your table.
Sterno Products Green Heat Chafer Fuel
To learn about all the great environmentally friendly benefits of Sterno Prooduct's Safe Heat Green, check out this video! See how this product meets the Sustainable Solutions program as a truly green product that doesn't sacrifice performance!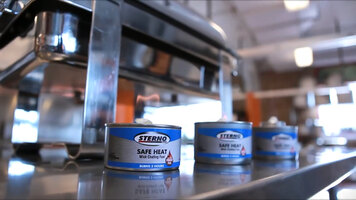 Choosing the Right Fuel For Your Event
Looking for the perfect Sterno for your next catered event? Check out this video to learn about all of the options Sterno Products has to offer. Whether your want gel or liquid chafing fuels, they have an option to best suite your heating needs!