Hi, I'm Rich Steinberg and I'm with the ProTeam Company, and today we're at the ISSA show in Orlando, Florida and we're very excited because we're introducing a full line of wet/dry vacuums. ProTeam is new to the wet/dry business and this is the line of product that we're really excited to introduce. We have three units I want to talk about today, in a line of 6 different vacuums. The first of which, is our 15 gallon wet/dry vacuum and this has an optional squeegee mount. The best part of this vacuum is we looked at all the different wet/drys on the market today and we wanted to find all the features that we felt that customers would really respond to, and we put them in these units. This unit is equipped with a revolutionary filter system that allows us to make, to filter out all the different uh sludge and slurry that would come up through the vacuum. This is a filter that is in a quick lock system, it works just like that, it goes above the float. What happens is as the foam builds up, we all know the biggest problem we have when we're doing floors is we have foam build up. You have to dump out your vacuum a lot more frequently and that takes away from your productivity. This filter eliminates that, you just simply put it over your float system, pop it in place, put it in. When the foam comes up against the filter, it basically dissipates runs back down in the vacuum and then you can just work with the liquid that you can go ahead and get into the filter tank and then discard when you need to. We have a peddle system that is designed to be very problem free, just simply use the foot peddle to open it up and that will drop the front mount squeegee. The second thing that we do to go ahead and raise it just push your foot in, push the peddle out and the squeegee raises for you. We have two ways to drain this unit. The first way is by releasing the hose, removing the motor housing and simply pulling off the stopper and dumping the unit. This would be if you had a toilet you were dumping into or a larger or higher receptacle. The second way is just simply using the drain hose, if you just had a slop sink you had back in the janitor's closet. If you also want to notice, we put very heavy duty clips on this unit cause we know that our employees sometimes aren't as gentle on our equipment as we'd like them to be. This is built to last and that's what ProTeam does with all of our equipment. We've also put an ergonomic handle on that's very easy to walk behind, we all know that when we're uh doing a large surface area you wanna have something that's very ergonomical for your employees so it's very easy to walk behind. Last thing I wanna show you on this unit is how easy it is to change out the front mount squeegee. Just has 2 different clips on it, slides into place, tighten the thumb screws, put the hose on and you've completed the process. Next, we wanna talk about our 10 gallon unit. This comes in two configurations. The first is our regular 10 gallon; it's gonna be the workhorse of the line. This particular unit has all of the features of the 15 gallon that I just showed you with the different filter options, with applying dust filter which is with the easy on and off system. This also comes with your wet filter. It comes with multiple ways to drain it where you can just simply lift if up since its 10 gallon, pour it into a slop sink or other receptacle, or it has a back drain which it makes it very easy for you to pour out any sludge that you may have picked up. All of our units have screw on receptacles where you put on the hoses, which makes it very good because when you're using these pieces of equipment you sure don't want your hoses to be released so you just simply put it on and screw them into place. And they also come with heavy duty commercial hoses. This unit also comes with a Hepa option for those of you who that are interested in anything in the way of the lead abatement program for the EPA. The lead unit is perfect for that, for any needs you may have in that area. The unit that we wanted to talk about is that we have a 3 gallon battery unit. This unit is perfect for day porters, quick pickups, if you have building engineers that have a need to just go in on a cordless situation where tripping is a hazard with plugs, this unit is perfect for that need. It is a 3 gallon wet/dry, the only one that is in the commercial industry at this time. It comes with a full complement of tools and it runs off of an 18 volt lithium ion battery system. Comes with the following charger that comes with the system and an easy out battery. You have about an 11 minute run time on this battery, continuous run, when toggled a lot longer and then you also have on this particular system a 30 minute charge time. The 3 gallon unit also comes with some very unique features the first of which is a noise diffuser and filter when pulled out and the hose can be reversed it becomes a blower on the unit. This can be very good and handy when having to blow out certain areas maybe under a machine or something, or to blow the dust off something. 3 gallon unit comes with a fine dust filter and we feel that this is going to be the perfect complement for someone who has day porters, any needs where they need a cordless system. ProTeam is excited to add this line of wet/drys to our line of vacuums. With our backpacks, uprights and canisters, now having wet/drys now truly make us the vacuums company. This full line is going to be available December 1, 2010 and please contact your local ProTeam rep for a demo as soon as possible. Thank you very much.
ProTeam offers a variety of heavy duty wet dry vacuums. These vacuums have unique features such as the filters that are used, the durability they each possess, and how easily they can be drained. Check out this line of wet/dry vacuums from ProTeam!
Related Videos
ProTeam ProGuard
Prepare for the unexpected disaster or mess with ProTeam's line of ProGuard vacuums! With multiple versions in different sizes and capacities, you can choose which ProGuard product is right for you. Bakers Pride e300 Speed Oven: Cooking
Watch this helpful video to learn about the many different types of product you can cook in your Bakers Pride e300 speed oven! From toasting to roasting, this oven offers unmatched versatility that will impress the guests at your establishment.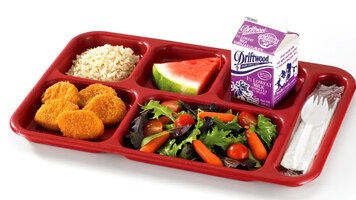 Cambro Compartment Tray
Watch this video to learn about the many different types of Cambro compartment trays and how they can be an excellent addition to your cafeteria line!