As oil prices continue to rise, it's important to take advantage of products that allow you to use less oil. Using Frypowder filter aids and oil stabilizers can cut down on the amount of oil used, ultimately saving you time and money. But if you don't properly clean your fryer beforehand, it's like throwing all that money down the drain! You should always start your fryer oil stabilizer regimen with a clean fryer that's been boiled out to make sure all dirt and debris has been removed. Otherwise, you may have proteins, polar contaminants, and other matter that will start to contaminate the new oil immediately when added. That will break down the oil quicker, leaving you to change the oil more frequently and ultimately costing you more time and money! This video will show you the proper steps to ensure that your fryer is ready for use by using Noble Chemical Tempest Deep Fat Fryer Cleaner, a high temp fryer brush, and a fryer clean out rod. I will also show you how to safely discard your used oil once you have determined it is no longer usable. Don't forget to check out our video on MirOil's fryer oil test strips to help take the guesswork out of knowing when to change or filter your oil. Noble Chemical Tempest Deep Fat Fryer Cleaner is easy to use and thoroughly eliminates all encrusted grease and grime. Just follow these simple steps! Drain all grease from the fryer and safely discard grease using an oil caddy and an approved used oil discard container. Use the fryer clean out rod to clean any remaining debris out of the drain line. Rinse the fryer with hot water to remove excess, un-drained fat. For a fryer holding approximately 30 lbs. of fats or oils, fill with cool water to within 3 to 4 inches of the top. Add 8 ounces of Tempest to the cold water. Boil slowly for 20 minutes. Use proportionately, using more or less depending upon the size of the fryer. After termination of boiling, allow the fryer to drain slowly and use a long handled, heavy duty brush to clean the sides, top, heating elements, and other parts of the fryer. Then rinse thoroughly to remove all residue. For future cleaning operations, less boiling time is required to perform this cleaning operation and the amount of Tempest used may be cut in half. Thanks for watching, and be sure to check out all of the oil filtration equipment and accessories on our website!
Watch this video to learn how to perform a boil-out to keep your fryer clean! Complete the procedure frequently to save your business valuable time and money.
Related Videos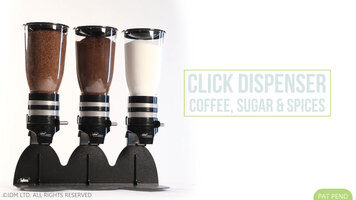 Cal-Mil Click Dispenser
The Cal-Mil click dispenser is perfect for your work place, coffee shop, or bakery! Fill it with sugar, coffee, or spices, and use the helpful click-mechanism for exact portion control.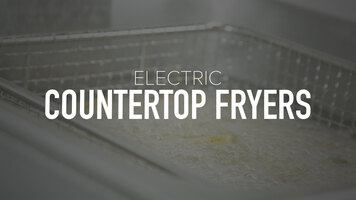 Electric Countertop Fryers
Looking for a compact, affordable solution to increasing the output at your restaurant, food truck, or snack bar? Try an electric countetop fryer!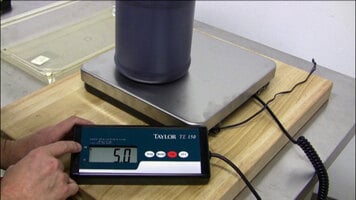 Taylor TE150 Digital Receiving Scale
If your supplier consistently shorts you on product, it can really add up over time. Protect yourself with the Taylor TE150 digital receiving scale! It features innovative functions such as a tare button, hold button, and customizable display.