The easiest way to pop a perfect single kettle's worth of popcorn every time without measuring, mixing, or wasting a single kernel is to follow these instructions.

1. Turn on your kettle.
2. Allow it to heat for 3-5 minutes.
3. Open a single Handi-Pak packet.
4. Empty the contents into your kettle.
5. Let it pop completely.
6. Use a popcorn scoop to fill a Carnival King popcorn cup.
7. Serve and enjoy!
With All-In-One popcorn, making your customers' favorite snack has never been simpler! Check out this video to learn just how quick and effortless it is to make perfect popcorn every time with All-In-One popcorn.
Related Videos
Flavored Iced Coffee by Monin
Learn how to make a quick and delicious caramel iced coffee using the caramel syrup by Monin! With just 2 ingredients, you'll have fresh iced coffee for your customers.
Globe C Series Slicers
This video outlines the features of the Globe C series of slicers. These light-duty slicers are perfect for operators needing just 30-60 minutes of use per day. They have a bottom cover to protect the electronics and the motor for added durability.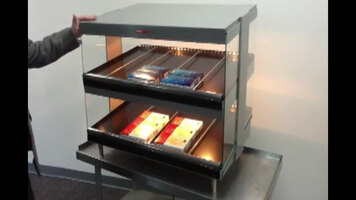 Star Heat-Wave Merchandiser
Learn about the hardware inside the Star heat-wave merchandiser!