[Narrator]: Introducing our best performing commercial stand mixer ever, the all new KitchenAid 7 qt commercial stand mixer, designed with chefs in mind!

[Chef]: We do work with the best ingredients, the best equipment, and provide our students everything they need to reach excellence. We use the KitchenAid stand mixer every day - this is the typical small piece of equipment that you use all the time. Chefs are not gentle with the pieces of equipment, so we do need very strong pieces of equipment.

The benefits of this new 7 qt. mixer: it is a larger size with attachments. The whip shape is what we are looking for in a perfect whip. You have such a shape that you can whip a smaller amount of egg white and a larger amount and it will still give you the perfect end result.

What I love about these bowls is the new shape. They are very easy to grab, with this open ended handle. Very easy to stack for storage. Finally, you have a piece of equipment that is designed with professionals, by professionals, for professionals.

[Narrator]: The KitchenAid 7 qt. commercial stand mixer, helping chefs create great cuisine. Premium performance, exceptional results, legendary KitchenAid quality.
Check out this video to learn more about the KitchenAid 7qt. commercial stand mixer!
Related Videos
Kitchenaid 8 Quart Commercial Mixer
Check out this video to find out why professionals are flocking to this new Kitchen Aid® Commercial Stand Mixer. Designed with chefs in mind, this mixer is just what you need to whip up large and small batches of your most popular recipes.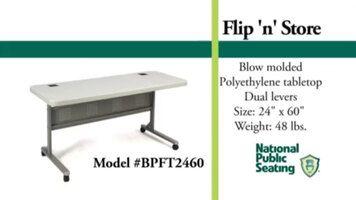 National Public Seating Flip Top Tables
The NPS Flip N' Store table is a great option for any venue requiring a seminar style set up! The multi-purpose table is light weight, easy to clean, and tested to support up to 700 lbs. Vacu Vin Citrus Carafe and Press
Serve fresh infused waters and refreshing seasonal beverages with this Vacu Vin citrus carafe and press! This carafe comes with a reamer and special top so you can squeeze citrus right into the carafe! This short video will show you how.