This fully programmable VonDrehle hands-free electronic dispenser allows you to control usage and reduce costs. Loading it is easy, and takes only seconds! Open the dispenser using the included dispenser key. Load the paper on the load arms with the paper "tail" unwinding from the back of the roll. To start the first sheet, place the "tail" under the top transfer bar arm. Close the dispenser cover and place hands below the opening to initiate dispensing.

The battery compartment holds four alkaline D-cells and is easy to reach, even when loaded. Programming is simple. The first switch controls the paper saver mode. Choose max by switching up, off by leaving the switch in the middle, or min by switching down. The second switch controls the delay mode. Select a long, medium, or short delay by switching up, to the middle, or down. Finally, the third switch controls the paper towel length, and allows you to choose a long, medium, or short size.

The stub roll feature assures uninterrupted service. To load, remove the stub roll from the roll arms and move it to the cavity below. Move the paper from under the transfer bar arm and place it under the entire transfer bar arm assembly. Then load a new roll in the same manner as outlined above and shown on the diagrams inside the dispenser.
Learn how to fill, operate, and modify your VonDrehle hands-free electronic paper towel dispenser!
Related Videos
San Jamar Rely Hybrid Electronic Touchless Soap Dispenser Changing
Check out this instructional video to learn how you can change the pump in your San Jamar Rely Hybrid electronic touchless soap dispenser.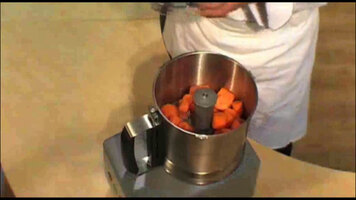 Robot Coupe Blixer 3-H
The Robot Coupe Blixer 3-H food processor is the best of its kind! Watch as the Blixer 3-H liquifies, grinds, chops, purees, and emulsifies its way through meat, carrots, noodles, beets, and much more! Continuous Feed Food Mill
Increase your output and efficiency without sacrificing quantity by using this manual continuous feed food mill. Here, Steve demonstrates how easy it is to make a perfect tomato paste out of both canned and fresh tomatoes using this food mill.