The TSSU-48-12 is True's 48" salad prep table. TSSU cabinets come in the following sizes: 27, 36, 48, 60, and 72 inch. Megatop units are available as well as options for drawers. Made with high quality metal the TSSU-48 has an all stainless steel front, top, and sides with an aluminum back to match. Make sure to leave adequate room for the cabinet's dimensions. It comes with an 11 3/4" deep full length removable cutting board, which is made from sanitary high-density NSF approved white polyethylene. The doors to the storage areas below come with 12" recessed door handles and come with a 90 degree stay-open feature for easy loading and unloading. This unit comes standard on 5" casters and is available with 6" legs at no charge. On the interior of the TSSU-48-12, you will find NSF approved white aluminum walls and stainless steel floors with easy cleaning coved corners. Another interior feature is the four adjustable heavy duty PVC coated wire shelves. door comes with easily removable gaskets. The entire cabinet is foamed in place with zero ozone depletion potential, zero global warming potential Eco-mate foam. The countertop prep area comes standard with twelve 1/6 size clear polycarbonate NSF approved food pans. The countertop pan opening is designed to fit varying size pan configurations up to 8" deep with available pan divider bars. When the pans are not in use, they can simply be covered by the stainless steel patented foam insulated lid and hood, which keep pan temperatures colder, lock in freshness, and minimize condensation. True's patented forced air design moves air below the food pans to keep the product temperature between 33 degrees Fahrenheit to 41 degrees Fahrenheit. The TTSU-48-12 has an oversized and balanced refrigeration system that ensures faster temperature recovery and shorter run times in the busiest of foodservice environments. Please contact your local foodservice equipment provider for more information. Certain features and benefits may vary by country or location. True's TSSU-48-12.
Learn the ins and outs of True's TSSU-48-12 refrigerator!
Related Videos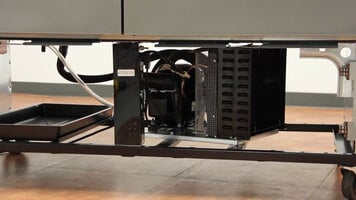 How to Clean Your Condenser
Be sure to check out this video to learn how to clean your condenser on your True refrigerator! Step-by-step instructions are given on how to properly clean your condenser, and how to figure out how often you should be cleaning it.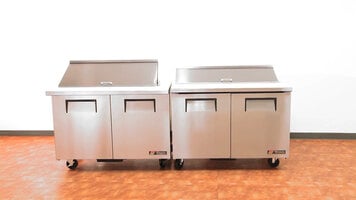 True Sandwich and Salad Prep Refrigerator
Learn the ins and outs of True's sandwich and salad prep refrigerators! How to Use the Hoover Hush Tone Lite Vacuum Cleaner
Learn how to use your Hoover Hush Tone Lite vacuum cleaner when you watch this video. This vacuum features a "Low" Hush-Tone setting for noise-sensitive environments.