The TRCB is True's refrigerated chef base line. Also known as refrigerated griddle stands, TRCBs come in various sizes from 36" all the way up to 110". The varying sizes allow multiple options for the amount of cooking equipment to be used as well as food storage space found in the refrigerated drawers below. Made with quality metals, TRCBs have a stainless steel front, top, and sides with an aluminum back. The top of the chef base is made of one piece 18 gauge reinforced stainless steel with drip resistant V edge that protects against spills. A flat top option is available at no charge. Remember that the countertop cooking equipment should be used in conjunction with the manufacturer supplied legs with a minimum clearance of 4" required between the bottom of the cooking equipment heating element and the TRCB top. The drawers to the storage area below come equipped with 12" recessed door handles. These units come standard on 4" casters and are available with legs at no charge. On the interior of a TRCB, you will find NSF approved white aluminum walls and a stainless steel floor with easy cleaning coved corners. The refrigerator drawers come in varying sizes depending on the model, and can hold multiple size pans up to 4" deep. Each drawer comes with an easily removable gasket. The eentire cabinet ins foamed in place with zero ozone depletion potential, zero global warming potential Eco-mate foam. TRCBs have an oversized and balanced refrigeration system that ensures faster temperature recovery and shorter run time in the busiest of foodservice environments. Many accessories are available for TRCBs. Please contact your local foodservice equipment provider for more information. Certain features and benefits may vary by country or location. True's TRCBs.
Learn the ins and outs of True's TRCB chef bases!
Related Videos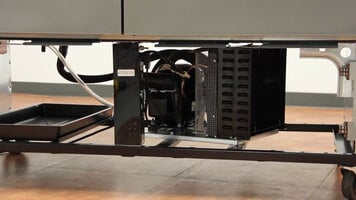 How to Clean Your Condenser
Be sure to check out this video to learn how to clean your condenser on your True refrigerator! Step-by-step instructions are given on how to properly clean your condenser, and how to figure out how often you should be cleaning it.
Advance Tabco 7-PS-63 Mounting Installation
Watch this video to see how to properly mount the 7-PS-63 hands free hand sink from Advance Tabco.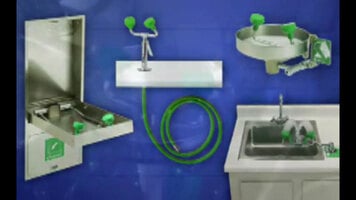 TS Brass The Importance Of Eyewash Stations
Watch this video to learn how important emergency eye wash stations are for your employees' safety. Not just for chemistry labs and class rooms, an emergency eye wash station provides added safety and protection for your kitchen workers' eyesight!