Whether you're catering a banquet, wedding, bridal shower, or other special event, we have the best selection of chafers and accessories at the best prices. My name is Matt Schuler, product expert and corporate chef. Today I am going to show you why Choice brand chafing fuels should be your #1 Choice for chafing fuel. Our buying power and skilled purchasing department allow us to keep our pricing incredibly low without sacrificing quality. We offer 3 different types of chafing fuels by Choice. 2 hour, 4 hour, or 6 hour(show pic of 3 cans) Of these three products, you will need to choose which fuel source best fits your application: wick fuel or gel fuel. Choice chafer gel fuel is the hottest and longest burning ethanol fuel on the market! Made from 200 proof gelled ethanol and capable of producing 1630 BTU's per hour, its gelled formula provides a higher heat output than conventional wick fuels and allows for maximum burn time. It is also easy to light, odorless, and burns clean. It delivers high-quality heat that burns hotter, longer, and safer than comparable fuels. Choice Gel fuel is offered in a 2 hour burn time. While Choice wick fuel is offered in 4 & 6 hour burn times. Although the 2 hr gel fuel offers to the lowest cost per can, the best value in terms of burn time & cost/hour is the 6 hour wick fuel. Because our wick fuel offers a convenient screw on lid, you can reuse the fuel to get the full 6 hours of usage out of it. If safety, flexibility and cost per hour are what you are looking for, then Choice wick chafer fuel is your brand. Our 6 hour wick fuel costs 18 cents/hour as compared to 24 cents/hour for the 4 hour wick fuel and 26 cents/hour for the two hour gel fuel. Its wick design and diethylene glycol fuel promote safe burning and help to keep the can cool to the touch even during use, while still providing a consistent, long-lasting flame. Even when spilled the liquid does not burn! These Choice fuels are also eco-friendly! Each can is made from recyclable aluminum, and the ethanol is produced using natural and recycled raw materials, resulting in a high-performance chafer fuel that is organic, biodegradable, 100% recyclable and made in the USA. Choice chafer gel and wick fuels are both great product, but here is a comparison to make your decision easier. Offered in a 2 hour burn time, Choice Gel fuels burn the hottest, are the least expensive and are the best option for chafers with low-resting water pans. On the other hand, Choice chafer wick fuels are available in both a 4 and 6 hour burn time, burn clean diethylene glycol, feature a resealable lid to get the maximum burn time and are cool to the touch. In addition, you don't have to worry about spilled liquid because any spilled wick fuel won't ignite. Check out our burn time comparison sheet, cost per hour chart, as well as the MSDS sheet, and our chafing fuel buying guide on our product page. (Show screen shot of product page/comparison chart/cost per hour chart). We also have a chafer fuel savings calculator where you can plug in the amount of fuel used per week and see how much savings you will have by switching to 6 hour Choice brand wick fuel. These charts will help you make a better buying decision! As always, click on the chat button for further questions regarding Choice brand chafing fuels. We hope this video helped you make the right "choice" for your foodservice application!!
In this video, Corporate Chef Matt Schuler explains the best options to suit your needs when it comes to chafer fuel. From gel fuel or wick fuel, or fuel that burns up to 6 hours, Choice Chafer fuel has just what you need for every occasion!
Related Videos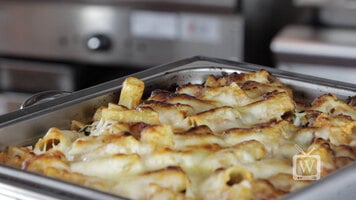 Chafer Fuel Handling Tips
Check out this video to learn some vital tips about handling chafers and chafer fuel!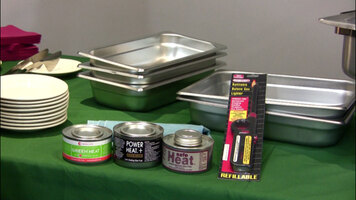 Chafer Accessories Review
Accessorize your Choice chafer with our full, 1/2, and 1/3 size food pans! Also check out our 3 types of chafer fuel, convenient microfiber cleaning cloths, and even our refillable long tip lighters.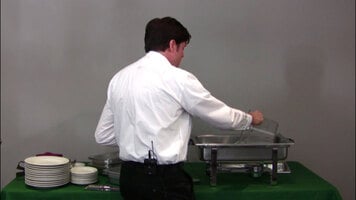 How To Use A Chafer
Watch as Steve demonstrates the proper way to use your chafer, from how much water you will need to when you should light the fuel. And remember, a chafer is only for keeping food warm, not for cooking it!