Today we're going to learn how to install a WB series white board by Luxor. Insert the tray into the bottom groove on your white board. Slide the tray to the center. Determine the general location that you'd like to install your white board. You'll be snapping two horizontal chalk lines at the heights as indicated on the drawing. Please consult your installation instructions for the proper height from the floor for each chalk line. The hardware provided is for installation on drywall. If you'll be attaching to another material, such as concrete, you'll have to have your fasteners furnished by others. If attaching to drywall, you'll need to drill four 1/4" holes as specified by the instruction sheet. Snap a chalk line between the two marks that have been made from the floor to the bottom. Next, snap a chalk line between the two markings at the top. Place the plastic inserts into the holes that have been pre-drilled. Use a soft mallet or hammer to tap the plastic inserts into the hole. Attach the brackets at the bottom using the long screw that has been included in the hardware pack. Make sure that the bracket is attached at its lowest position. After installing all the brackets at the bottom, install the brackets at the top. Make sure to install the brackets at the top at their highest position. You'll later tap these down using a hammer. Place the white board on the lower brackets making sure to center it with the middle lower bracket. Attach the bracket at the bottom to the wallboard using the short screw that was provided in the hardware pack. Tap the top brackets down so they are touching the top of the white board. Attach the brackets to the white board using the short screws that have been provided in your hardware pack. Carefully remove the plastic protective cover from the front service of the white board. Now you are ready to begin enjoying the use of your new white board from Luxor.
Learn how to install and start using your Luxor WB series whiteboard!
Related Videos How to Make Fudge Puppies
This demonstration from Gold Medal will show you how to make fudge puppies in minutes using your 5044 Five Waffle Dog Baker.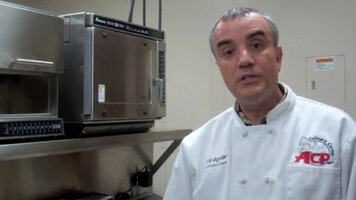 OnCue Introduction
The OnCue microwave oven packs 2400W of pure microwave power! It also features a door that slides up and down, a unique jigsaw design, and an easy-to-clean surface, that will allow you to maximize space and efficiency in your kitchen.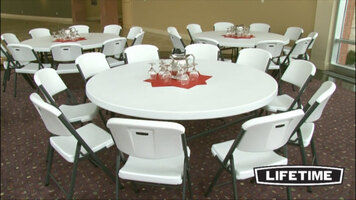 Lifetime 72 Inch Round Folding Table Review
Learn about the features of this LIfetime 72 inch round folding table and what makes it perfect for churches, schools, conferences, and banquets. It is stain resistant, durable, and easy to clean, making it perfect for any event!