No vents, no hoods, no infrastructure, cook anywhere, easy to use. Load the food, set the timer for 2 – 5 minutes and your food will be ready to serve. Perfect for bars, clubs, cinemas, QSR, cafes, convenience stores, and bakeries, the automated cooking of these Perfect Fry fryers makes them the ideal choice for a multitude of applications. And you'll get perfect food every single time! It's not just for French fries either; you can cook spring rolls, chicken wings, shrimp, and much more in these fryers. Choose from the three models of Perfect Fry fryers to increase your profits without the bother of traditional fryers.
Check out the basics and benefits of picking up a Perfect Fry automated fryer!
Related Videos
Perfect Fry PFA7200 Demonstration
Learn about all the time, profit, and equipment benefits of the Perfect Fry PFA2700 automated fryer!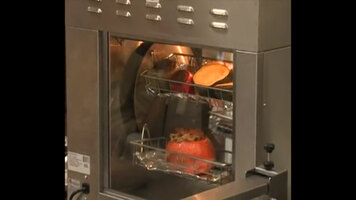 Vollrath Countertop Rotisserie Oven Demonstration
In this video, you will learn about the flexibility and benefits of the Vollrath countertop rotisserie oven. This oven's all stainless steel interior makes it easy to clean, too! Turbochef C3: Daily Maintenance
If you want to keep your Turbochef C3 oven in top-quality condition, then daily maintenance and cleaning is a must! This video gives brief, step-by-step instructions on how to clean every part of your oven.