(Transcript Unavailable)
This video will teach you how to easily assemble a disposable beverage dispenser so that you can dispense all types of beverages. Because this dispenser is disposable, clean-up is effortless!
Products In This Video

Related Videos
Avantco F102 Countertop Fryer
Learn about the helpful features and benefits of the Avantco F102 countertop fryer!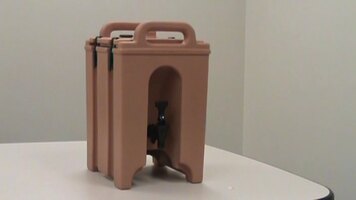 Camtainer Faucet and Spout Assembly
Cambro teaches you how to assemble your faucet and spout.
Lincoln Impinger Oven 1100 Series: Weekly Cleaning
The weekly cleaning procedure for 1100 series Impinger ovens from Lincoln is reviewed. Follow these guidelines to keep the exterior and interior clean.