To start, unpack the dispenser and lay it flat. Lift one corner until the sides are square. Press the bottom in flat, folding the tab toward the outside along the perforation. Fold in the two sides, bending the tabs inside along the perforations. Fold the outer flap of the bottom in, bending along the perforations, with the tab toward the outside. Push the spigot and the fill spout through the provided holes from the inside. Close the top, aligning the outer flap over the fill spout. Insert the final tab into the provided slot. Punch in the three handle slots at the perforations. Fill with your choice of beverage through the fill spout at the top of the dispenser. Remove the safety ring from the spout and begin dispensing. For printable directions, click on the instructions tab on the page of the product you are interested in.
This video will teach you how to easily assemble a disposable beverage dispenser so that you can dispense all types of beverages. Because this dispenser is disposable, clean-up is effortless!
Products In This Video

Related Videos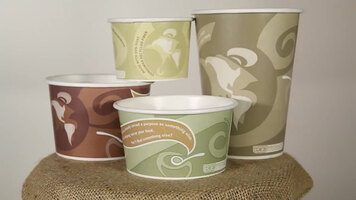 Eco-Products Hot and Cold Food Containers
Check out these Evolution world hot and cold paper food containers from Eco-Products! Made of 24% post-consumer recycled fiber, you'll be making an eco-friendly choice. Available in a variety of sizes, these containers are perfect for food service!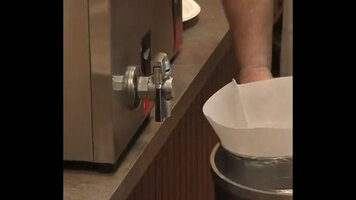 How to Clean a Vollrath Deep Fryer
Want to learn how to clean your Vollrath deep fryer? Watch this video to see just how easy it can be!
Lincoln Impinger Oven 1600 Series: Troubleshooting
Troubleshooting with the 1600 series Impinger ovens from Lincoln. This video offers an overview of diagnostic messages as well as what you can do to ascertain exactly what your oven needs done!