Our Choice brand Deluxe Rolltop Chafer is our most popular rolltop chafer. This rolltop will not only add a bit of elegance at a low price, but it also eliminates the need to figure out what to do with your chafer lid. Hi, I'm Steve Ziegler, Product Expert at the WEBstaurantstore. Even though we have the lowest price around on these chafers, these are solid units and complete chafing kits. Let's take a closer look. This chafer has a solid, sturdy, wide-legged welded frame. You get the dome rolltop cover with the gold tone handles, gold tone handles on the sides, inside you'll see this comes with a 2.5" full-size food pan; has a high polished four inch deep water pan underneath. You also get two fuel cell holders. The unit's constructed of 18/8 stainless steel, high polished and it's very easy to clean. In addition to everything that you get with the chafer kit, we also offer third-size and half-size food pans that also fit inside of here. It's great if you have foods that won't get used up as fast or if you just want to offer more choices. In addition to extra food pans, we also have a full line of different chafing fuels. We carry the lighters with which to light the chafing fuels. We also carry microfiber clothes which are the perfect thing to polish these units up. They don't scratch and often they clean so well that you don't even need any cleaning chemicals. Well, thank you for watching and if you have any questions, please feel free to use our live chat button.
Add a touch of elegance to your presentation for an exceptionally low price! Our deluxe roll top chafer comes in a complete chafing kit and eliminates the problem of what to do with your chafer lid.
Related Videos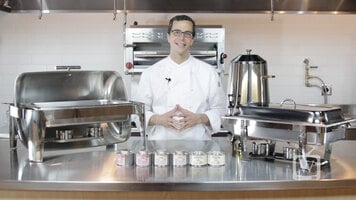 Choice Chafer Fuel
In this video, Corporate Chef Matt Schuler explains the best options to suit your needs when it comes to chafer fuel. From gel fuel or wick fuel, or fuel that burns up to 6 hours, Choice Chafer fuel has just what you need for every occasion!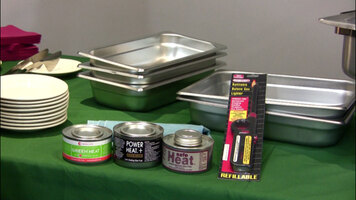 Chafer Accessories Review
Accessorize your Choice chafer with our full, 1/2, and 1/3 size food pans! Also check out our 3 types of chafer fuel, convenient microfiber cleaning cloths, and even our refillable long tip lighters.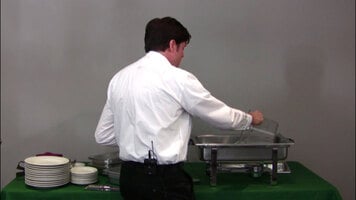 How To Use A Chafer
Watch as Steve demonstrates the proper way to use your chafer, from how much water you will need to when you should light the fuel. And remember, a chafer is only for keeping food warm, not for cooking it!