You will need a sheet pan and an extender, plus parchment paper and a release spray. Place the parchment paper on the sheet pan and place the extender on top of it. Spray the pan, making sure not to miss the sides of the extender. Pour the batter into the pan filling it about 3/4 of the way to the top. Bake the cake according to the recipe directions and then gently remove the extender. Using an extender you can prevent the sides of the cake from over-baking, making every bite just as good as any other, and you can eliminate trimming. If you are looking for aesthetic appeal, an extender also allows for straight sides.
Watch this quick video to learn how you can use a pan extender with your sheet pans to bake delicious cakes with ease!
Related Videos Ribbon Footed Etched Blade Grater
Perfect for making thin chocolate or cheese curls, this ribbon footed etched blade grater features an anti-slip foot for stability. Check out this video to see the ribbon footed etched blade grater in action!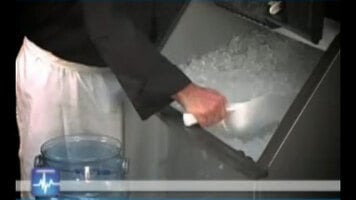 Introduction to the Manitowoc Indigo Series Ice Machines
Manitowoc Ice's new Indigo series ice machines boast 6 improvements to their design for maximum performance, quality and reliability. Watch the video to learn more! Features of the Lifetime 4 Foot Folding Table
Learn how the quality construction and innovative design of this multipurpose Lifetime folding table makes it perfect for any use in your home, office, campground, or any other setting! It is stain resistant, durable, and easy to clean.