Hi, I'm Bill Verity, president of Crown Verity. Today we're going to talk about Crown Verity's world famous tailgate grills. There is nothing like this product on the market, this is an amazing product that lets you actually tow and grill to where the people are. Who doesn't love tailgating? Our tailgaters have a huge market. Colleges and universities use our tailgaters, the rental market is a big market, football games and other sporting functions, car dealerships will actually buy these for customer appreciation, caterers, contract feeders purchase these. They all love our tailgaters. Let's take a look inside. We have a 48 inch grill surface, 22 inches deep, and this is an optional bun rack which is adjustable. And again we have three burners on the left side and three on the right. A nice feature on our grills are the lighting ports. Another feature, if you notice here, we have a large lip on a roll dome, and the purpose of this is when we close it holds the grates in place so when you're going down the gravel road at 60mph, your grates aren't going to go up and down and pop out, a really good feature. Another feature we have is when we're travelling we can actually lock the roll dome, you can put a padlock in here you can put a zip tie. Another great feature we have is a water pan. Always put water in the water pan, and when you're grilling your drippings will eventually work their way down to the water pan where we have a drain right here, very easy to clean it up. We have end shelves on either side of the grill. These are great for operators that like that extra work space, this is just an amazing feature that every chef is going to appreciate. The unit can accommodate two 30 pound propane cylinders, one operates one side, and one tank operates the other. So this gives you a lot of fuel capacity. The actual trailers on our tailgaters conform to all safety standards for transportation in Canada and the United States. Our actual grills are NSF approved, and they comply with Canadian Gas Association gas standards and also American Gas Association gas standards. Our grills are available in three different models. We have a TG-1 which we are looking at right now, we have a TG-2 and we also have a TG-4. All of the different models are configured different, and we are going to talk about the difference in a minute. Now let's take a look at the front end of the tailgaters. Every tailgater comes with a trailer hitch that accommodates a two inch ball. Also comes complete with a wiring harness and a trailer jack. Every tailgate grill also comes complete with a bracket system that will accommodate two 30 pound propane cylinders. The ton weight varies from 50-180 pounds and that all depends on what we have loaded up on the trailer. Another great feature that we offer is the stainless steel insulated containers. We are looking at the top of a TG-1 here, as you can see we have the same locking system, so we can lock these so they're not going to pop open when you're driving down the highway. That's a nice feature. Now let's take a look inside, just open this up and the first thing you should notice is the pneumatic piston. And this piston holds the door open for you, and makes it very easy to access. Another nice feature that our insulated bins have is a drain. We have an ice chest drain located right under the sticker, and that allows you to drain the water out of your ice bins. Another great feature of our tailgaters is the removable tongue. We have a nut and a bolt here, and we can loosen this off and the whole tongue assembly comes right out. And this is great for an event, so it takes up less room, you're not going to come and hit your shins when you're walking around it. And it also is a great feature, when we ship these, when we have to ship them from one coast to the other on a skit, we take the tongue and we put it underneath, and this decreases the cube and decreases the shipping rates. We are looking at a TG-1, and the actual physical weight of this is 852 pounds. Our TG-2 is 652 pounds, and the difference between the 1 and the 2 , TG-2 does not have the stainless steel insulated containers. Our tailgater model TG-4 is exactly the same as the TG-1 except we have an extra 31 inches of space at the front, it has a stainless steel deck, it has a sink with hot and cold running water and extra storage capacity. The TG-4 is 1,050 pounds net weight. If you're a college or university, a sporting venue, a caterer, or a rental store, please consider Crown Verity's TG-1, 2, or 4 for your next tailgate party. And let's go tailgating!
This video goes over Crown Verity's line of tailgate grills, including the TG-1, TG-2, and TG-4.
Related Videos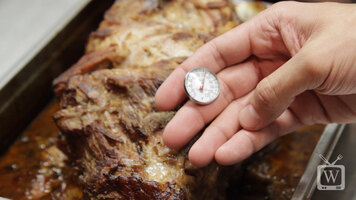 How to Calibrate a Dial Probe Thermometer
Learn how to quickly and easily calibrate your dial probe thermometer for your specific needs!
How to Spatchcock a Chicken
Ever wondered how to spatchcock a chicken? This tutorial gives you simple, easy-to-follow directions! Check out our step-by-step directions for more tips on How to Spatchcock a Chicken.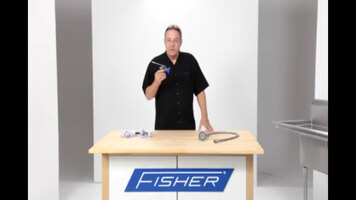 Fisher Ultraspray Pre-Rinse Valve
Check out this video on the Ultraspray pre-rinse valve from Fisher! It demonstrates the uses and functions of the ultra-spray valve and what sets it apart from other major brands and competitors.