Customers love the convenience and satisfaction of a perfectly roasted rotisserie chicken. They also love the theatrical experience of seeing their meal being prepared before their eyes. A clean oven is key to giving your customers that experience. That's where the Hobart KA7E self-cleaning rotisserie oven excels. Because after a full day of roasting chickens, it starts looking like this. Built up and baked on grease make it hard to even see, much less enjoy, the chickens cooking to perfection inside. For your average rotisserie oven, this would be a big problem requiring a lot of effort and labor to scrub this oven clean. However this isn't the case for the Hobart KA7E self-cleaning rotisserie. With just the push of a button, the Hobart self-cleaning rotisserie goes to work, powerful jets of water clean the inside of the machine top to bottom, requiring no effort from the operator. We went from this to this in about 2 hours. Do this at the end of the day, and you're ready to go the next morning. All the while saving about $3,200 in labor costs over the course of a year. The KA7E is programmable, easy to operate, and it cooks about 20% faster than comparable ovens. Combine the increased productivity with lower labor costs for cleaning, and your operation has a recipe for success.
This will give you a look at the Hobart KA7E self-cleaning rotisserie oven. With just the push of a button, powerful jets clean the inside of the oven, making it ready to go the next day!
Products In This Video
Related Products

Related Videos How to Tie a Roast
Learn the proper way to tie a roast with butcher twine to not only help your roast hold its shape, but to ensure even cooking throughout. The great thing about using butcher twine is that it won't burn in the oven or ruin the taste of your meat!
Conducting a Demonstration with the AXP-MXP22
The two most important pieces of advice to remember when you are planning to give a demonstration for the AXP-MXP22 combination oven (or any product) are: know your audience and know your equipment.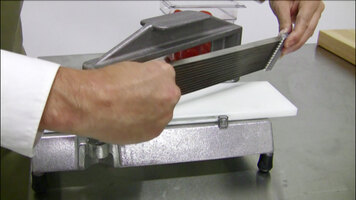 Tomato Slicer Blade Replacement
Need to replace the blade on your tomato slicer? Check out this step-by-step visual demonstration to learn how!