Swing-A-Way Large Crank Can Opener Easy Crank
<!-[PRICE_INCREASE_ADVERTISEMENT_3276090]->
Large turning crank for more controlled operation than standard manual can openers
Quality Rating:
Item:

3276090

Units:

Each

Shipping:

Usually Ships in 1 Business Day
When will I receive my Item?

Reviews:

UPC Code:

071584200148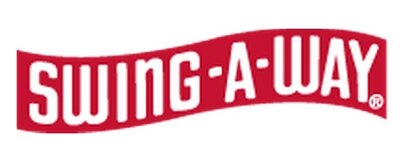 View all Swing-A-Way Hand Held Can Openers
Swing-A-Way
Specs
Length
10 1/2 Inches
Width
4 1/2 Inches
Manual Can Opener Type
Hand Held
Power Type
Manual
Details
Looking for the best manual can opener for your commercial kitchen or other foodservice establishment? With a large crank style handle, as opposed to traditional turn peg mechanisms, the Swing-A-Way easy crank can opener easily slices through cans while reducing hand fatigue. This handheld can opener offers a longer handle design that provides added leverage. The crank can opener's black swing grips offer comfort, style, and impeccable performance. The Swing-A-Way can opener measures 10 1/2"L x 4 1/2"W.
Related Items
Frequently Purchased Together
Customer Reviews
Overall User Rating:
Swing-A-Way Large Crank Can Opener Easy Crank

(

4.5

stars from

85

reviews )
These are a must have in the kitchen if you are opening a 10# can. Other can openers are impossible to use and will kill your hands! This crank moves easily and navigates can tops that are even damaged with ease. Highly recommend.

Megan Y. Posted on 04/13/2015

if you have arthritis as I do you won't believe this can opener. I open many number 10 cans in the course of a year and I can't believe what a lifesaver this can opener has been for me. it's the best and it's cheap too.

David B. Posted on 04/02/2015

This a very heavy duty can opener, not much effort required when opening a can so it relieves stress from the wrist if many cans need to be open. It is easy to clean, does not rust and a must have in any kitchen. Works well with small, medium or large cans.

Ivelise M. from Epicurean Element, LLC Posted on 03/23/2015

It works to open cans. It does not work that great. The swing a way large crank is suppose to make it easier to open #10 cans, but it functions just like a regular cheap can opener - poorly. We would not buy this one again.

Katrina C. from Big Eddy's Deck Bar Posted on 03/04/2015

Thank you for your review, Katrina. We are sorry to hear that this can opener did not suit you. Try this #1 Can Opener for a can opener more suited for larger cans in a busy restaurant environment.

WEBstaurantStore.com Customer Solutions

I didn't realize how large the hand crank was. This is definitely better suited for the #10 cans but in a pinch can also open the small cans as well. Either way it has a very smooth action.

Marcus T. Posted on 02/21/2015

We owned one of these easy crank can openers that we purchased in 2014, however, it didnt take long for the cutting wheel to get dingy, rusty thus coming apart. We routinely use can openers for our environment and really depend on them.

Jamen M. from Miller Enterprise LLC Posted on 01/29/2015

Thank you for your review! We are sorry to hear that the can opener you purchased began to rust after some time. We suggest this #1 Can Opener for a more commercial grade can opener.

WEBstaurantStore.com Customer Solutions

It is hard to find commercial grade hand can openers that don't break easily without purchasing the large one's, which are made for the large cans. This one is working now, but the handle seems flimsy, so I am sure that it will break as the other one's have broken.

Cheryl S. from Gluten Free Kids Posted on 01/04/2015

For a kitchen that doesn't use many aluminum cans and does not require a fixed countertop can opener, this is the best one you can find for regular use.

Chris S. from Mountain Oven, LLC Posted on 01/01/2015

Excellent. This can opener makes it easy to tackle those difficult number 10 cans that snicker at lesser openers. It's fast, easy to use, and does not take up too much room. Good value, too.

John S. Posted on 11/18/2014

A must have for #10 cans! Opens them like butter. Our old can opener broke on us during our work hours and this one saved us big time. We ordered two of these because we wanted one for a spare, but we've never used the spare one yet because the original one keeps on going for over a year of daily use. Nice!

Adam d. from Warrior Burgers Posted on 11/14/2014

I thought it would be awkward and clumsy to use cause of it's size but i have to admit this one awesome can opener! It also eliminates the cramped hand and fingers you might get from the twist type lever can openers on the market, the crank style avoids all the hassle and delivers superior force to open the cans effortlessly. The price cant be beat either, you have nothing to lose except your old heavy can openers!

Francisco D. from FRANK DIEGUEZ Posted on 11/14/2014

After over a year of use, this can opener keep working like day 1. I like the ease of use and it never fails to open all our cans. Great product!

Andrew F. from Bakers Buzzin' LLC Posted on 11/11/2014

Meh.... great while it lasts. Won't last long. If you open cans on anything one might consider to be a regular basis, do yourself a favor and get and Edlund: certainly easier and cheaper than buying these things continually.

Matthew S. from South Street Cafe Posted on 11/09/2014

I have arthritis in my hands and this can opener is a dream to work with. I can open any can I want with out any hassle or pain. I would buy this over and over again.

Matthew T. Posted on 10/28/2014

I have gone through two of these. The cutting wheel has come apart both times. Does not hold up very well in a kitchen environment!

Phu T. Posted on 10/27/2014

Thank you for your review! We're sorry to hear your can openers both broke. Your account has been credited for the defective units.

WEBstaurantStore.com Customer Solutions

The Swing-A-Way works fast and smooth. No hang-ups and no ghost cuts. I like this can opener because it doesn't cause my hands any discomfort. I bought two; one for me, and one to give to a friend.

Sarah b. from Here, There and Everywhere Cafe Posted on 10/26/2014

This didn't even last a month in our restaurant and we don't have many canned products. It actually starting leaving metal shavings in the cans and we had to throw away quite a bit of product because of this can opener. Honestly a cheap can opener from the store held up better than this.

Andrea H. Posted on 10/08/2014

Works great on all of our various cans. Usually cuts all the way around on first try. Definitely needs to be cleaned after almost every use though. Seems to collect a lot of whatever you're opening.

Robert Z. Posted on 09/11/2014

Great can opener, The large crank handle makes it so easy to open the big cans. I bought three because i am very satisfied with it!

Natalie R. from ROBINSON RANCHERIA CASINO Posted on 08/28/2014

I bought one from other company and paid twice as much. I was thrilled to see you carried the same product at half the price, and it is the very best opener I have ever had. I don't even use my electric one as this is more convenient and easier. Bought two more to give to older people who have arthritic hands and they thought it was Xmas. It was the best thing they received in a long time and were happy they could handle it in spite of their crippled hands. Was 1/2 the price I paid for my first one from another source and I plan to buy more for gifts. It opens all size and heights of cans with little effort. WONDERFUL PRODUCT.

B. D. Posted on 08/25/2014

Great can opener, we use this at our second small location where we don't have space for a counter unit. It holds up very well with a ton of use.

Rebecca S. from Legends Restaurant Posted on 08/25/2014

The can opener seems fine... but, it was obvious, based on the condition of the packaging, that the item had been returned by another customer... which makes for a less than professional presentation of the product.

Amy P. from Doughnuts on Demand Posted on 08/21/2014

Thank you for your review! We're sorry to hear you weren't happy with your purchase. A Customer Solutions Representative will be in contact with you shortly.

WEBstaurantStore.com Customer Solutions

This is a great option if you don't want to invest in a more commercial style can opener. It works well opening any size can.

Erika S. Posted on 08/12/2014

This is an awesome and simple piece of equipment to use. I would much rather invest in a couple of these than get prep. table can opener.

Aaron B. Posted on 08/09/2014

what we needed without spending big bucks on electric and stop buying a new one every week from dollar store. looks built to last just needs a hole in it to hang it up on.

Aaron W. from Kitchen Table grill and bar Posted on 07/18/2014

I have been through a lot of can openers over the years. I purchased this can opener for my daycare and it was wonderful for the first couple of months but now it no longer opens the cans.

Tabatha O. from Little Pinto's Pre-School & Playhouse Posted on 07/14/2014

Thank you for your review! A Customer Solutions Representative will be in contact shortly to see how we can help.

WEBstaurantStore.com Customer Solutions

A very good heavy duty type can opener, we have used it many times over and the crank has not even started to loosen yet, like most others do.

Richard G. from Green Zone B & G Posted on 06/03/2014

This opener works great! It is much easier and quicker at opening cans than the traditional opener but doesn't take up a lot of space at all. Great purchase!

Catherine V. Posted on 05/30/2014

swing a way crank can opener easy crank this is my second on i am very happy with them they look nice and handle will

Gary H. from Captains fresh idea Posted on 05/27/2014

I love this can opener. It is a bit bulky, but it opens up any can with ease. This is much better quality than the one I used to have, and at a great price.

Aggie B. Posted on 05/21/2014

This was an excellent purchase! I am not a fan of electric openers and this gadget eliminates the need for one. Super easy to turn the handle - it's very sturdy and well-designed and takes all the pressure/strain off your hands. I also notice that you get a good clean cut, even with slight bumps in the can - it doesn't 'skip' the way many household manual can openers tend to do.

Amber A. from That Kitchen Witch Posted on 05/08/2014

I bough this can opener for our restaurant. It worked fine for the first month but stopped working properly after that. The opener would no longer function. Not well constructed.

Derek P. from The Rapids Bar & Grill Posted on 05/03/2014

Thank you for your review! This crank can opener is an excellent value with many positive reviews. We're sorry to hear this has stopped working properly. Your account has been credited for the defective product. As always, please feel free to contact a Customer Solutions Representative if you have an questions or concerns regarding a purchase.

WEBstaurantStore.com Customer Solutions

use it for all cans, very easy to use and much better than the standard one, easy to clean and great price for great product,

Elias A. from ERA Posted on 04/02/2014

We've gone though so many different can openers in our kitchen. Most of them break quickly, not the case with this one! Also really like the fact that it works on small and large cans.

Tony L. Posted on 04/01/2014

I bought this for my father in law who has very arthritic hands. He can't stop talking about how much easier it it to use. A great product. Highly recommended!

Les A. Posted on 03/20/2014

THIS CAN OPENER IS A MUST HAVE! I can't tell you how many can openers I ruined trying to open #10 cans...but this one is awesome! It's easy to grip and crank...so easy, my 7 year old can open cans for me! If you don't want an industrial sized can opener, then this is the one for you!

Nicole J. from Catering2You Posted on 03/03/2014

This may be silly but I have always had trouble with can openers. I do not have the space for a big can opener so when I found this one I was so happy. Opening a can is so easy now

Michael S. from DMS Food Creations Posted on 03/01/2014

We really like the way this opens cans - nice and easy to crank. The only thing that kept it from 5 starts from me is that the blade dulled after about 6 months of use and I needed to buy a new one. So this is my second purchase, but for this price I still think it's worth it.

Debbie H. Posted on 02/26/2014

great heavy duty can opener it has a nice grip too, its not a flimsy one that breaks in a week , You'll like this one!!!

Joseph B. from Posted on 02/01/2014

I have purchased many can-opener in other market and store. This is the best one ! So easy to open a can food. And that is the lowest price in the world...

Wei J. from NEW CHINA Posted on 01/28/2014

This can opener is just Amazing! opens up all size cans and no more hurting your wrist doing it. and the best part I don't have to have a bulky can opener attached to the counter

Sal D. from Fragrances on the Run Posted on 01/04/2014

Best Price on the Web and a great value. I wish I had ordered more than one of these so i would always have one available.

Raymond A. Posted on 12/28/2013

One of the best manual hand held can opener available on the market. The large crank is a dream to use. Word of warning though, if you get going too fast, the contents of the can may spill. Take your time and slow down.

John-Paul S. Posted on 12/16/2013

Was a little optimistic due to the price but we are very happy with this can opener. It opens the larger #10 cans with ease.

Wanda B. from Hometown Eats & Bakery Posted on 11/18/2013

Great product that is holding up well and easy to use. I would but more and I recommend it to anyone that doesn't need their wrist hurting.

Christian C. Posted on 11/11/2013

Works great on all sizes of cans, from tiny tomato paste ones to big #10 sauces. Much sturdier than anything else for the price, swings open very wide, and the crank makes it much easier to use than the traditional can opener.

Logan D. Posted on 10/23/2013

This can opener is a godsend to my tired old hands. It locks on perfectly and with the large, crank handle, cans open much easier, far easier than the turn-key type. The quality looks to be high. We will see how long it holds up. My last one took a few years to wear out. :)

Barbara A. Posted on 09/26/2013

The Swing-A-Way large crank can opener is just what name implies - EASY. This can opener has no problem opening any cans including the large #10 cans.

Thomas B. Posted on 09/10/2013

This Can opener is the best commercial one that I have found. Others in the past have konked out on me after only a few months of use. I've been using this one for over a year now and it still works great.

Nick C. from Mudhouse, LLC Posted on 09/05/2013

This Swing-A-Way Large Crank Can Opener is a gem for opening large cans. We tend to purchase from the big box stores and often get those large cans. Regular size and household electric can openers do not do the trick. Found this to be very economical as well.

Kim H. Posted on 08/27/2013

This is an awesome can opener. It take the pressure off your hands so they will not cramp like the regular can opener. I recommend this to any cook.

Charlene H. from T & C Catering Services Posted on 08/23/2013

Works great for opening cans! Who would have guessed. It doesnt ride out of the lip like some other can openers, and the large crank is great for opening a bunch of cans, or #10 cans.

Joseph M. Posted on 08/21/2013

This opener was larger than the regular household openers that you can purchase at Wal-mart and would be fine for home use, but in our restaurant, where we open a couple #10 cans per day, it only lasted a couple months. It's an inexpensive opener so we got what we paid for.

Michael A. from fresco cafe and pub Posted on 06/20/2013

Thank you for your review! As you noted, this economical can opener is designed for light-duty use at an attractive price point. For fast-paced, high-volume kitchens, we recommend investing in a heavier-duty Commercial Can Opener.

WEBstaurantStore.com Customer Solutions

Compared all the can openers I had in the past several years this is the best. It is very easy and convenient to use. At this price, you cannot go wrong.

Muralidhara S. Posted on 06/13/2013

this is a great can opener to take long with me on my catering jobs. They open #10 cans easily as well as all others.

Christopher C. from Just Eat This Catering Posted on 06/09/2013

For the money, this is the best can opener around. It enables the ladies at our church to easily open #10 cans, a task that was almoset impossible for them before we got this can opener.

David R. Posted on 06/07/2013

After struggling opening large cans with small hand held openers, we invested in this can opener. Its very easy to crank, moves smoothly around the can, and opens large cans quickly. The swing arm is very fluid and is easy to attach opener to the can.

First B. Posted on 05/09/2013

We got two of these can openers--one for our restaurant and one for home. After having gone through several WalMart can openers, I was excited to find something with such good reviews, and so reasonably priced. They're great!

Marolyn J. Posted on 04/26/2013

Perfect for #10 cans. Hasn't jammed at all. Very fluent movement. Not much else I can say except very highly recommended for all your can opening needs!

Anne G. from Snofellas Posted on 04/03/2013

You've got to have a good can opener in the kitchen. This one is great on large cans and small cans alike. You literally swing away with ease to open cans. Highly recommended product.

Michael H. Posted on 02/26/2013

This can opener is great and it makes opening 10# cans much easier. I didn't want the expensive of electric and have been thrilled with how easy it is. It is great for someone with arthritis also.

Lisa R. from Lisa's Lunchbox Posted on 02/04/2013

Should it be so hard to find a decent can opener? Apparently so. Between gears that quit meshing, wheels that don't punch or roll out of the cut, handles that break off, knobs that spin uselessly while leaving their imprint in my hand, I have spent an insane amount of money and risked apoplexy on consumer crap. I just want to open a can of tomato sauce. Is that too much to ask for? Then, while browsing the Internet for a kitchen gadget I dearly want but cannot justify by need, I found THIS lovely can opener. I took a chance that the glowing reviewers were not employed shills of the Swing-a-Way company and ordered it. Oh the sublime joy when my little can of tomato paste was opened before I knew it! The warm satisfaction when the large can of crushed tomatoes opened just as easily! I cannot yet speak of its durability and longevity but I do hope to see it nestled in my utensil drawer for many years to come. Best money I've spent in a long time!

Vanessa Q. Posted on 01/13/2013

good can opener, heavy duty and easy to use, does not mess the top of the can up and cleans easy. much better value that others I have seen

Rich D. from Dishes At Home Posted on 11/27/2012

This is easily the best handheld can opener we've had in our store. It's built well, and the extra long crank makes short work of tough #10 cans without fatiguing employee's hands.

David S. Posted on 09/27/2012

We bought two of these can openers for our restaurant since they are such a good price. They are super heavy duty. I would recommend them.

Justin A. from Iron Star Pizza Company Posted on 09/03/2012

WOW this is an amazing invention. I am only giving it 4 stars because i think it could be a little more heavy duty. i would be willing to pay a few dollars more for one that would last a little longer. we get about 300 food service cans out of one of these for the money that isnt bad.

Andrew C. from AJC & Partners Limited Posted on 07/03/2012

Thanks for your review! You should check out our can opener buying guide called "Choose The Perfect Can Opener For You!" to help you decide if you want to invest in a can opener designed for higher volume use. Can Opener Buying Guide

WEBstaurantStore.com Customer Solutions

This is the most awsome can opener ever! We almost bought one of the higher priced openers that mount down to a table top and boy am I glad we did'nt. This opener will zip around a can in seconds! Thanks

David C. from The 275 Grill Posted on 07/01/2012

Swing-A-Way Large Crank Can Opener Easy Crank is so durable, easy to use and gets the job done! No job is too big or small. For the price is a steal.

Teodora V. from Tedy's Mix Posted on 06/20/2012

I bought this can opener as a back up to the wall mounted opener but have never had a problem with the wall mounted one! So I use this one for camping, family get-togethers, and such. A great can opener for any size can.

Keith M. from Keith McGee Posted on 05/15/2012

During our prison ministry, we open alot of cans to feed the participants and our large can opener broke. I bought 2 of these openers. They work exceptionally well and don't smash the can's edge. I don't think that I will repair our old can opener but order more of these if I ever need to.

Charles H. from Kairos Prison Ministry Posted on 05/13/2012

Awesome!!!!! If you have ever been stuck opening alot of # 10 cans this is perfect and worth every penny! I recommend this product to any catering chef that is always movin.

Mike L. Posted on 04/07/2012

These are great and really easy to use. Thy are nice for home kitchens and well as professional ones. They can easily open 16 oz cans all the way to a number 10 can.

Tom M. Posted on 03/29/2012

We purchased this can opener when our old one begin to rust and grind. This is perfect for opening large cans without trouble and for the price, you can't beat it!

Allyson S. Posted on 03/15/2012

Great brand name can opener at a terrific price. The large crank makes opening cans very easy. This item holds up well after many uses and well constructed and easy to clean.

Bill L. Posted on 12/06/2011

We purchased this to use in our small convenience store to open large cans. We love it and are selling them as a retail item now. Have purchased dozens to resell, best can opener you will ever buy!

Aileen T. from CALVARY STORE Posted on 11/30/2011

This is a very nice can opener for the price. We had tried a few other can openers, but this is by far one of the better openers. It looks heavy duty enough to last a longer time.

Candy L. Posted on 11/23/2011

Love, love, love this hand held crank can opener. We replaced an older can opener with this beauty, and could not be happier. The large handle and crank action make opening the largest cans so easy.

Patsy S. from Somethin' Sweet Posted on 11/13/2011

The swing away large crank can opener is easy to use and clean. It makes opening all size cans, big or small a breeze to open.

Christopher H. from Flashback Unlimited Posted on 09/05/2011

great product better than electric . and even i like them more than the bulky one you attach to the perp tables. small and space saver.

A. N. Posted on 08/31/2011

Love this can opener! I don't use a lot of canned goods at the cafe, but this works great - need to get one for home use too.

Nancy M. Posted on 08/11/2011

I have been using the swing-a-way can opener for a few years now. We open a lot of large cans every day. They are cheap enough to replace regularly.

Antoinette B. from the pampered palate Posted on 08/04/2011

This is by far the best handheld can opener we have ever used. The ladies are thrilled with it's ease of use. Wasted many dollars on less useful can openers.

Alan W. from Branded Ber Deli Posted on 05/21/2011

I was looking for an opener that would last but not be too large and cumbersome. This one did the trick! Very satisfied with the product and the fast delivery.

Steven V. Posted on 02/15/2010

Our restaurant has small kitchen so there is no room for a table mount opener... This one works great.. Got a couple extra and gave them to friends to use at home and they love them too!!!

Cindy P. Posted on 12/15/2009

I open quite a few #10 cans in the course of a year, and have gone through countless hand and electric can openers.I find this hand crank to be much better then the standard hand can opener. It is much easier to turn, much easier on your hands. I always perfer the hand models to the table mounted models. My husband likes both models. The electric ones just do not stand up. You can't beat the price of the easy crank model either.

Julie D. Posted on 04/23/2009
Get paid to review this product!
If you've used this product, simply log in and share your text, video, and photo reviews of it. The customers on the left did it, and you can too! Earn up to $16.00 per product.
Write a text review
Earn $2.00
Post a product photo
Earn $4.00
Post a product video
Earn $10.00
Login or Register