San Jamar T1217 Rotissi-Glove 17" Neoprene Gloves - Elbow Length
<!-[AUTO_REORDER_CONTROLS]-> <!-[PRICE_INCREASE_ADVERTISEMENT_167T1217]->
USDA Accepted
Provide heat protection up to 500 degrees Fahrenheit
Provide protection against hot liquids and hot grease
Cotton-flocked lining for comfort
17" length provides protection for the entire lower arm


View all San Jamar Oven Mitts & Gloves
San Jamar
Protect your hands from extreme heat without losing dexterity with these San Jamar T1217 Rotissi-Glove heat resistant neoprene gloves.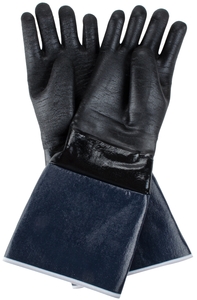 Whether you're working a rotisserie pit or deep frying a turkey, these neoprene gloves are an excellent way to promote employee safety! The neoprene design provides protection against extreme heat and grease, while cotton-flocked lining provides users with delicate comfort and added protection. A 17" length extends the gloves' coverage, allowing them to protect not only hands but forearms as well, all the way up to the elbow.
Machine Washable

This item may be laundered in a commercial washing machine.

Heat Protection

This item protects hands against heat.
"These neoprene gloves are PERFECT for pig roasts. The length goes the whole way to the elbow so there's no burns when reaching into a deep cooker."
Read More Reviews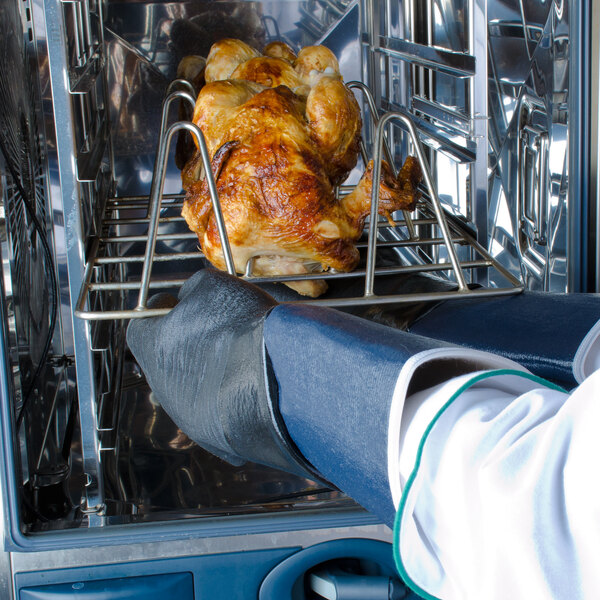 Reliable Heat Resistance
Designed with neoprene material, these gloves provide heat protection up to 500 degrees Fahrenheit for 15 seconds. They also provide stellar protection against hot liquids and hot grease, making them a tremendous asset for operating and cleaning fryers.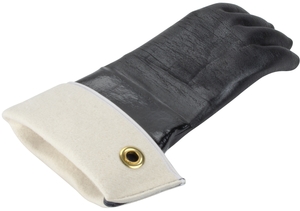 Flexible And Comfortable
These gloves provide the perfect blend of excellent dexterity and snug comfort. They eliminate the restrictions of mittens for an improved grip and greater flexibility, while the cotton-flocked lining not only provides added protection, but also makes your hot tasks as pleasantly comfortable as possible.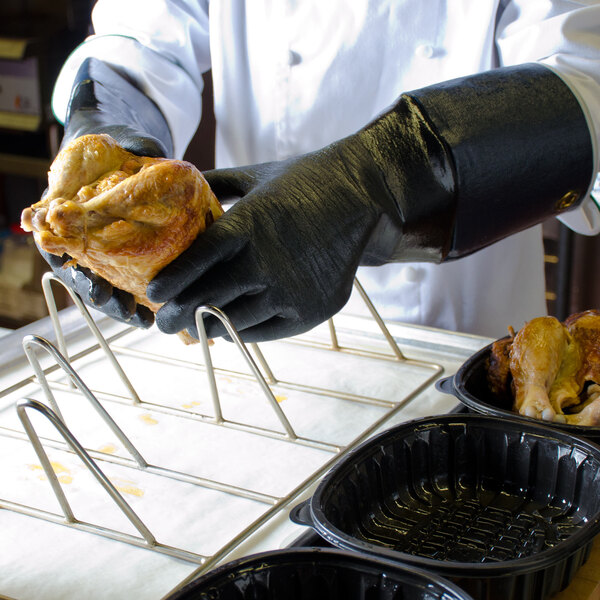 USDA Accepted
When shopping for safety supplies, the product's quality is critical. These gloves are USDA accepted, so you can be sure that they'll not only keep you safe, but are also safe for food handling.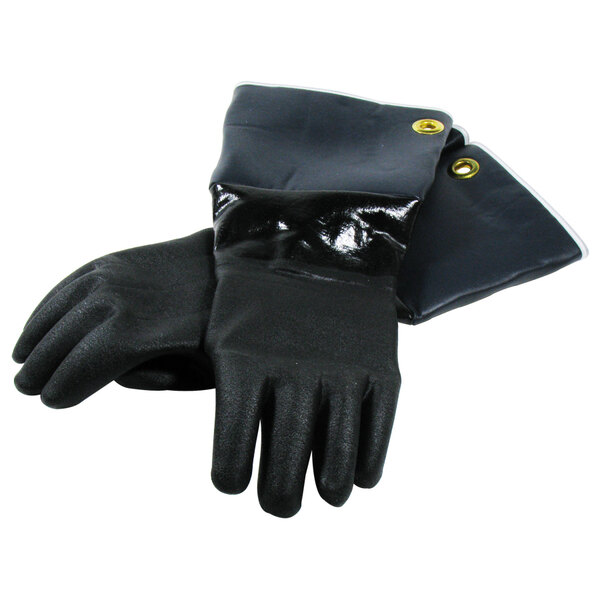 Easy to Clean
At the end of the day, don't break a sweat cleaning your gloves. These will simply rinse clean in the kitchen sink or, for a more thorough cleaning, can even be machine washed.
How To Deep Fry A Turkey
Safely deep fry your holiday bird with these easy-to-follow and steps, and be sure to check out our step-by-step directions for more tips on How to Deep Fry a Turkey.
Frying a turkey is a fast, fun, and tasty way to make your Thanksgiving bird! It can also be potentially dangerous. In this video, we'll show you how to fry your turkey safely. There's two questions when it comes to oil when you're frying a turkey, and that's what kind and how much. As far as what kind, I recommend peanut oil. Peanut oil has a high smug point, so it's going to last longer. It's also not going to give your turkey any off flavors. As far as how much oil to use, the nice thing about this turkey fryer pot is it does have a max fill line. The most important thing is to know you need enough oil to cover your turkey, but not so much that it spills over and creates a fire. One way to be extra sure you've got the right amount of oil is to take your turkey before you cook it and place it in the fryer pot. Fill it with water until it covers the turkey, take the turkey out, and take note of where that water comes up to. That's how much oil that you need. With the particular turkey that I have today, I know I'm going to fill it to the max fill line. Once you've filled your pot with oil, you'll want to put it on your burner. Make sure you already have your burner set up according to the manufacturer's directions. I typically have the flame very low at this point when I put this on the burner, and then turn it up. You can adjust the air intake to get as blue of a flame as possible. On a windy day like today, it's not uncommon to have some yellow flame. Now, I'm going to go ahead and take my oil thermometer and place it on the side of the pot. Make sure the tip is covered in oil and also not touching the side of the pot. We're going to want that oil to get up between 325 and 350 degrees. One of the most important things when you're frying a turkey is to make sure you're frying a completely thawed bird. Make sure your turkey is completely unfrozen or your could have an oil boil-over. That's the last thing you want because that'll start a fire. The other thing you want to do is make sure that your turkey is completely dry. Again, oil and water don't mix, they tend to bubble up, and they can cause a boil-over. Next thing I'll do is cut off any excess fat that's on this turkey. You'll also want to make sure there's a hole in the top here where the neck was to make sure you can get your lifter through it. The next thing I'll do is cut a slit in front of each leg and that'll allow any excess oil to drip out when I pull the turkey out of the oil. The next thing you'll want to do is season your bird. I'm using salt and pepper and Regal Spice's Cajun spice and skillet seasoning. In addition, I'm going to use cajun Injector creole butter recipe as the marinade. When you're injecting your turkey, you just want to hit it in several places in the thick parts of the meat. Now, we're going to put it on the lifter and then wait for our oil to get up to temperature. Just like so, you can see how that will work. As you can see, I'm wearing heavy-duty fryer gloves. Safety equipment is very important. You'll see why when I start dropping the bird into this fryer oil. In addition, a fire extinguisher is always a good idea. I'm going to take the thermometer out while I load the turkey into the fryer. When I'm done, I'll replace the thermometer. Now, when you're putting the turkey into the fryer, the slower you go, the better. This will help prevent a boil-over. It should take a full minute for you to dunk this turkey into the fryer. I generally let the turkey fry for about three and a half to four minutes per pound. Next, I'm going to go ahead an put that thermometer back in there so I can keep an eye on the oil temperature. Okay, I've fried this turkey for about three and a half minutes a pound. I'm going to go ahead and take it out. First thing is I'm going to take out the thermometer so I don't knock it out and I'm going to gently lift this out of the fryer. Remember, you have that cavity that's going to hold a lot of oil and you'll want that to seep out before you bring it out over the flame. Oh, look at that crispy skin! Now we just want to check the temperature of the turkey. We want it to be at least 165 degrees. There we go!
San Jamar Hand Protection
Hand protection is essential in many areas of the commercial kitchen. Watch this short video to learn about all of the different products that San Jamar manufactures to help protect your employees' hands from chemicals, heat, and water.
Presenting another innovation from San Jamar. You know what they say—it's a dirty job. Pot washing, sanitation, harsh chemicals, hot dishes and silverware. Hand protection is as important here as in any other area of your kitchen operation. San Jamar covers the spectrum in gloves that provide chemical protection for your staff as well as offering heat protection in the dish room area. For heavy duty applications, the neoprene shoulder length glove protects the entire arm. The seamless construction is ideal for food processing, chemical protection, and food handling. It also features a cotton interlock lining for comfort. The San Jamar PVC glove is designed for tough cleaning and degreasing jobs. The durable PVC construction resists chemicals and abrasives. The textured grip provides sure handling, and the seamless construction is waterproof. Looking for even stronger protection? The neoprene flock lined gloves can handle strong chemicals, solvents, acids, paints, and petroleum products. The 15" length helps prevent exposure. This glove is FDA compliant and tear-resistant. And the heavy duty neoprene and latex gloves give you equally strong protection, plus durable, long-lasting wear. For every day hand protection and wet handling needs, you have a variety of gloves to choose from. The San Jamar neoprene and rubber gloves are flexible and designed for safe dish handling and janitorial work. Heavy duty styles are perfect for down and dirty jobs. Nitro flock lined gloves provide medium duty performance with a flock lining for added comfort and heat protection. And the latex flock lined glove is perfect for cleaning and food handling. The lining makes them easy to get on and off and absorbs moisture. Count on San Jamar for safe, smart protection against chemical and hot water exposure. For more information on these and other smart food safety products, visit sanjamar.com.
Warranty
A PDF viewer is required to view this product's information. Download Adobe Acrobat software
Customer Reviews
People Talk About:

gloves

Great

fryer

fryers

clean

hot

heat

quality

cleaning

high

Arrange by

Great gloves, heavy duty but still able to move your hands and fingers with ease inside. Hold up to heat well and will make cleaning grills, fryers etc a breeze

Tom C. from ziggywurst Posted on 04/11/2017

Love these! The first pair I received were a gift. I use them for cooking pork loins on the grill and I won't go back to using tongs or forks. Just as easy to put the glove on and grab the loin to turn it.

Erin M. Posted on 03/06/2017

Great for cleaning fryers down low. Always a little too warm even after a night of just the pilot light on. These are perfect for getting to the bottom to wipe it clean

Patricia V. Posted on 02/08/2017

i really like the length of these gloves for use with any high heat application. grilling, cleaning the fryer, smoker, etc. they're a great product and stand up to a lot of heat easily.

Mark N. Posted on 01/13/2017

Very reliable gloves that do not melt or burn in hot liquids. Our last pair we had lasted about 2 years of heavy use before we had to purchase new. We use them for when we scrub out the fryer.

Tracy L. from Sterling Ridge Posted on 01/03/2017

I don't know if my staff is happier about anything that I bought from the webstaurant store more than these gloves. They use them to clean the fryer, and combined with the new cleaner for the fryer, our fryers are looking great.

Meghan B. Posted on 12/26/2016

These gloves are perfect for removing cooked meats from the smoker. It is also great that they are super long so the heat from the smoker door does not bother.

Brenda M. Posted on 09/08/2016

I use these gloves when I filter, change my fryer oil. I also use them when I clean my fryer at oil change time. Ivan handle the hottest parts without any worries.

Lawrence S. from H & L on the Hudson Posted on 08/05/2016

These gloves are great for the high heat of a fryer when changing the oil. They are a bit clumsy but are good all purpose heat gloves.

Joel L. from Freddy T's Restaurant Posted on 07/17/2016

One pair has lasted just about 1 year. They hold up well, and are good quality, but daily use gets the inside worn out and we are ready for a new pair. The outside still looks brand new.

Kuljit G. from Captain George's Fish and Chips Posted on 02/24/2016

These gloves are definitely heat resistant - we use them for cleaning out our deep fryers. Wish they had a more "washable" interior - and would like to see them carry a longer length.

Tiffany C. Posted on 12/29/2015

These gloves were purchased to be used with a 30 Qt fryer. They are high quality and very durable. I recommend them for anyone handling near hot oil.

Elizabeth M. Posted on 11/28/2015

The San Jamar 17" Neoprene Rotissi-Glove is a perfect solution for protection during heavy hot handling applications. It provides adequate protection up to and past the elbow, depending on the length of your arm.

Adam B. from Griggstown Farm Posted on 09/10/2015

These are great for cleaning out the fryers. You can get in there and not have to worry about burning your hands which allows you to get it really clean. Perfect for carrying large pots as well.

David S. from Bad Brad's Bar-B-Q Posted on 06/24/2015

These gloves were great quality and come up past your elbow. My cooks love them much better quality than ones from other supplier. Exactly as pictured and more great purchase

Ronald B. from Clio Big Boy Posted on 03/16/2015

Amazing gloves. We needed a pair to clean our new Frymaster Deep fryers and these work perfectly as it is hot inside. Highly recommend them.

Nicholas F. from Villa Bianca Posted on 02/17/2015

These are great neoprene gloves for pulling hot trays out of the oven. We cook our own sausage in store and needed high quality gloves to ensure safety when removing the trays from our 550* oven!

Brandon T. from Fields of Pizza Posted on 01/14/2015

These work great: they have fingers, unlike elbow-length oven mitts, and they're easy to clean. Made of sturdy material and the price is right. Very happy with them.

Matthew P. Posted on 01/04/2015

For handling hot sheet pans all day, these are the best - better than welding gloves that we used at the bakery for years. Only design flaw is the metal ring inserted for hanging - these get too hot and will burn you - pop them out and save yourself a burn.

Chris S. from Mountain Oven, LLC Posted on 01/01/2015

I chose to order these online rather than from our food supplier. For the money I saved, I was able to buy another small item.

Joyce B. from breezy point international Posted on 10/21/2014

So far these are the best neoprene gloves I have used. They are very sturdy, comfortable and most importantly long enough that stuff doesn't get inside them. Once these gloves get wet or greasy in the inside its all over, so spend the extra money for the longest possible gloves.

Joshua B. from The People's Pint Posted on 08/08/2014

Very impressed by these! We are pulling hot and very heavy racks out of ovens all day and these hold up to the task. Great product!

Daniel S. Posted on 12/17/2013

These we replacements for a shorter set of gloves. We all loved the protection these gloves offer!!! On our next order we will be getting another pair.

George E. from A&C Wholesale Distributors Posted on 09/06/2013

These gloves are great for dishwashing. Nice long elbow high length. Works well for scrubbing greasy equipment items. Easy to always hang in a dish pit.

Eric K. Posted on 03/25/2013

I couldn't do my clean up with out these gloves. They save me from steam burns to my arms and burns to my hands when I am cleaning the griddle.

William a. from Philly Bill's Cheesesteaks Posted on 06/24/2012

Very good quality glove which our kitchen staff uses when emptying the fryers. Provides good protection and holds up well after repeated uses. Easy to clean.

Bill L. Posted on 01/26/2012

these are the best gloves ever and this is the only place to get them . they are high quality and long lasting. thats all that i have to say.

Joe V. from yats Posted on 10/28/2011

These neoprene gloves are PERFECT for pig roasts. The length goes the whole way to the elbow so there's no burns when reaching into a deep cooker.

Michael R. Posted on 11/16/2009

My bakers really appreciated these! No more burns from the fryer when they're flipping doughnuts. Again, I really appreciate the one-stop shopping and the selections.

Kimberly E. Posted on 11/13/2009
Get paid to review this product!
If you've used this product, simply log in and share your text, video, and photo reviews of it. The customers on the left did it, and you can too! Earn up to $16.00 per product.
Write a text review
Earn $2.00
Post a product photo
Earn $4.00
Post a product video
Earn $10.00
Login or Register