Slices, cuts, abrasions and punctures are all common workplace injuries, especially in the foodservice industry. But did you know these types of accidents account for almost 30% of lost time and productivity, and almost 80% of these injuries involve workers' hands? It's important to protect yourself and your employees with cut resistant gloves in order to maintain a company that's efficient with high productivity levels in order to maintain growth. But where does the process of choosing an effective cut resistant glove begin?
What I Need to Know Before Buying Cut Resistant Gloves
When thinking about the process of choosing a cut resistant glove for your business, it's pertinent to first understand the concept of cut resistance. Cut resistance is a function of a glove's material makeup and its thickness. Therefore, the heavier weight a glove's material is (oz. / square yard), the greater the protection.
If this is true, then it should be simple to protect your employees—go with the heaviest material glove the market has to offer, right? The major issue with cut resistant gloves revolves around your employees. Do your gloves offer comfort and mobility? If not, more times than not, your employees won't even wear them, despite the safety hazards. The major goal is to protect workers without causing an obtuse level of discomfort and mobility restriction. To tackle this, you need to understand the various cut resistant materials that exist.
Determining Cut Resistant Levels
There are a variety of fibers and fabrics used and intertwined to meet the requirements of different levels of cut resistant gloves. Every working environment has different protection needs, influencing your decision on the best glove for your business. Whether you're slicing and dicing vegetables or sawing through thick meats, the glove you choose for your business is the single barrier preventing the possibility of serious injury.
The cut resistance of a material is determined by four factors: strength, hardness, lubricity and rolling action. A yarn that possesses more of these four characteristics will typically have a higher cut resistance than a glove that utilizes only one factor. To test a glove's cut resistant level, manufacturers usually abide by the standards of a testing agency known as American National Standards Institute (ANSI). ANSI provides a material's cut resistance in grams of weight applied to the tested material. An ANSI level is determined by how much weight is needed to cut through a given material with 25 mm of blade travel. Levels range from 0 to 5, with 5 providing the highest level of cut resistance. Below you will find a table of ANSI levels to assist you while shopping for the best cut resistant glove.
Cut Resistant Materials
As the above table shows, the higher level a material is rated, the more cut resistant it is. We offer a variety of cut resistant gloves made from different cut resistant materials, all meeting ANSI standards and falling under ANSI levels. Whether you're looking for gloves offering basic protection for light kitchen prep or you're looking for maximum strength gloves for handling meat and poultry, you have a world of options! We offer various cut resistant materials, available in a range of colors and sizes.
Metal Mesh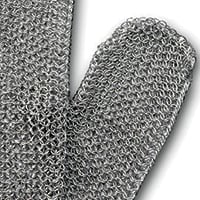 Metal mesh is composed of interlocked stainless steel mesh and provides advanced cut and puncture resistance. Most of our gloves made from metal mesh fall under ANSI level 5, providing maximum protection.

Note that gloves composed of 100% metal mesh are the only type of cut resistant glove that provide puncture resistance. Other gloves protect hands from slices, not punctures.

Widely used in industries utilizing extremely sharp cutting tools and instruments
Feature convenient ambidextrous design
Offer high hygiene
Lead to increased durability due to 100% stainless steel construction and lack of fabric straps
Ideal for meat and poultry applications
So How Do I Choose the Right Cut Resistant Glove?
It all begins with research!
Evaluate your environment.

Are injuries occurring frequently?
Where / when do these injuries occur? At prep stations? During kitchen rush hours?
How do they occur? With basic cutlery? Larger knives? Machines?
What's the cut resistance level of you current gloves, and are they actually being worn? If not, is it due to discomfort or lack of flexibility and mobility?



Identify solutions.

Will a more comfortable glove encourage my employees to actually wear provided gloves?
Do I need a higher level of cut resistance due to the kitchen tasks we are performing?
Do I need a glove that offers heat resistance or moisture resistance in addition to cut resistance?
Depending on your needs, the best choice is to determine a glove you believe will best suit your business's environment, and test it out! With our extensive range of cut resistant gloves available in different sizes, colors and styles, you'll be sure to find the glove that will make the cut!