Behind the Scenes: Volunteering at Relay for Life
Did you know that more than 1 in 3 people will face cancer in their lifetime? On June 8th, WEBstaurantStore.com employees joined forces with the American Cancer Society by participating in the 5th largest Relay for Life event in the World, Relay for Life of Lancaster County, at Conestoga Valley High School. The "WEBstaurant Warriors" volunteers took turns walking around the school's track for 24 hours in order to raise money for the American Cancer Society. WEBstaurantStore.com volunteers raised over $1400 for the American Cancer Society, helping the organization donate over $250 million to research since 2010!
WEBstaurant Warriors had a great time walking around the track, participating in the luminaria ceremony, playing some corn hole and ladder golf, cooking out, and just hanging out together. It was a great opportunity for employees to get together and raise money for an incredible cause!
A "behind the scenes" look at our volunteer day at the Schreiber Pediatric Gala
Here's to More Birthdays!
To kick off the relay events, Cancer Survivors and Caregivers walked the first lap around the track. The American Cancer Society's slogan is "Create a World with Less Cancer and More Birthdays."
WEBstaurant Track Team
WEBstaurant Warriors unite and make their way around the track during our team lap.
WEBstaurant Warrior Women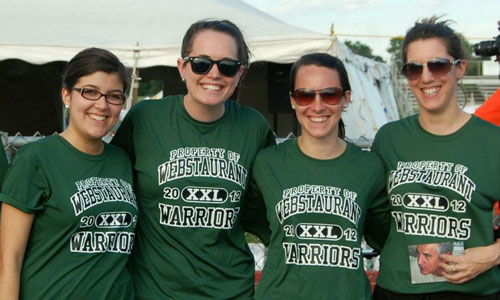 Emily, Steph, Christine, and Marcia are excited to start walking around the track!
Let the Games Begin
Throughout the event, when team members weren't walking around the track, they competed against each other in corn hole and ladder golf.
Group Shot
It was a long night for the WEBstaurant Warriors, but all were excited to work together to raise money in the fight against cancer!