PA Farm Show 2011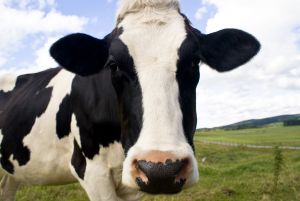 What do milkshakes, deep fried mozzarella cubes, potato donuts, and deep-fried breaded mushrooms all have in common? Well, if you're from central Pennsylvania, they're the best of the best at the Pennsylvania Farm Show!
Each year, nearly half a million visitors travel to the Farm Show Complex and Expo Center in Harrisburg, PA to see only the best of Pennsylvania's top industry – agriculture.
The PA Farm Show is the largest indoor agricultural event in America, celebrating its 95th year with 24 acres of indoor festivities, spread throughout 11 buildings, including three arenas. There's even an indoor merry-go-round and 1,000 lb. butter sculpture!
The event includes approximately 300 commercial exhibitors and over 13,000 competitive exhibits. There are draft horses, beef cattle, dairy cattle, sheep, swine, goats, rabbits, and poultry all on display for both show and competition.
Outside of the animal portion of the Farm Show, there are also several baking contests, including the Blue Ribbon Apple Pie Contest, the Greatest Cocoa Cake and Cookie Contest, the Shoofly Cake Contest, the Pineapple Upside Down Cake Contest, and the Angel Food Cake Contest.
Additionally, the PA Preferred Culinary Connection section features a large kitchen stage where celebrity chefs from the Food Network and various Pennsylvania restaurants, as well as cookbook authors and culinary school chefs, perform cooking demonstrations and competitions. The goal of these demonstrations is to showcase how Pennsylvania-produced ingredients can be used to make world class cuisine.
If you're in the market to sample and purchase a wide variety of PA products, the PA Marketplace is the place to be at the Farm Show. Here, you can meet vendors from over 50 businesses and commodity groups to purchase snack foods, candy, spices, processed meats, condiments, beverages, and much more!
Despite all of this fanfare, my favorite part of the PA Farm Show is undeniably the food court. The Food Court is comprised of eleven PA Commodity Groups, including the PA Livestock Assoc., the PA Vegetable Growers Assoc., The PA Cooperative Potato Growers, Inc., the PA Beekeepers Assoc., the Penn Ag Industries Assoc./PA Aquaculture Assoc./Mid-Atlantic Bakers Assoc., the PA Maple Syrup Producers Council, the PA Dairymen's Assoc., the PA Mushroom Growers Assoc., the State Horticulture Association of PA, PA FFA Foundation, Inc. and the PA Cattlemen's Assoc. You HAVE to check it out if you're in PA this week!
The PA Farm Show runs through January 15th. For more information, check out their website here.