Deck the Halls with (Free!) Decorated Glassware



By Kim O'Brien
Black Friday and Cyber Monday have passed, but Libbey glassware has a bargain lasting until the New Year! With the purchase of select Libbey wine and beer glasses, you'll receive FREE customization. But act quickly - this offer ends on December 31, 2013.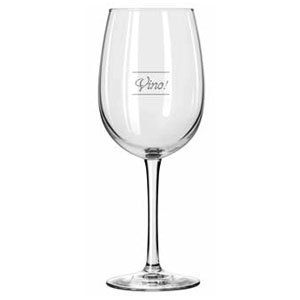 Customized glasses do more than just add a personal touch to your tabletop. In fact, adding a logo to your glass can even help increase profits! By placing your logo at the desired fill line of your glass, you'll create a discreet, convenient pour line. This makes it easy for servers to pour a consistent amount to help control drink inventory. Learn more about uncorking profits with Libbey's Wine By The Glass guide.
Note that this free offer is limited to one color. A 24 dozen minimum order per design per order is required. To take advantage of this deal, please contact customer service at specialorders@webstaurantstore.com. Be sure to include the following info:
Attached logo, submitted as a PDF
Your email address
Billing name, address, & phone number
Shipping name, address, & phone number
---
Click on each banner to view more details.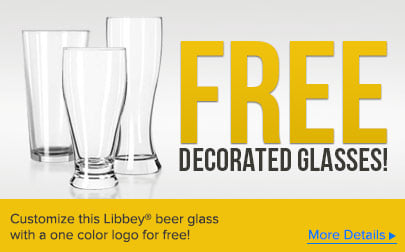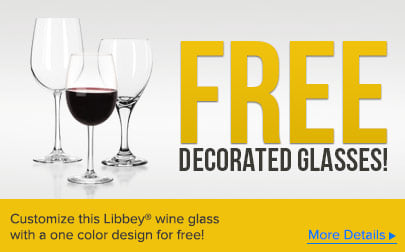 Comments
* There are currently no comments for this post. Be the first to comment below! This feature is reserved for WEBstaurant Store customers only.
Click here to create an account
.
Add a Comment
A WEBstaurant Store account is required to comment.