Convert Amps, Volts, and Watts Quickly with Our New Calculator!
By Ryan Loose
It's a fact. The wrong utility is the # 1 cause of improperly operating equipment in the food service industry. That's why I'd like to introduce our new Amps, Volts, and Watts converter calculator. So, let's say you're looking at a wicked cool Avantco panini grill, Avantco bulb warmer, or Avantco coffee machine and you really want to know the amps.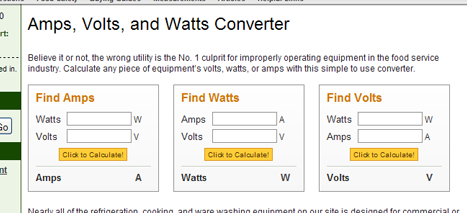 First, always check the spec sheet. But, sometimes you might find that information like amps, or watts, might not be noted on the spec sheet. That's when our new Amp, Volt, and Watt converter becomes your best friend forever. Or your A.V.W.C.B.F.F. I suppose. If you're texting a friend about how awesome our converter is. Which I'm pretty sure you are. It's cool. I'm excited too. Plus, it's so incredibly simple to use, even I figured it out people. Click Here! to try it out!
WEBstaurantStore.com highly recommends consulting an electrician if you are unsure about the suitability of a particular piece of electrical equipment for use in your business.