Caring for Your Wooden Cutting Boards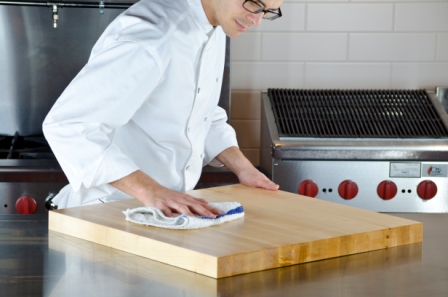 A wooden cutting board from The WEBstaurant Store is a great addition to any commercial kitchen, and with the right care your board can last you many years. In the video below, corporate chef Matt Schuler demonstrates how to properly season and protect your wooden cutting board using Emmet's Elixir wood conditioner!
Seasoning your wooden cutting boards with oil is an important step in preserving board quality. Oil acts as both a protectant and a conditioner to maintain a lustrous appearance and help prohibit warping and cracking. Some people try using olive or vegetable oil on wooden cutting boards; however, these oils can go rancid after they are absorbed into the wood. Emmet's Elixir is an NSF Listed blend of food grade mineral oil and other anti-microbial oils that create a protective seal on wood, help to stunt bacterial growth, and do not turn rancid. And, remember - water is a wooden cutting board's worst enemy! Boards should never be soaked in water for a long period of time. Wash, rinse, and dry your boards immediately to reduce the chance they will warp or crack.
When purchasing a new board, it is advisable to season your board from the very beginning. If you have an older board, though, it's not too late to begin seasoning and protecting the wood. Simply follow our video's easy instructions and enjoy using your wooden cutting boards for a long time to come!