A Closer Look At Obesity In America


By Reece O'Neill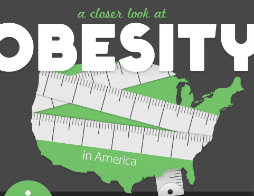 Who has the higher obesity rate in America: lower income families or higher income families? How much do these families spend on food every year? What has more calories: a bag of skittles or an entire bag of dried fruit? The answers to these questions might surprise you. You can take a closer look at the obesity epidemic in America, plus see projections for how large America's waistline is going to grow by 2030! Keep your friends, family, and readers informed on the obesity trend in America by using the embed code or the "Like" button at the bottom of the image. Check it out, and feel free to share!
Embed this image on your site:
Comments
Peter Cross

I would be happy to purchase some of the #10 cans of jam, marmalade, etc. at a higher price in a recipe variation--that DOES NOT CONTAIN Corn Syrup or, PARTICULARLY, High Fructose Corn Syrup. The grocery level has started moving away from these because really health-conscious people have concerns about them.

Brian Montgomery

<2170> Thank you for your input. Our suppliers are currently not offering that, and this is the very first sign we've had of demand in the wholesale market for more expensive corn syrup-free jelly. As demand rises, I am sure that commercial suppliers will have more offerings and we'll add it to our site. Thank you again! 2170>
Add a Comment
A WEBstaurant Store account is required to comment.