8 Qt. Full Size Stackable Chafer
Item:

92299850

Units:

Each

Shipping:

Usually Ships 1 Business Day
When will I receive my Item?

Reviews:

UPC Code:

789313740130
View all Choice Chafing Dishes
Companion Items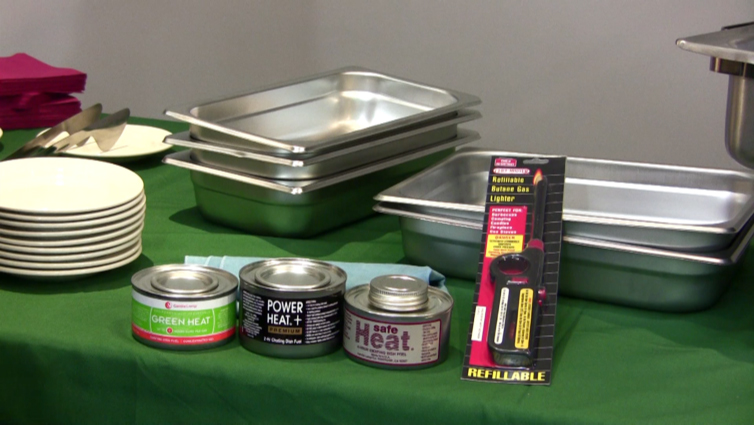 Accessorize your Choice chafer with full, 1/2, and 1/3 size food pans from WEBstaurantStore.com! Also check out our 3 types of chafer fuel, convenient microfiber cleaning cloths, and even our refillable long tip lighters.
Another question we get sometimes is whether or not you can use different sized pans in these chafers. And the answer is yes, you can half size and 1/3 size pans. Now, the unit comes with a full sized 2 1/2" deep pan, which I'll remove, but as long as you're using 2 1/2" deep pans, you don't want them any deeper than that or else you'll be into the water in the water pan. But you can see those half size pans fit in there just right, and if you take this off, we can see that you can put the 1/3 size pans in there as well. Besides being able to purchase different sized food pans from us, you can also purchase different types of fuel. We have the wet fuel, the gel fuel, and we even have environmentally friendly fuel. We also have these microfiber cleaning cloths; these are the perfect thing for polishing the chafer, sometimes they do so well you don't even need a chemical polish. And we also have these long tip, refillable lighters available as well. Well thank you for watching, and if you have any questions, please feel free to use our live chat button.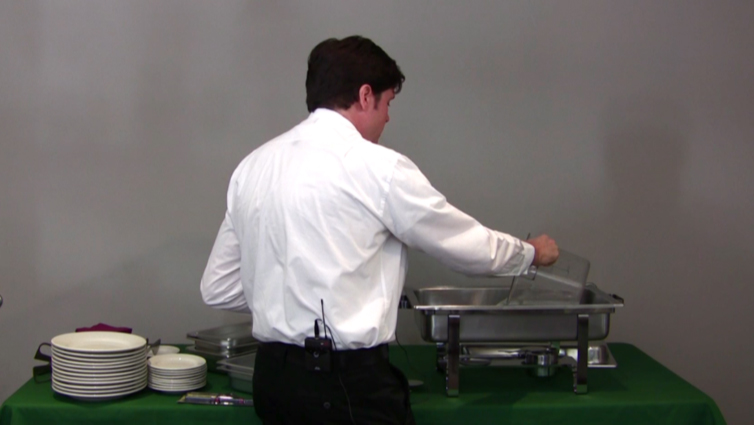 Watch as Steve demonstrates the proper way to use your chafer, from how much water you will need to when you should light the fuel. And remember, a chafer is only for keeping food warm, not for cooking it!
No Video Transcript entered.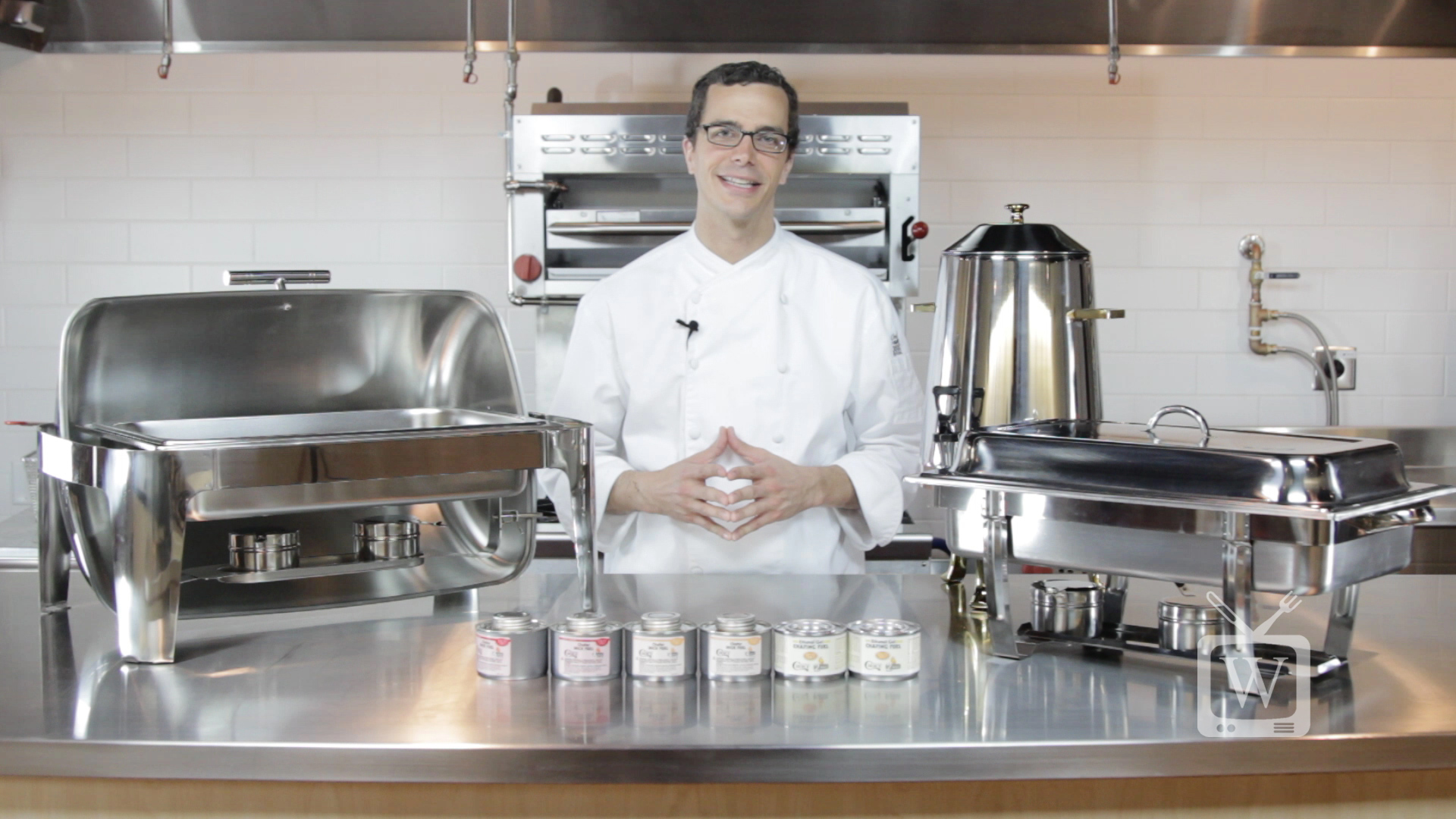 In this video, Corporate Chef Matt Schuler explains the best options to suit your needs when it comes to chafer fuel. From gel fuel or wick fuel, or fuel that burns up to 6 hours, Choice Chafer fuel has just what you need for every occasion!
Whether you're catering a banquet, wedding, bridal shower, or other special event, we have the best selection of chafers and accessories at the best prices. My name is Matt Schuler, product expert and corporate chef. Today I am going to show you why Choice brand chafing fuels should be your #1 Choice for chafing fuel. Our buying power and skilled purchasing department allow us to keep our pricing incredibly low without sacrificing quality. We offer 3 different types of chafing fuels by Choice. 2 hour, 4 hour, or 6 hour(show pic of 3 cans) Of these three products, you will need to choose which fuel source best fits your application: wick fuel or gel fuel. Choice chafer gel fuel is the hottest and longest burning ethanol fuel on the market! Made from 200 proof gelled ethanol and capable of producing 1630 BTU's per hour, its gelled formula provides a higher heat output than conventional wick fuels and allows for maximum burn time. It is also easy to light, odorless, and burns clean. It delivers high-quality heat that burns hotter, longer, and safer than comparable fuels. Choice Gel fuel is offered in a 2 hour burn time. While Choice wick fuel is offered in 4 & 6 hour burn times. Although the 2 hr gel fuel offers to the lowest cost per can, the best value in terms of burn time & cost/hour is the 6 hour wick fuel. Because our wick fuel offers a convenient screw on lid, you can reuse the fuel to get the full 6 hours of usage out of it. If safety, flexibility and cost per hour are what you are looking for, then Choice wick chafer fuel is your brand. Our 6 hour wick fuel costs 18 cents/hour as compared to 24 cents/hour for the 4 hour wick fuel and 26 cents/hour for the two hour gel fuel. Its wick design and diethylene glycol fuel promote safe burning and help to keep the can cool to the touch even during use, while still providing a consistent, long-lasting flame. Even when spilled the liquid does not burn! These Choice fuels are also eco-friendly! Each can is made from recyclable aluminum, and the ethanol is produced using natural and recycled raw materials, resulting in a high-performance chafer fuel that is organic, biodegradable, 100% recyclable and made in the USA. Choice chafer gel and wick fuels are both great product, but here is a comparison to make your decision easier. Offered in a 2 hour burn time, Choice Gel fuels burn the hottest, are the least expensive and are the best option for chafers with low-resting water pans. On the other hand, Choice chafer wick fuels are available in both a 4 and 6 hour burn time, burn clean diethylene glycol, feature a resealable lid to get the maximum burn time and are cool to the touch. In addition, you don't have to worry about spilled liquid because any spilled wick fuel won't ignite. Check out our burn time comparison sheet, cost per hour chart, as well as the MSDS sheet, and our chafing fuel buying guide on our product page. (Show screen shot of product page/comparison chart/cost per hour chart). We also have a chafer fuel savings calculator where you can plug in the amount of fuel used per week and see how much savings you will have by switching to 6 hour Choice brand wick fuel. These charts will help you make a better buying decision! As always, click on the chat button for further questions regarding Choice brand chafing fuels. We hope this video helped you make the right "choice" for your foodservice application!!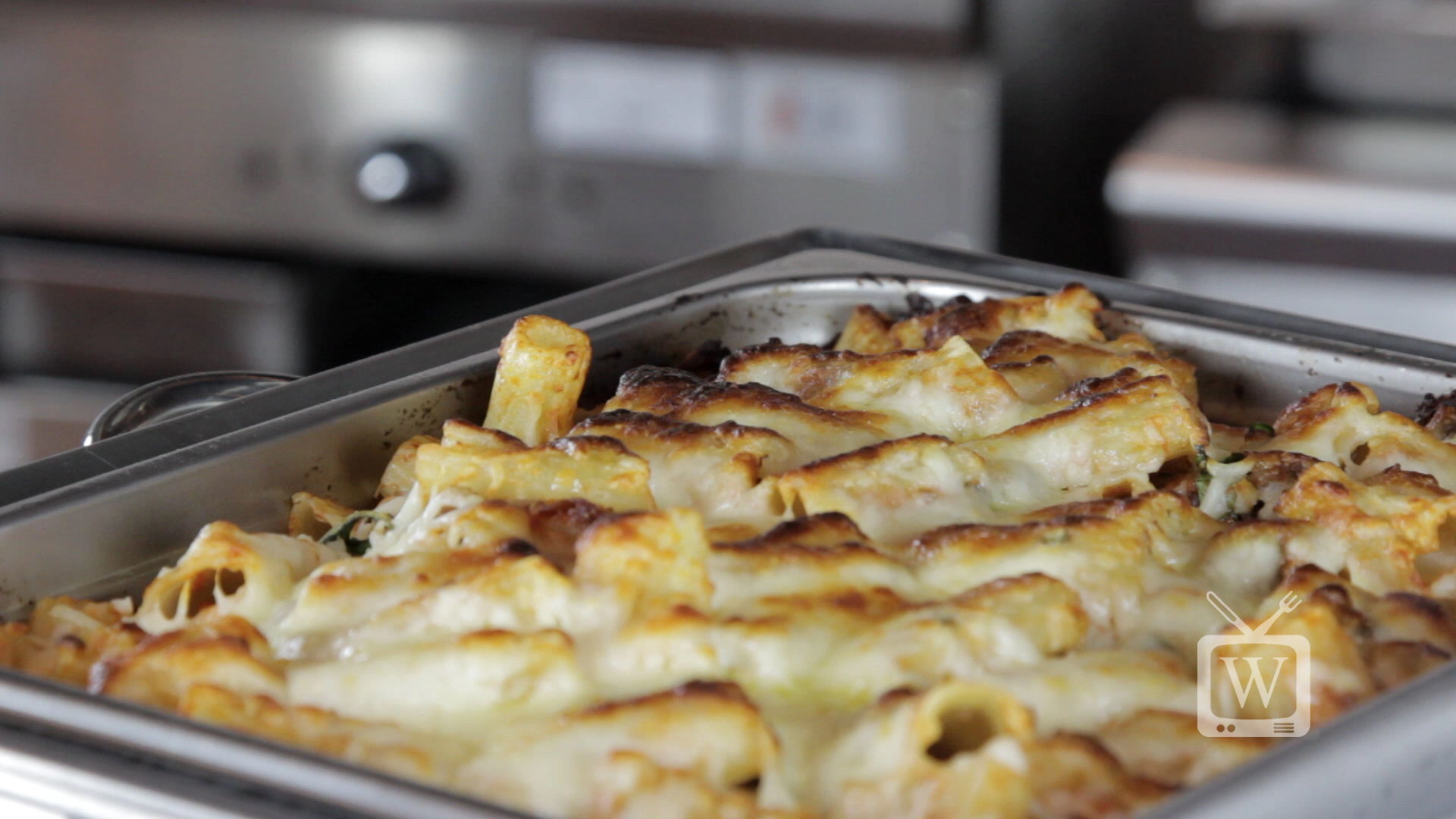 Check out this video to learn some vital tips about handling chafers and chafer fuel!
Remember to always follow equipment manufacturer's recommendations for pre-heating, but here are some safety tips to insure you have a safe and efficient chafer set-up…(Voice over portion showing shots of each step quickly) -Always select fuel to last the length of engagement so it will not be necessary to change fuels during the event -Always ensure water is hot and steaming and foods are at a minimum serving temperature of 140°F before putting food pan in place -Always use proper tool for removing lids. -Chafing fuels are NOT designed to cook; only maintain proper temperature for serving -Keep chafing fuels away from flammable table decorations or nearby items (i.e., curtains) -Always light fuels IN PLACE; use a long reach match or butane lighter; do not use other lighted cans or rolled up paper -Avoid touching GEL-TYPE cans as they become superheated overtime as the flame burns into the can -Always extinguish chafing fuel at the end of the event, using the proper tool -Dispose of spent fuel cans properly As always, click on the chat button for further questions regarding Choice brand chafing fuels. We hope this video helped you make the right "choice" for your foodservice application!!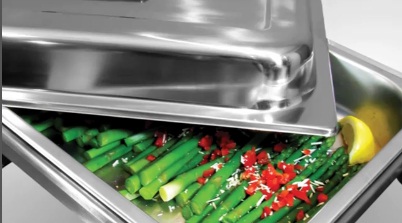 Don't think for a second that we sacrifice on quality to bring you such incredible prices! With our Choice economy stainless steel chafers and included accessories, you can get everything you need at a great price.
Our Choice brand Economy Chafer is our most popular chafer. While our buying power and our skilled purchasing department, allow us to keep the price incredibly low, we do not sacrifice on quality. Hi, I'm Steve Ziegler, Product Expert at the WEBstaurantstore. Some folks are leery about these chafers because the pricing's so low. In fact, we get a lot of questions. Many people are wondering if they need to buy fuel holders or food pans separately at this price, but this is a complete chafer set. It comes with a 4" water pan that is satin polished, you have a full-sized food pan, a solidly welded frame which importantly is stackable and you get two fuel holders. The dome cover is highly polished and comes with a cool touch handle. Another great thing about the frame is it comes with a holder for your dome covers. Well, thank you for watching and if you have any questions, please feel free to use our live chat button.
Customer questions about this product
Can I use different sized food pans in this chafer?

For any of our chafers that come with a 2 1/2" deep, full-size stainless steel food pan, you may also purchase two 1/2 size or three 1/3 size pans for added serving flexibility. Whichever size food pans you decide to use, make sure you're using only 2 1/2" deep pans, as they allow the proper amount of space for water and steam.
Ask your own question!
Details
This 8 qt. full size chafer features a sturdy, stackable rack for space saving storage. It is made out of 18/8 stainless steel. The overall dimensions of this chafer are 24 3/4"W x 14 1/8"D x 9 5/8"H.

Have finger prints or scratches on your chafers? Try a microfiber polishing cloth out. You might not even need any chemicals to take out that scratch and finger prints are easily removed with a dry cloth.

Each Kit Includes:
(1) stackable rack
(1) full size 2 ½" deep food pan
(1) 4" deep dripless water pan
(2) fuel holders
(1) dome cover.
Other Products from this Line
Related Items
Frequently Purchased Together
Customer Reviews
Overall User Rating:
8 Qt. Full Size Stackable Chafer

(

4.8

stars from

23

reviews )
For the price these are perfect. They looked elegant and professional on my buffet tables and I could not be more pleased. I looked at several places to get the best price... and I did, right here. :)

Barbara A. Posted on 09/03/2013

This item is economical but serves its purpose well. The only feature I think it is lacking is a plastic handle instead of the metal handle. Just my preference though.

Kelly D. from Shamrocks Pub n Grill Posted on 08/23/2013

i am very satisfied to this item 8 Qt full size and other i want to thank you as a good seller and a five star seller thank's

Patrick M. from n/a Posted on 08/14/2013

Great economy chafer- gave it 4 stars simply because it isn't quite as nice as the other chafers out there- but you really can't beat the price. These look great with black napkins around the handles. The wells for chafing fuel are super convenient too

Janet D. Posted on 07/09/2013

This is one of the best deals I have seen for a full size chafer. Local prices don't come close, and the best part is that the quality is excellent! It's a bonus that this particular chafer is stackable. I bought the economy sets in February, and this time decided to try out the stackable for a few bucks more, glad I did.

Neema B. from New Era Services Posted on 06/06/2013

Great product for the price. Stacks well, easy to keep clean.

Helene R. Posted on 06/05/2013

They are light and attractive but the insert edges are very sharp. Also sometimes the deep inserts stack so securely that they are difficult to separate.

Elizabeth M. from Culinary Capers Posted on 05/31/2013

I was reluctant about shopping online so I called customer service several times (different days) to see how the representatives respond to me as a customer. Each representative I spoke with was helpful and if they couldn't answer the question, they had someone else to help with assisting me. The chafers arrived in a timely manner with no issues and they are a great for the cost. I will order from the Webstaurant Store again.

Teresa K. Posted on 04/21/2013

I just received my 4 this week, my husband and I are on our business venture of opening a catering business, I saw these online and loved the look, I will be using them for a wedding I am catering in June. They are not really heavy which makes it easy,to carry them around.

Leslie L. Posted on 02/21/2013

I purchased 4 of these for my daugher's High School Graduation a few months back and would do it all over again! I had them lined up at entrance and tied up a white linen napkin at the handle, couldn't look classier! even months after party's over, our friends are still talking about every well thought out detail and chafers made a huge difference! call me selfish, but I will not lend them to anyone, I plan on keeping them and taking care of them for life!

Olga O. Posted on 02/12/2013

bought this item 3yrs ago and am loving it till date.thanks for the fast delivery and friendly costumer service easy to clean and stack.thanks webstaurant.

Olo A. from olly Posted on 01/26/2013

I am 120% satisfied with my purchase!!! Highly recommending! I dont do reviews on products, but can't pass on this! Amazing for the price!! Ha

Michee M. Posted on 12/20/2012

excelant seem so professional i love the way they are satackable and the way they clean upand their appearance. and most of all how fast i got the order

Bevi j. from B.B.F.I.T Posted on 10/01/2012

This is a nice chafer because you can stack them for easier storage and better transportation! Large 8 quart size will easily fit full hotel pans of hot food! Attractive too!!!

Eric K. Posted on 09/28/2012

we ordered 5 of these for our daughters wedding this october. they were delivered very quickly and packaged well. my mother has catered several weddings and she was thrilled with these. with 18 grandchildren-and only 1 marriage so far-these will certainly be used quite a bit!

Michael A. Posted on 06/03/2012

I bought 2 chafers for home use. I host family functions often. I din't need another slowcooker but something to keep food warm at family functions without cooking the food. I used this for the first time this weekend and I'm happy to say everything remained hot and the presentation was beautiful. I'm so pleased that I found these at this price, cheaper than the additional slowcookers I was looking into buying.

Demetreal L. Posted on 02/20/2012

I'm very, very satisfied! The look is very classic and expensive looking. I wished I ordered more at the time. Shipping time was fast right on time for my event. Thank you!

Kelly J. from Kelly Kay Events Posted on 11/29/2011

I am very please with my purchase. I have five of them and they have held up well. They have a great look and finish for the money. The best deal I found and do not have the black plastic handles on the lids.

Chadley W. from Rib City Cookeville Posted on 11/23/2011

I have ordered this full size stackable chafer on Friday and I have recieved them very next day I was impressed by the shipping but when I have opened up he boxes I have found the great product which was little more than my expectation I am sooooooo so happy I cannot explain. Well done and yes also I love the webstaurantstore web ite.

Syed A. Posted on 10/31/2011

I am very happy and satisfied with my purchased, exactly as pictured and durable. Shipment is amazingly fast!! I will highly recommend this item to anyone!!!

Nina B. Posted on 10/20/2011

Another product that exceeded my original expectations. Made exceptionally well and looks real nice, this product is priced perfectly for those considering a warming serving chafer without having to buy something much more expensive. Just starting out, I considered the more expensive versions, but after reading enough about this and watching the video, it clearly made sense to chose this one. Delivered on time and a day ahead of schedule!

Kenneth J. from www.AmarilloGrilling.com Posted on 05/20/2011

This product is defineatly great!! Whenever i have a catering event there is always a problem with were to put the lids. The easy storage holder on the back makes storage easy. It also helps for a better presentation. I suggest buying this product.

Ivan H. from Innovative Catering Posted on 03/25/2011
Have you used this product?
Log in to write your own review and earn up to $16.00 with video, photo, and text reviews!
Write a text review
Earn $2.00
Post a product photo
Earn $4.00
Post a product video
Earn $10.00
Login or Register