8 Qt. Economy Chafer Stainless Steel Chafing Dish
Pans, cover, and fuel holders included
Made of stainless steel
Perfect for hotels, restaurants, buffet lines, and catered events
Item:

100ECONCHAFE

Units:

Each

Shipping:

Usually Ships 1 Business Day
When will I receive my Item?

Reviews:

UPC Code:

028238507764
Companion Items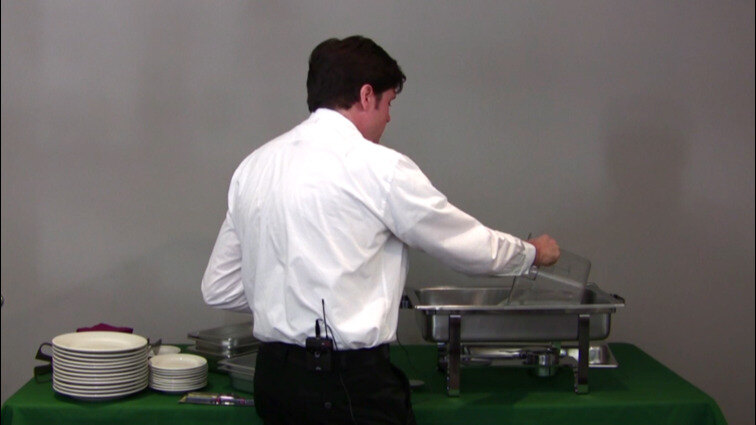 Watch as Steve demonstrates the proper way to use your chafer, from how much water you will need to when you should light the fuel. And remember, a chafer is only for keeping food warm, not for cooking it!
No Video Transcript entered.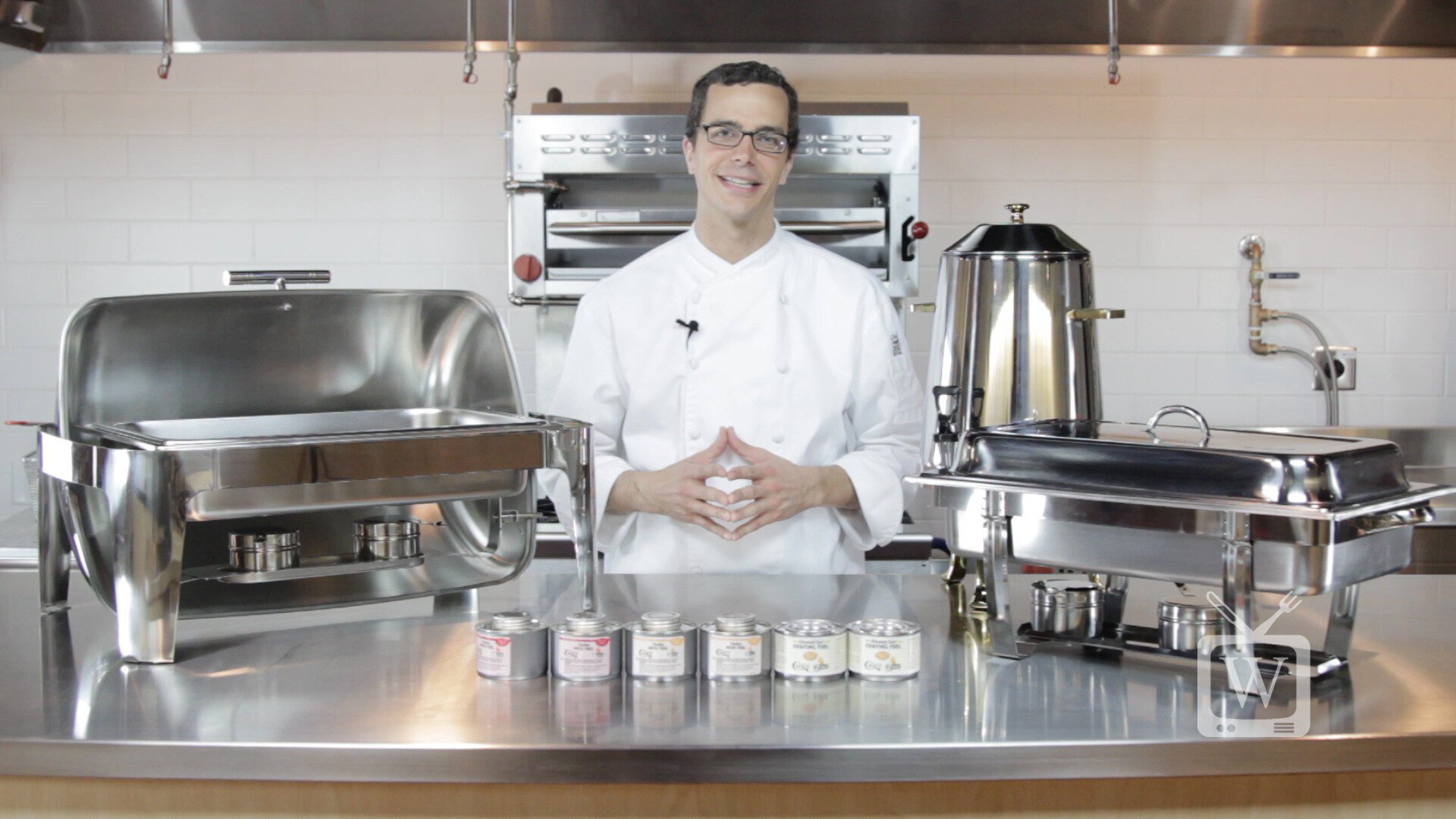 In this video, Corporate Chef Matt Schuler explains the best options to suit your needs when it comes to chafer fuel. From gel fuel or wick fuel, or fuel that burns up to 6 hours, Choice Chafer fuel has just what you need for every occasion!
Whether you're catering a banquet, wedding, bridal shower, or other special event, we have the best selection of chafers and accessories at the best prices. My name is Matt Schuler, product expert and corporate chef. Today I am going to show you why Choice brand chafing fuels should be your #1 Choice for chafing fuel. Our buying power and skilled purchasing department allow us to keep our pricing incredibly low without sacrificing quality. We offer 3 different types of chafing fuels by Choice. 2 hour, 4 hour, or 6 hour(show pic of 3 cans) Of these three products, you will need to choose which fuel source best fits your application: wick fuel or gel fuel. Choice chafer gel fuel is the hottest and longest burning ethanol fuel on the market! Made from 200 proof gelled ethanol and capable of producing 1630 BTU's per hour, its gelled formula provides a higher heat output than conventional wick fuels and allows for maximum burn time. It is also easy to light, odorless, and burns clean. It delivers high-quality heat that burns hotter, longer, and safer than comparable fuels. Choice Gel fuel is offered in a 2 hour burn time. While Choice wick fuel is offered in 4 & 6 hour burn times. Although the 2 hr gel fuel offers to the lowest cost per can, the best value in terms of burn time & cost/hour is the 6 hour wick fuel. Because our wick fuel offers a convenient screw on lid, you can reuse the fuel to get the full 6 hours of usage out of it. If safety, flexibility and cost per hour are what you are looking for, then Choice wick chafer fuel is your brand. Our 6 hour wick fuel costs 18 cents/hour as compared to 24 cents/hour for the 4 hour wick fuel and 26 cents/hour for the two hour gel fuel. Its wick design and diethylene glycol fuel promote safe burning and help to keep the can cool to the touch even during use, while still providing a consistent, long-lasting flame. Even when spilled the liquid does not burn! These Choice fuels are also eco-friendly! Each can is made from recyclable aluminum, and the ethanol is produced using natural and recycled raw materials, resulting in a high-performance chafer fuel that is organic, biodegradable, 100% recyclable and made in the USA. Choice chafer gel and wick fuels are both great product, but here is a comparison to make your decision easier. Offered in a 2 hour burn time, Choice Gel fuels burn the hottest, are the least expensive and are the best option for chafers with low-resting water pans. On the other hand, Choice chafer wick fuels are available in both a 4 and 6 hour burn time, burn clean diethylene glycol, feature a resealable lid to get the maximum burn time and are cool to the touch. In addition, you don't have to worry about spilled liquid because any spilled wick fuel won't ignite. Check out our burn time comparison sheet, cost per hour chart, as well as the MSDS sheet, and our chafing fuel buying guide on our product page. (Show screen shot of product page/comparison chart/cost per hour chart). We also have a chafer fuel savings calculator where you can plug in the amount of fuel used per week and see how much savings you will have by switching to 6 hour Choice brand wick fuel. These charts will help you make a better buying decision! As always, click on the chat button for further questions regarding Choice brand chafing fuels. We hope this video helped you make the right "choice" for your foodservice application!!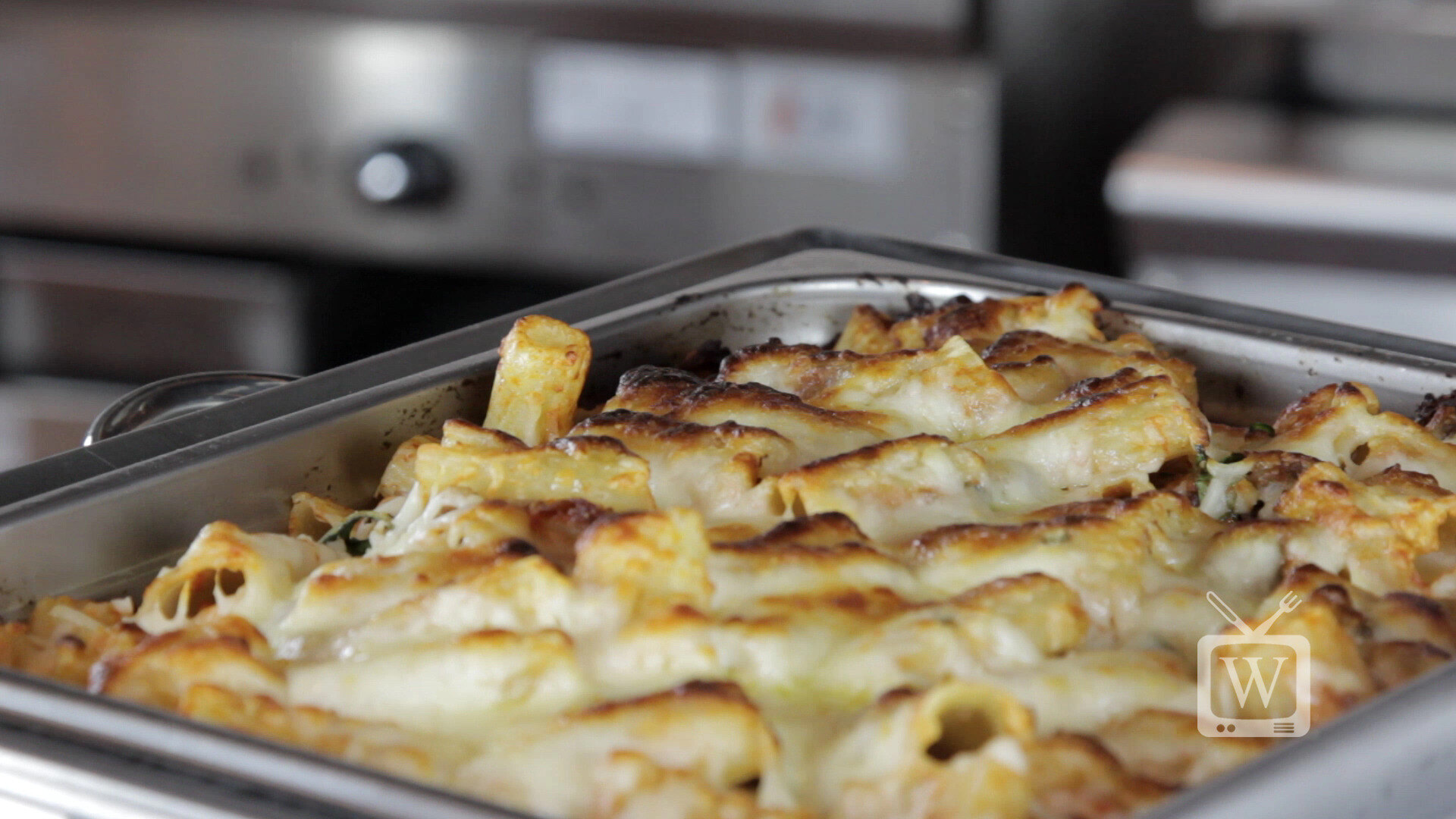 Check out this video to learn some vital tips about handling chafers and chafer fuel!
Remember to always follow equipment manufacturer's recommendations for pre-heating, but here are some safety tips to insure you have a safe and efficient chafer set-up…(Voice over portion showing shots of each step quickly) -Always select fuel to last the length of engagement so it will not be necessary to change fuels during the event -Always ensure water is hot and steaming and foods are at a minimum serving temperature of 140°F before putting food pan in place -Always use proper tool for removing lids. -Chafing fuels are NOT designed to cook; only maintain proper temperature for serving -Keep chafing fuels away from flammable table decorations or nearby items (i.e., curtains) -Always light fuels IN PLACE; use a long reach match or butane lighter; do not use other lighted cans or rolled up paper -Avoid touching GEL-TYPE cans as they become superheated overtime as the flame burns into the can -Always extinguish chafing fuel at the end of the event, using the proper tool -Dispose of spent fuel cans properly As always, click on the chat button for further questions regarding Choice brand chafing fuels. We hope this video helped you make the right "choice" for your foodservice application!!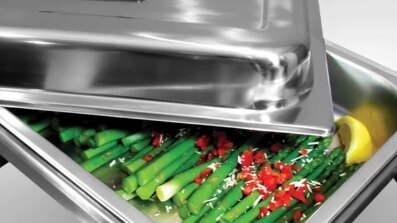 Don't think for a second that we sacrifice on quality to bring you such incredible prices! With our Choice economy stainless steel chafers and included accessories, you can get everything you need at a great price.
Our Choice brand Economy Chafer is our most popular chafer. While our buying power and our skilled purchasing department, allow us to keep the price incredibly low, we do not sacrifice on quality. Hi, I'm Steve Ziegler, Product Expert at the WEBstaurantstore. Some folks are leery about these chafers because the pricing's so low. In fact, we get a lot of questions. Many people are wondering if they need to buy fuel holders or food pans separately at this price, but this is a complete chafer set. It comes with a 4" water pan that is satin polished, you have a full-sized food pan, a solidly welded frame which importantly is stackable and you get two fuel holders. The dome cover is highly polished and comes with a cool touch handle. Another great thing about the frame is it comes with a holder for your dome covers. Well, thank you for watching and if you have any questions, please feel free to use our live chat button.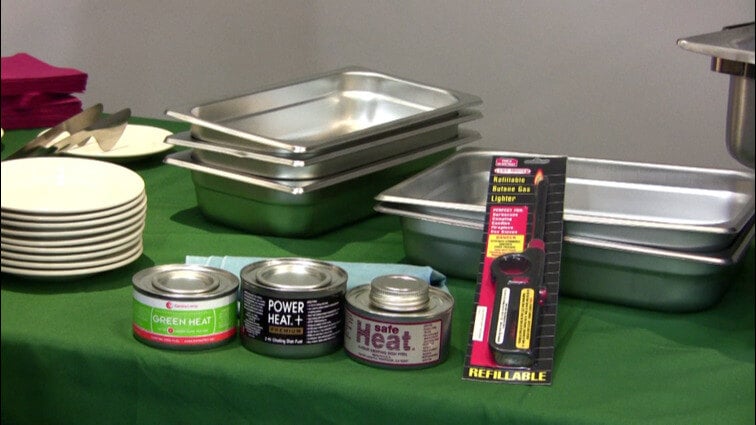 Accessorize your Choice chafer with full, 1/2, and 1/3 size food pans from WEBstaurantStore.com! Also check out our 3 types of chafer fuel, convenient microfiber cleaning cloths, and even our refillable long tip lighters.
Another question we get sometimes is whether or not you can use different sized pans in these chafers. And the answer is yes, you can half size and 1/3 size pans. Now, the unit comes with a full sized 2 1/2" deep pan, which I'll remove, but as long as you're using 2 1/2" deep pans, you don't want them any deeper than that or else you'll be into the water in the water pan. But you can see those half size pans fit in there just right, and if you take this off, we can see that you can put the 1/3 size pans in there as well. Besides being able to purchase different sized food pans from us, you can also purchase different types of fuel. We have the wet fuel, the gel fuel, and we even have environmentally friendly fuel. We also have these microfiber cleaning cloths; these are the perfect thing for polishing the chafer, sometimes they do so well you don't even need a chemical polish. And we also have these long tip, refillable lighters available as well. Well thank you for watching, and if you have any questions, please feel free to use our live chat button.
Details
Quickly and conveniently show off your most popular recipes with this 8 qt. economy stainless steel chafing dish! This chafer dish is made of stainless steel for long-lasting durability, making it ideal for busy hotels, restaurants, buffets, and more. Its shiny finish is not only attractive, but great at conducting, distributing, and holding heat as well! This chafing set also comes with the pans, cover, and fuel holders you'll need to start using it right away.

Overall Dimensions:
Length: 24"
Width: 14 1/8"
Height: 13"

Kit Includes:
- (1) 4" deep water pan
- (1) 2 1/2" deep food pan
- (1) 2 1/2" high dome cover
- (2) fuel holders

Similar to Carlisle 607806 chafer and Winco C-3080B Newburg chafer.

Also known as C 3080B, C.3080B, or C3080B
Related Items
Frequently Purchased Together
Customer Reviews
Overall User Rating:
8 Qt. Economy Chafer Stainless Steel Chafing Dish

(

4.8

stars from

94

reviews )
I purchased this Chafer dish for my wedding. I was unsure of the quality at first, but when I received my order I was very pleased. I love the fact that it folds down, which means it doesnt take up as much space as the others. I bought one just to see how I would like it before purchasing more, so I will definitely be purchasing a few more for my big day!

Ashley H. Posted on 04/03/2014

I have been searching for weeks for the best price and aesthetic appeal chafing dish, and I have found it. I feel confident catering our own wedding with these chafing dishes. I was skeptical and ordered one at a time, don't do that save on shipping its worth it.

James H. from Rachael Posted on 03/28/2014

This chafer is great. I am impressed with the quality of the chafers and the fast delivery. I ordered five and I am planning to order one more. Thanks WEBstaurant store.

Saba B. Posted on 02/07/2014

Great Chaffing dishes for the price! Very sturdy and well made. Purchased for my Beach Wedding reception years ago and they are constantly being borrowed by friends and Family for their events. You won\\'t find better for the price!

Jeff B. Posted on 02/01/2014

Shipped very fast , very good buy for the price! Will order again, quality and durable ! Love my chafer dishes and will recommend to others!

Tammy T. from First class catering Posted on 11/13/2013

These chafing dishes are very nice quality and far exceeded my expectations . They have worked beautifully for my catering events. They have proved to be very durable and easy to store.

Marie M. Posted on 11/05/2013

Awesome product. well worth the money! I use it all the time for family functions and business functions. Have had for a few years, still looks new, cleans up well. LOVE IT!

Barbara M. Posted on 10/30/2013

Ok. Great price. Fantastic product. I bought 4 of these for a catering event. The only problem is that they will not fit a 4" deep hotel pan. But a 2 1/2" hotel pan can be used perfectly. I have recommended this to 3 other people in the industry so far.

Mike K. Posted on 10/15/2013

I ordered 4 of these for my catering events. Great to serve pasta, meatballs, chicken & pork... Keeps all the ford nice & warm. Easy to clean & stores away in original boxes.

Terri M. Posted on 10/01/2013

This chafer has a nice look. It cleans up easily. Easy to store and transport. It is not the heaviest weight metal, but well worth the economical cost.

Jill L. from Party Planners Posted on 06/06/2013

These warmers are quite good considering that they are in the economy range. Shine has been easily maintained after a year of use. Will recommend.

Larry J. from Sola Fide Food Services Posted on 05/11/2013

This is a great deal that cannot be beat! The quallity of this set for the price is the best I have seen. It worked beautifully for a retirement party.

Neema B. Posted on 04/22/2013

This is better than I expected; well worth the price...they came in handy at my parties. It keeps the food warm, every thing fits perfectly together. I'll buy from here again. oh also I like that they are always there to help you with any questions.

emerentiana J. Posted on 04/13/2013

I really love the chafer dishes and the price was very affordable. I have gotten several comments about the way the lids fit on the side of the chafer.

Barbara S. from Sams Enterprise and Catering Company Posted on 04/04/2013

This is a good economy style chafer unit. It holds the right amount of fuel to keep food hot for hours. Very attractive. Good for indoor use.

Rick M. Posted on 04/01/2013

Perfect price for someone that cant afford the top of line chafers. Looks fantastic. Keeps the food warm and thats all we need.

Brandon M. Posted on 02/08/2013

This chafer is awesome. It's very sturdy and is nice and shiny, not dull. I was a little apprehensive because of the price, but I'm glad I ordered these. The only reason I'm not giving this a 5 star rating is because it doesn't have interchangeable handles, only the black plastic one. It does has a built in lid holder, so I guess that doesn't matter too much if the handle is hidden.

Staci B. Posted on 02/07/2013

Nice, economical choice for small catering operations. These chafers gave us the opportunity to present our food in a classy and efficient manner. You will not find a better chafer at this price.

Kerri G. from the cottage grill & creamery Posted on 07/30/2012

These chafers are a very good price and actually look quite nice as well. They come with the fuel holders which is very handy. I use extras of these for holding food in the kitchen as well.

Evelyn H. from Evelyn's Culinary Services Posted on 07/27/2012

great price looked so good on my buffet table for my daughters wedding the food stayed nice and warm and look very pretty clean up was very easy with the pans

Ann M. Posted on 07/11/2012

Thank you, thank you, thank you WEBstaurant Store! We've finally found a company that supplies all of our needs. The 8Qt Economy Chafing Dishes are GREAT for our Event Planning Business. Very impressed with the QUALITY of Chafers and the timely manner in which it was received (2 Days)! Outstanding! Lorac Divad Event Planning

Carol C. from Lorac Divad Event Planning Posted on 07/10/2012

I ordered 6 of the 8QT chafing dishes for my sister's christening party. I was very pleased with the product, and the amount of food it's hold. My guests were so happy,and I refer them to webstaurant for such an inexpensive and elegant chafers

Christiana K. Posted on 06/26/2012

I just love this bought 2 of them for functions and they are great. Just what I wanted and at a Great Price! Great Choice!

Janet J. Posted on 06/20/2012

Your shipping time was outstanding and product was well packeted. The chaffers are everything I was expected. When I need more i know were to go.

Richard S. Posted on 04/11/2012

This is such a great deal on a Chafing Dish. It is economy and priced so low you can order a few and be ready for your next event.

Tristan M. from Tristan's Posted on 04/11/2012

I ordered three of these chafers on Sunday, February 12th and was surprised to receive them on Wednesday February 15th. Really impressed by the promptness of the order processing. Also really impressed on the look of the chafers. Will highly recommend them.

Leslie M. Posted on 02/15/2012

These were perfect for my start-up catering company - my only regret? I wish I would have ordered more! I am starting an affordable catering company, so the simplicity of these pans reflects the affordability of my business!

Amy B. from A B Catering Posted on 02/10/2012

Very great for the price and are rust free,will surely buy them again and would recommend them to one and all,Its a must have and best in the economy class

Deverard P. from Eazzyphun Catering Enterprises Posted on 01/04/2012

thought about ordering these for a long time, and finally took the plunge, so so happy I did! couldn't be happier, I use them mainly for tailgating and so far it's been a success, very sturdy and durable!

Danielle A. Posted on 01/02/2012

i absolutely love my product i ordered and the convenience of getting it delivered at my door.love it, love it.looking forward to order more in future and recommend it to others

Judith N. Posted on 12/30/2011

I have one of these chafer at home and wish I had more. They are so nice, very elegant looking and really easy to clean. I just purchase 4 way too expensive ones at a departmnet store abut now that I have found this website I am taking them back to the store and buying 4 from Webstaurant.com.. These chafers are worth every penny. Great deal..

Angilee L. Posted on 12/25/2011

Although I upgraded to the Deluxe Roll Top Chafer, I still like this product. I purchased a total of four of them at a great price.

Donna R. Posted on 11/30/2011

YOU WILL BE VERY PLEASE WITH CHAFER DISH! I LOVE MIND.LOOK GOOD AND LIGHT WEIGHT, ORDER PROCESS WENT VERY EASY, GREAT PRICE AND GREAT SERVICE

Jackeline E. from Amtico International Posted on 11/28/2011

i bought this product although i have not use them yet keeping it for my wedding reception i am very satisfied with the quality the quick delivery time would recommend this product

Alicia R. Posted on 11/16/2011

I recieved these wonderful chafing dishes (4) and they are an awsome buy for the price and it has all that is need to start. I recieved within 2 day of ordering which was awsome without paying for overnight delivery. Very happy with my purchase.

Damary M. Posted on 11/15/2011

This is an excellent chafing dish. Its super high quality. Cleans up really well. Great reusability. Ive had my set for over four years now, and they show no signs of needing to be replaced yet.

Aaron h. from The new haven cafe Posted on 11/13/2011

These chafing dishes are awesome!! The price is awesome and the quality is great. These are perfect for any type of catering event. They are not very fancy by any means but they work great!!

Nick L. from The Mocha House Posted on 11/13/2011

We use these chafers for higher volume events and they work well. Though, when stacking them for storage, it's really easy to get two same-size pans stuck together. Stack neatly!

Jonathon R. Posted on 11/11/2011

I was not expecting very much due to the price, however I was very surprised and very happy with the quality, quite durable and holds tempeture very well

David U. from JONABELLA CATERING Posted on 10/31/2011

Your product selection is great with exceptional choices. All products purchased have been the best and the prices unbeatable. I have received my purchases on time.

Frances A. from EVENTS BY JODI Posted on 09/18/2011

it is well made, strong quality and good shape. the price is unbeatable. it comes with every thing you need to set up for buffet.

Ying B. Posted on 09/10/2011

Outstanding value. I was not expecting the level of quality for the price, but when I opened the box I was pleasantly surprised to find that it was the same as the chafers selling for way more at my local restaurant supply. Nice fit and finish throughout!

Wesley O. Posted on 09/10/2011

These are great. Very economical and perform as well as similar chafers for which we paid 3 times the price. We're very pleased with them.

Lynne M. from Caruso & Company, Ltd Posted on 09/05/2011

These are a great value! I have looked at many other places and found that they were sometimes more than double the price elsewhere. Highly recommend them!

Laurie L. from sportin woodys Posted on 08/31/2011

Awesome chaffers, come handy in any party anytime. Durable and will last forever.I was inrtoduced to this sight by a friend and i must say, i have bought great kitchen euipments here.

Helen O. from H & M Posted on 08/29/2011

These economy chafers were a God send to our event! We no longer scrounge around rental facilities to get enough chafers. At this price we bought our own. They all match and look a lot classier than the hodge podge we had in the past. The pans are a little lighter in weight than the more expensive chafers, but unless you are using them several times a week, this product more than fills the bill for your buffet!

John W. from St. Peter's Lutheran Church and school Posted on 08/28/2011

I bought 4 of these economy stainless chafing Dishes. They look great, come with everything you need and will look great at any party or catered event.

Christopher H. from Flashback Unlimited Posted on 08/05/2011

I purchased 3 of these economy chafers to use in some BBQ catering, and these chafers are fantastic for the price. Very easy to use and setup, cleanup is a snap. Would buy this product again.

kandace R. from Mountain View Property Management Posted on 07/24/2011

we own 4 of these for use at our home when we have larger parties. They work great, and are very sturdy. I would highly recommend.

Janeen S. Posted on 07/20/2011

Purchased 3 of these and we are very satisfied. Have used them several times for catering in our business and they look professional as well as they are of good quality. I would recommend them to you as they were very economical as well.

Katherine M. Posted on 07/15/2011

The Economy chafer is okay for the price, great for open door events at daytime. The cover hinges are so practical and they are really functional and presentable.

Boma E. Posted on 07/14/2011

THIS IS A GREAT ITEM FOR PARTIES AND EVENTS. IT'S STURDY AND RELIABLE. I AM VERY PLEASED & I HIGHLY RECOMMEND THIS PRODUCT TO EVERYONE !!!!!!

Petronia B. from MA BELL'S Posted on 06/13/2011

i bought 4 years ago.....now my buisness needed 3 more these are perfect,will be odering more stuff thanks guys.only one store tops you it's Lowes

Charles L. from HomeStyle Catering Posted on 06/03/2011

best best money worth item. i wanted to rent and was quoted for a small size, i then could not resist buying for less and best of it all its mine!

Carmel G. from ewg enterprises Posted on 06/03/2011

inexpensive and nice!!! I have the rolltop one too that I love...but for home use...having a bunch of rolltops is too expensive. So I have one of these and one roll top and it's perfect for home entertaining. im sure it's perfect for catering too. quality is great!

Trinh T. Posted on 05/17/2011

We got a great price on the 3 burners we purchased. They work fine and look ok however, they aren't as heavy metal as our older burners. I would still highly recommend them. Melissa McCall - Diboll, Texas

Melissa M. from Temple-Inland Posted on 05/10/2011

THIS IS REALLY ECONIMIC AND EASY TO WORK WITH IT FORGET ABOUT CHANGING THE LID FROM ONE SIDE TO OTHER, YOU JUST HAVE TO PUT IT ON THE SIDE AND THE PROBLEM IS RESOLVED.

Jose H. from MILENIUM DECORATIONS Posted on 05/06/2011

I'm very satisfied with my chafer dishes my shippment and everything went great.Thank you webstraunt for help making my customer appreciation a success.Thank You,I will sure to pass the word around about webstraunt, Im looking forward to doing business again.

Catherine B. from platinum stylez Posted on 05/02/2011

You can not beat the quality and the finish on these chafers for the money. I did not know what to expect when I ordered these but used them the same weekend and the table look very professional.

Jeff B. Posted on 04/26/2011

These look and work absolutely fabulous!! As a small time caterer this is exactly what I need for my events and the price is great too. I will definitely order at least 2 more :)

Brandi B. from Catering Business Posted on 04/26/2011

I actually like the durability of these chafing dishes better than the ones I already have. Their shiny appearance adds a nice touch of elegance to any buffet station. Easy to clean and maintain. Durable and water droplets do not stain or stay.

Miriam R. from Baez Party Productions Posted on 04/19/2011

Tis chafer is also a great buy it work very well I bought two of this and I did not regreat it I am planning to do some more shopping from this company I give this product a five star

Rosanna T. from Telesfordsisterscartering Posted on 02/15/2011

I just received my order today & I am quite impressed with the look & quality of these Chafers... I am a Special Events Planner & I work with Catering Companies all the time so I've seen quite a few Chafers in my 20 years in the business... And these could stand on any table at any event that I set-up & would fit right in! I'll be back to purchase again & will refer your site to the many catering company owners that I know... Thanks!

Tish S. from Young & Lovely Productions Posted on 01/26/2011

I purchased these chafing dishes for our family holiday dinner. They arrived in record time and looked better in person than on the website. They were perfect for the occasion and I will certainly buy again.

Jane B. Posted on 12/29/2010

I purchased this item, along with the Candle Lamp Power Heat Plus Chafer Fuel, for our restaurant's grand opening party. It was so inexpensive, I was worried the quality would be poor. I was pleasantly surprised. I highly recommend this product for its design and functionality.

Grace L. from Simplee Sushi Posted on 12/27/2010

Great product & great price. Stood up to my more expensive chafer & looked as good as my more expensive one. I love the hooks on the back to hold the lid. My more expensive one does not have this.

John N. Posted on 12/27/2010

Purchased your 3 of your Chafers for a large gathering for Thanksgiving Dinner..this was the best investment I ever made. All food stayed warm and the buffet looked fantastic. As people were leaving they complimented me on the Chafers and asked where I purchased them..I sent them emails with Webstauantstore.com for them to purchase also..The next day my sister called me to order 2 more 8 Qt Chafers .Thanks Webstaurantstore for making so many families very happy for the holidays..makes the holidays so much easier.

Mary J. from Mary Jo Posted on 11/30/2010

We had an opportunity to use the first four of the eight total of these chafing dishes that we plan on purchasing at a catering event for 120 people that we did a short while ago. They worked great, and we couldn't have asked for more from them. They dispersed heat well with little water loss though out the night. Set up and tear down were fast, and had little mess to go with them. All in all a great buy for new businesses just starting out. Or for people looking for an affordable standby chafing dish.

Christopher E. from Flashpoint Catering Posted on 11/15/2010

Worked great for our function, and I believe it will continue to work well for many future events. It seems sturdy, looks nice, and serves the purpose of keeping food hot.

Jennifer B. Posted on 11/01/2010

I purchased the chafers for personal use. You will love it yourself, if purchased. The quality and price can't get any better. I only wished I wood have made this investment earlier. I wasted alot of money with the disposable trays. I'm very satisfied

Roseanna R. Posted on 10/25/2010

I really liked the chafing dishes I bought and I have already requested my sister in-law to buy from your company. And I know this will not be the last time I buy something from your company. I also appreciate the prompt delivery of my order. Thank you so much.

Bernice A. Posted on 10/02/2010

I am a food and cooking snob on a budget. I was a bit hesitant to purchase these chafing dishes b/c of the price. But, the positive reviews encouraged me. They are not the gold handle chafing dish, but I am very pleased with the quality, functionality, appearance, and, most importantly, that they conduct the heat properly. I bought 4 for a recent party and can see that I will use these over and over again. Set aside your doubts, this is a good deal.

Diane B. Posted on 09/11/2010

Why rent when you can own the same thing for the same price??? We purchased the disposable 1/2 trays to use as inserts so we can swap out heated food quickly and to make clean-up faster.

Katherine S. Posted on 08/31/2010

Great professional looking chafer that costs a fraction of all the rest! Easy set up, comes well boxed and wrapped, my food stayed warm and fresh throughout our party. Would buy another at any time!

Gretchen C. Posted on 06/06/2010

FOR THE PRICE, LOOK AND DURABILITY, I WILL RECOMMEND THIS PRODUCT TO EVERYONE I KNOW. I'VE USED THESE TWICE ALREADY AND THEY STILL LOOK SO GOOD AND STILL SHINES. GOOD FOR THE PRICE.

Subulola F. from EXQUISITE TOUCH Posted on 04/23/2010

In conjunction with the chafer I also purchased 2 half size pans. The value for the price was great. Good bye wire racks, hello elegance.

Sandra S. from sandiiB Posted on 04/22/2010

I own 4 of these. The work great, and are very sturdy. I like these much better than the standard wire ones that tend to bend after numerous uses. I've owned mine for over 15 years, and they still are very sturdy, and still look like the day I bought them.

Darrell S. Posted on 02/22/2010

My husband was skeptical of this chafing dish because of how inexpensive it was, but my frugal side bought it anyway. We were both pleasantly surprised at how sturdy it is as well as professional looking. We hosted the Community Thanksgiving dinner in Wellsboro PA and served over 100 people. Thank you for stocking reasonably priced quality supplies.

Sheryl C. Posted on 02/10/2010

Your website is very easy to maneuver around and search for items. We have ordered several of the 8 qt Economy Chafer Stainless Dishes and they have exceeded our expectations for serviceability and performance. We would highly recommend them to anyone.

Sam S. Posted on 12/29/2009

This chafing dishes looks so great with its price. Lots from my guest asked where I purchase it. I just love the the product. The buffet looks so much better with it.

Ray B. Posted on 12/22/2009

We ordered two chafing dishes in the summer and have just ordered four more. We are a small private club and serve hot food several times per year on a buffet. I am sure that they would hold up to much more usage than what we need them for but they are truly perfect for us. I would highly recommend these to anyone that has a catering business.

Linda S. Posted on 12/05/2009

I was very pleased with the (6) chafters that I ordered. I will be ordering more to use with my catering business and other items.

Lisa M. Posted on 11/07/2009

This chaffer is one of the most economical and sturdy chaffer I have purchased. Very good value for you dollar. The finish is beautiful. Good Buy!!

Cynthia C. Posted on 11/03/2009

This product was the most cost effective as well as the highest quality that I was able to find in this price range and I was incredibly pleased with it's appearance and performance at my catering event.

Ashly B. Posted on 10/14/2009

I am happy with my chafing dish peolpe ask me all the time when i used them where i got them from and when i told them the price i paid for it they are amazed. I will be doing more ordering soon for my resturant.

Sharina B. Posted on 09/30/2009

Best Buy for anyone. Good Quality and Good Size for cheap price. Delivery was on time and quick. Packaging was good. No damage to the product.

Lava S. Posted on 08/11/2009

I brought this product to use for my daughter's mixer at school. This is a great product. I only wished I had purchased more at the time. It is very convienent and easy to store. I couldn't believe how fast I got my order.

Jean A. Posted on 07/28/2009

What a great product, for so little money. I love the interchangeable handles. The quality is unbelievable for the price. At these prices, there is no need to rent.

Albert O. Posted on 07/28/2009

Fantastic Buy, what you see is exactly what you get. I was very impressed with the style and coat one would never know these are Economy Chafers everyone entertaining should have one or two.

Kenya S. Posted on 05/23/2009

I got these in the mail and was really leary, because they were sooo CHEAP!!!! I have a small restaurant and do some catering on the side, I was so impressed, they are great, I love them, I am so glad I found this site!!!

Michelle L. Posted on 05/19/2009
Have you used this product?
Log in to write your own review and earn up to $16.00 with video, photo, and text reviews!
Write a text review
Earn $2.00
Post a product photo
Earn $4.00
Post a product video
Earn $10.00
Login or Register